Vivaldi
Many of you probably know Vivaldi, he's the composer whose most famous for "The Four Seasons" (not the 50's- 60's rock group).
Vivaldi is a also a browser. Just what we need, another browser right? Well, some of us like to try new things, and if you're one of them, then you might want to give Vivaldi a try.
Vivaldi is based on Chromium, which is a good thing if  you like Chrome and you like Chrome extensions. I'm always concerned about using a new browser because my beloved LastPass doesn't work in some of them (nor will a lot of other extensions). But since Vivaldi is based on Chromium, you can use some of your favorite Chrome extensions, for instance "LastPass".
Vivaldi is a snap to set up and configure as you can see by the screen shots below:
Vivaldi makes it easy to set your home page, to choose where you want your tabs. I like mine at the top, but if you prefer you can have them at the bottom, or on the right, or on the left if you prefer.
Vivaldi strangely – because it's based on Google Chrome – sets Bing as the default search engine, but that's easily changed. Just click on the little drop-down arrow next to the search icon and you'll have a choice of Google, Bing, Yahoo, DuckDuckGo or Wikipedia.
If you don't like any of those, you can add whatever search engine suits your fancy.
There are a lot of settings and customization options too. But setting your home page is a breeze … see?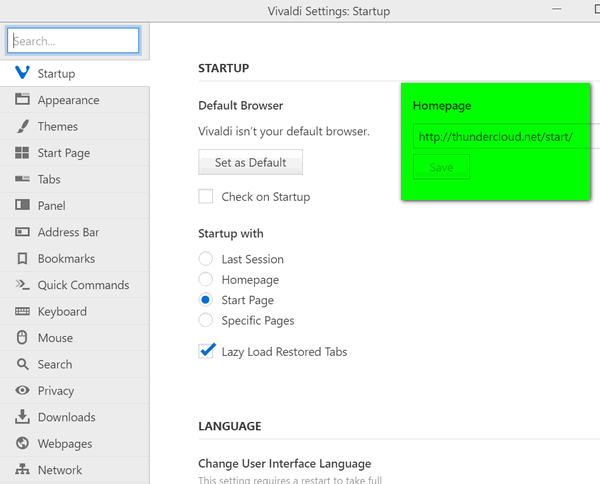 Oh and 2 more things.
The settings icon and tool bar is on the left side, not the top:
As always, the best way to learn a program is to download it, try it, and play around with it. Vivaldi is free and does not present any download tricks or bundled software.
If you like to try new things, we think you'll like Vivaldi. You can learn more and/or download it here.