Forest Wander
Who doesn't like beautiful pictures of nature, besides EB? She doesn't like anything. But really, who doesn't like looking at beautiful photos of forests, mountains, flowers, wildlife, landscapes, etc.?
This Cloudeight Site Pick features hundreds of high-resolution photos of nature — by category – from Forest Trails, to Mountains, to Wildlife to the unusual. It's too bad this site's design isn't as pretty as its pictures. So when you first see the site don't run and hide; do take some time to browse through the hundreds of great nature photos. When you find one you really like, click on it and you'll see the high res version which you can download and muse over or make your desktop wallpaper.
The site's design could use some help, but the content more than makes up for what the site's design lacks. We're telling you: don't be put off by the way this site looks. There are many magnificent photos here and you will want to spend some time browsing through them.
Here's a little blurb from the site's founders that will warm the cockles of your heart:
"ForestWander is a father and son team of photographers from West Virginia. In 2004 Troy and Rusty Lilly (4 years old at the time) began hiking in the Monongahela National Forest in West Virginia. With a Canon Powershot A50 1-Megapixel digital camera ForestWander began capturing digital pictures of flowers, forests, wildlife, fall foliage, waterfalls and mountains; when Rusty and his dad could go hiking in the mountains. While walking home from work one day singing the song "How Great Thou Art" the second verse from the song spoke to Troy's heart as he sang "When through the Woods and Forest Glades I Wander". Then the name for ForestWander Nature Photography was penned…"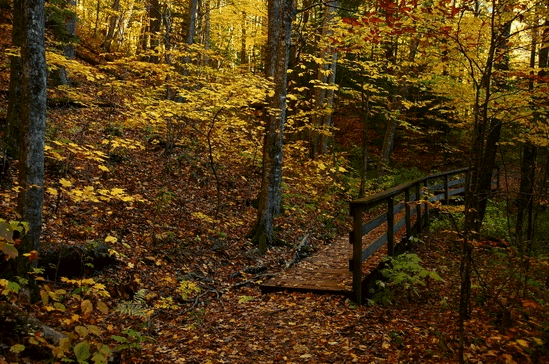 A big thumbnail from Forest Wander.
We want to thank InfoAve Premium reader Carol for suggesting this site. Great job, Carol.
It's time to go bucolic. Take some time to visit Forest Wander and browse through this huge collection of nature photographs. It will be time well spent.