Weather or not you like Windows 10 apps
Yes, we know, it's whether. But really, it's not. It's weather. The stuff of novels and movies and warnings and car accidents and wonder and rainbows and you know all the stuff that weather brings and inspires.
Whether or not you like Windows 10 apps, we have a feeling if you try the Windows 10 Weather app – I mean really give it try, you'll come to like it very much. And you'll use it.
We have worked on several thousand computers with our Cloudeight Direct Computer Care service, and one thing we've learned is that people love photos, games, music and WEATHER programs. There are ton of them, many irritating (Weatherbug, Weather Channel Desktop) etc. A lot of the flash and blink and annoy. Other's flash and blink and annoy – PLUS display ads.
If you're using Windows 10, you don't need to download no stinkin' weather programs, we tells ya!
What more could you ask than current conditions. extended forecast, sunrise, sunset, moonrise, moonset, moon phase, record high and low for any date. Average highs and lows for any date. Real-time radar with animation, weather news, and on and on. Beside your location, you can add as many other locations as you want.
Let's take a gander at EB's Windows 10 Weather App setup shall we?
Every day's a rainy day with EB! See?
Baby it's COLD outside!
You can see the forecast for today in detail. Or click on any day in the 7-day forecast range to get the nitty-gritty. Above you can see the record high and average high (not shown but displayed are record low and average low). You can see the moon is waning. You can see it will set at 8:48 P.M. local time. The sun – what there is of it this time of year – will rise (we hope) an 8:12 A.M. when EB will turn over in her $5000 Sleep Number bed and yawn. She'll text me to make sure I'm working, then she'll turn over and go back to sleep until noon or so.
Above the regional radar for our neck of the woods. Below you can see our local radar and the animation progress bar near the bottom.
EB has homes all over the world – she likes to check the weather at all of her vacation homes so she can visit the one where the weather is ideal – depending on whether she wants to play golf, lie in the sun, or watch girls in grass skirts shaking on the sand …wait that's me, not EB.
Anyway, she affords all this by paying me a pauper's wage and forcing me to eat gruel and drink Kool-Aid.
In case you are wondering, her boyfriend Gustav, lives in Lakewood. If not for old Gustav, I assure you, Lakewood, Ohio would not be in her favorites.
EB has decide it will be French Polynesia for her this week and milk of magnesia for me. She is planning on tanning up for Gustav.
Wait, she just bought up some Amazon rain forest and will be setting up a vacation home there, just in case she wants some really steamy weather so she can swim in the Amazon doing some hunting (fishing?) for Vandellia cirrhosa, also known as candiru, cañero, toothpick fish, or vampire fish. She doesn't go fishing for them for food, she does it for sport. Well, you can read more about candiru and you'll see.
The Weather App in Windows 10 even has a page of weather-related news you can read, when you're not reading about the candiru fish.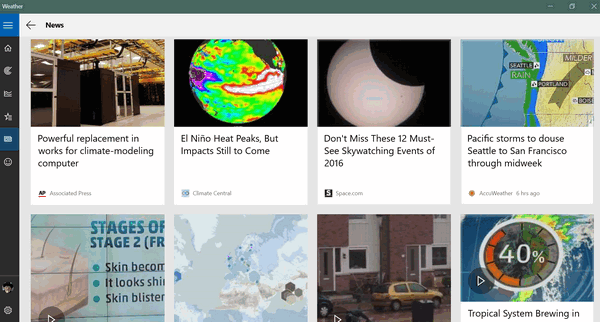 All you have to do to set up your Windows 10 Weather app, is to click on your start button and click on Weather. At the bottom you'll see a gear icon (yes the one Microsoft filched from Google). Click the gear icon to set up your location and you're on the way. If you want to add more locations, click on the Star icon on the left side (see?).
Guess which icon you click if you want t go back to your home (local) forecast? Right, the house! How quaint.
We think you'll really like Windows 10's Weather app, even if you're not a big fan of apps.
EB said she'll email me from Manaus. We'll see.