Windows 10 Is No Longer Supported on This PC
If you're having problems updating to  Windows 10 version 1703 (Creators Update), you may be interested in this information.
Some PC's are not able to be updated to Windows 10 Creators Update (version 1703) because the computer has an incompatible processor. Microsoft blames vendors and the vendors blame Microsoft.
If you're device has an Intel Atom Processor (Codenamed Clover Trail) you may not be able to update your PC to Windows 10 Creators Update… at least not yet. According to reports, users with certain Intel Atom Processors who have tried to install the update manually encounter the following error message: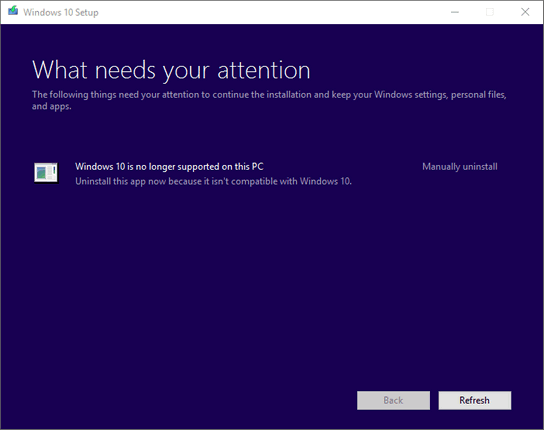 Those who encounter this error may not be able to recover from it and may have to use Windows 10 recovery options to go back to a previous build.
Here's what Microsoft has to say about this problem:
" Devices that contain the following Intel processors (codenamed Clover Trail) are currently not supported on Windows 10 Creators Update:

Atom Z2760
Atom Z2520
Atom Z2560
Atom Z2580

Icons and text may not appear at all, or may appear as solid color blocks on devices containing these processors.

Microsoft is working with our partners to provide compatible drivers for these processors. Until then, Windows Update will prevent devices containing one of the processors listed above from installing the Creators Update.
If your PC contains one of these processors, Microsoft recommends that you do not install the Creators Update from the software download site. Please wait and allow Windows Update to install the Creators Update after compatible drivers are released and installed. If you have already installed Creators Update from the software download site and are experiencing these problems, you can use Windows 10's recovery options to go back to an earlier build…"
You can find out what kind of processor your PC has this way:
1. Right-click the start button.
2. Click on "System"
You'll see your processor listed on the About Windows 10 page: