Yes there are a lot of ways to see what starts with Windows – but we've found yet another. And maybe this one drills down a little deeper. So if you're running Windows 7, give WMIC a try. WMIC is a program built into Windows 7, and it allows you to create a list of applications that run at startup. So let's try it now, okay?
1. Press the Windows key + the "R" key. Now type CMD in the Run dialog and press Enter.
2. At the cursor type wmic and press Enter. You'll now see the command prompt change to "wmic:root\cli>".
3. At that command prompt type startup and press Enter – and you'll the list of applications that run at startup displayed immediately.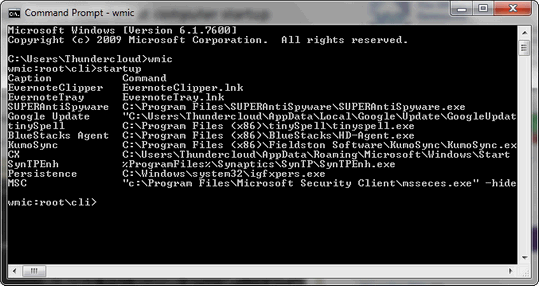 You say you want to print it – or save a copy of it in Notepad or Word or whatever? Easy.
1. Right-click on the Command dialog's title bar.
2. Choose "Edit" , then "Select all"
3. Right-click (again) on the title bar and select "Copy" (or press "Enter")
4. Paste your list in Word, Notepad, your favorite word processing program – or even an email (send it to yourself).
Microsoft Windows [Version 6.1.7600]
Copyright (c) 2009 Microsoft Corporation. All rights reserved.
C:\Users\Thundercloud>wmic
wmic:root\cli>startup
Caption Command Description Location Name SettingID User UserSID
EvernoteClipper EvernoteClipper.lnk
EvernoteClipper Startup EvernoteClipper POE\Thundercloud S-1-5-21-997223506-2251184446-2613729700-1001
EvernoteTray EvernoteTray.lnk EvernoteTray Startup EvernoteTray POE\Thundercloud S-1-5-21-997223506-2251184446-2613729700-1001
SUPERAntiSpyware C:\Program Files\SUPERAntiSpyware\SUPERAntiSpyware.exe SUPERAntiSpyware HKU\S-1-5-21-997223506-2251184446-2613729700-1001\SOFTWARE\Microsoft\Windows\CurrentVersion\Run SUPERAntiSpyware
(clipped for brevity)
wmic:root\cli>