Photoscape 3.62
An awesome image viewer, editor and more
Windows XP, Vista, Windows 7, Windows 8
32bit and 64bit
17.53MB download
So many times we feature programs in this section which are useful but not fun or fun but not useful. Seldom do we feature one that is fun and useful. Today, is one of those rare times when something fun is actually useful and something useful is actually fun.
Now I know what you're thinking. You're thinking, "Oh my! Here he goes again, off on another tangential rambling!". But, you're wrong today, I swear. I'm going to brief and to the point. Eightball made me promise under threat of stoning. I don't want to be stoned on the streets of my little town and be the new, community laughingstock. I'm close already, no need to press the issue.
We think this week's Freeware Pick is peachy! It's amazing what you can still get free on today's increasingly commercialized Internet. But, there's still some darn good stuff out there, even though it takes us about four times longer than it did a few years ago to find stuff for you.
Let me be candid. This program isn't going to replace Adobe Photoshop or even Corel's PaintShop Pro, but it's really a great and feature-filled program that can do almost any normal image editing task you'll ever need. You can crop, resize, add text, filter, and otherwise improve or enhance your images or digital photos easily and without having to read a 500-page manual. The interface is simple and clean – and best of all logical, so you don't have read page after page of help files to figure out how to write Eightball on that wicked witch picture you downloaded. (Now, I am really in deep hot water!).
You can also create HTML pages with nicely formatted tables – and all you have to do is drag you images into the table cells – so you end up with something like this: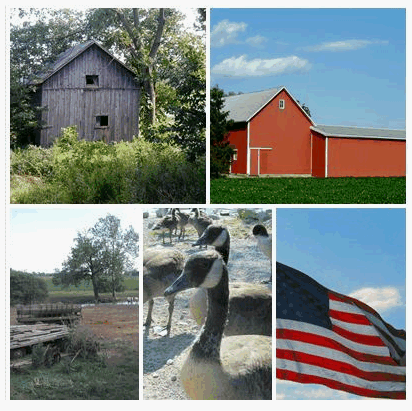 Or how about editing one of your digital photos so it appears round – and add some text, like this?
See? We really do honestly, actually, really, for sure, test these programs that we recommend. I know some of you think we just pick something that sounds cool and toss it on here and then go out and drink beer, but no! We really do spend time testing the stuff we recommend. Surprised aren't you?
If photo and image editing is something you like to do, or need to do, or want to learn to do, you can't go wrong with this week's Freeware Pick Of The Week – Photoscape. It's free, it's easy-to-use, and it has many of the features you'll find on programs costing $50.00 or more. But, you, my friend, don't have to cough up a single dime for Photoscape.
We're so sorry that the developer of this program has chosen to clutter up his pages with all sorts of download buttons that download all sorts of worthless, even harmful things. We're sorry but we're not even going to send you to the developer's site to get Photoscape. We're going to send you to FileHippo to download it. http://www.filehippo.com/download_photoscape/ 
One thing we'll say in the developer's defense — he didn't load up the installer with a bunch of bundled useless software. The installer is still clean and only installs Photoscape. We tested this file (on Windows 7 and Windows 8) on 10/12/2012. So if you're reading this in 2015 and you're running Windows 10, be careful 🙂
Have a freeware program you like and want us to feature? Let us know!