Last Freeware Version
When you get a new computer or you do a Windows 10 reset and you're getting ready to reinstall your favorite programs, it's frustrating when you learn that some of your favorite free programs are free no longer. 
One thing we've learned over the years — "new and improved" does not always mean better. Sometimes it just means "we're going to stop giving away this program and make you pay for it!" Well, that's the developer's right, no doubt about it. 
But you have the right to search for and find archived copies of the last freeware version of the programs you love. And there's a site that can help you do that. It's called "Last Freeware Version".
It's not a pretty site and heaven knows it could use a lot of work, especially when it comes to organization. The site is organized by the date the freeware was last updated. There's no site search feature. But if you have a keen eye you'll see a link to click that will organize all the freeware programs alphabetically which makes it much easier to find the freeware program you're looking for.
If you want to find freeware versions of programs or if you have a new computer and you find your favorite freeware programs are no longer free, Last Freeware Version is an excellent place to look.
You'll find the last freeware versions of FastStone Capture, Power Archiver, MP3Clip, CamStudio over 200 more. Keep in mind none of these say they'll work on Windows 10 but the few we have tested did. You'll just have to download and try. Some programs cause Windows Smart Screen to appear saying it protected your computer. If you're computer savvy you can choose to "run anyway".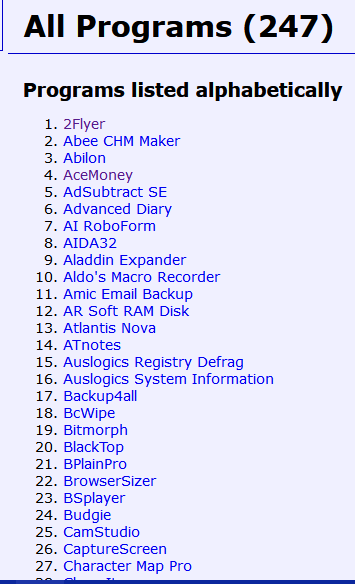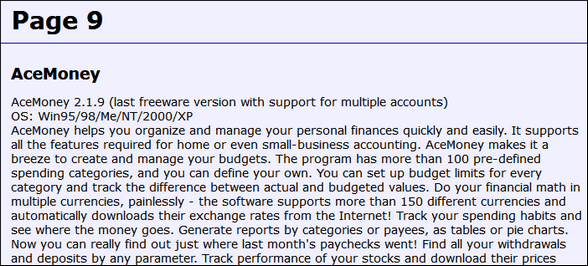 Last Freeware Version is free to use and there is no sign-up or registration required.
If you're looking for a freeware version of your favorite program or you just want to browse through 247 old freeware programs. you'll find Last Freeware Version worth a visit.
Take a trip to one of the last surviving repositories of some of the Web's best old freeware.
Last Freeware Version may well be the Custer's Last Stand of freeware. (Does that make any sense, EB?)