10 Ways to Open Settings in Windows 10 
This tip applies to Windows 10 Version 1703 and newer versions of Windows 10.
While most of us open Windows 10 settings from the Start menu, there are many other ways to do that. Why would you need to get to settings in other ways? Because you can… and because you may someday need to get to Settings when your Start menu isn't working. Plus, it's always good to know several ways of doing important things. 
 
During our work with Cloudeight Direct Computer Care, we have often had to use alternate ways of accessing Windows features and functions when right-click menus and Start menus were not working. We can tell you from experience, the more ways you know how to do things on Windows, the better off you're going to be. So, here are 10 ways to open Windows 10 settings. 
 
1.  From the Widows 10 Start menu
 
Open your Start menu and click on the settings icon.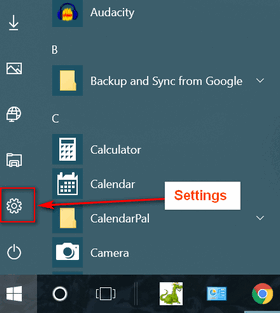 Settings is also listed under "S" in the Windows 10 Start menu.
 
2. From a taskbar shortcut
Create a taskbar shortcut to Settings and use it to open Settings. Open the Start menu, right-click on the Settings icon and click "More". Then select "Pin to taskbar".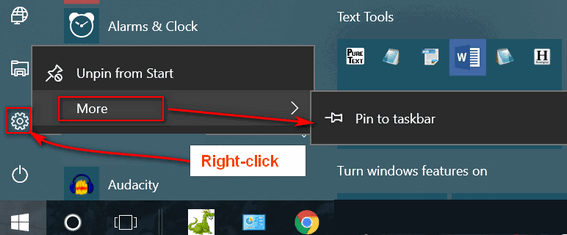 3. Using a Windows key shortcut
Hold down the Windows key and tap the i key. Settings will open. 
 
4. From the File Explorer ribbon
 
Open File Explorer (Windows key + E). Click on Computer and click on Settings. 
 


 
 
5. From a Run command 
 
Press the Windows Key + R to open a Run box (or right-click the Start button and choose "Run). In the Run box type: 
 
ms-settings: 
 

 
 
And press OK or Enter. Don't forget the colon at the end. 
 
6. From a Command Prompt 
 
Open a Command Prompt by typing CMD into the taskbar search. Click on Command Prompt when it appears at the top. At the prompt type in the following command: 
 
start ms-settings: 
 
And press Enter.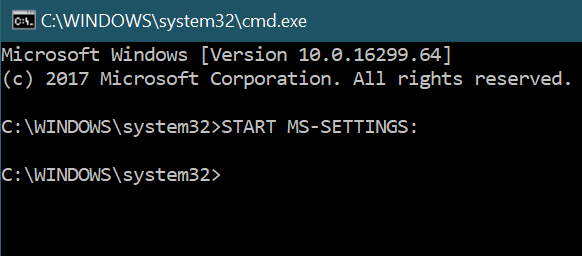 7. From Windows PowerShell 
 
Open PowerShell by typing PowerShell in the taskbar search. Click Windows PowerShell when it appears at the top. In PowerShell at the prompt, type: 
 
start ms-settings: 
 
And press Enter. 
 


 
 
8. From Action Center
 
Open Action Center using Windows Key + A shortcut or click its icon just to the right of your system clock.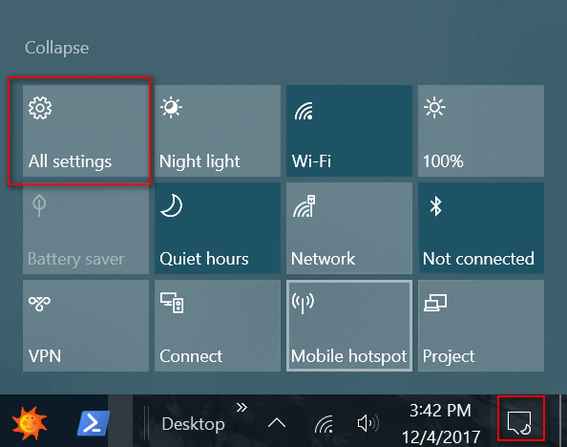 You can also click the Action Center icon. That would be the icon to the right of the Windows clock. 
 
9. From the right-click menu 
 
Right-click the Start button (or use Windows key + X) to open the Windows 10 Power menu. Choose Settings from the menu. 
 

 
 
And there you go… now you know 9 ways to open Settings in Windows 10. 
 
10. From taskbar properties
Right-click the taskbar, click "Taskbar settings". When Taskbar Settings opens, click "Home" in the top-left corner. That takes you to the main page of the Settings app.