Announcing Our Cloudeight 2021 CyberWeek Sale
Thanks so much for your friendship and support! We wish you and those you love a very Happy and Blessed Thanksgiving and a very happy holiday season.
This year, we are combining our Black Friday, CyberMonday, and CyberWeek sales into one big Holiday Event! Our 2021 CyberWeek sale starts today and continues through Monday, December 6, 2021.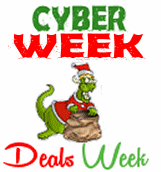 Cyberweek Special! Save $20 on a Cloudeight SeniorPass!
Our Cloudeight SeniorPass is valid for unlimited computer care & repair for one computer for 365 days – starting with the first time you use it. The clock does not start ticking until you use your SeniorPass for the first time. A great deal that just got better during our CyberWeek sale!

Having a SeniorPass is just like having insurance for your computer. Our SeniorPass is always affordable, but during our CyberWeek sale, you can get a SeniorPass for just $79. With a Cloudeight SeniorPass you can get help with almost any computer problem whenever you need it and as often as you need it. Plus, our SeniorPass gives you the option of Anytime Support! If you request it, we will set up unattended support for you so all you have to do when you need help is just let us know. We're here to help you.
Our SeniorPass is on sale now for just $79. Save $20 right now!
Get more details and/or get your Cloudeight SeniorPass here.
Our Cyberweek prices are good through Monday, December 6, 2021.
Buy One Cloudeight Direct Computer Care Repair Key and GET ONE FREE!
During our Cloudeight CyberWeek Sale, when you buy a Cloudeight Direct Computer Care repair key, we'll give you one FREE. That's right! From now through Monday, December 6, 2021, when you buy one Cloudeight Direct Computer Care repair key for $50, we'll give you a second one free!.

With our Cloudeight Direct Computer Care service, we connect directly to your computer via the Internet to fix your computer problems, remove viruses or malware, optimize your PC, and more. You never have to leave your home or leave your computer with a stranger. You'll be invited to watch us while we fix your Windows computer. And, we can fix your computer regardless of where you live. Our Cloudeight Direct Service is available worldwide. We offer world-class computer care services from the company you trust.
Take advantage of our CyberWeek Buy One Get One free special NOW!

This offer is valid through Monday, December 6, 2021. 
Emsisoft One-Year Renewal with Cloudeight Direct PC Checkup for just $25!
During our CyberWeek Sale when you renew Emsisoft, we'll add 365 days to your current license, PLUS we will give you a Cloudeight Direct Computer Care Checkup key that you can use to schedule a computer checkup whenever you like – you can use it anytime. Our checkup includes checking your hard drive, checking your Windows services and startups, as well as checking your browser add-ons and extensions, your installed programs, and doing a deep scan to check for hidden problems.
This special CyberWeek offer includes a one-year renewal license for Emsisoft Anti-Malware/Antivirus and a Cloudeight Direct Computer Care checkup key. The Cloudeight Direct checkup key never expires – it's good until you use it. You can use it any time your computer needs a checkup.
Our regular price for a one-year Emsisoft renewal is $25 but during our CyberWeek sale you'll a Cloudeight Direct Computer Checkup key plus a one-year Emsisoft renewal all for $25!.
Get more information and/or buy an Emsisoft one-year renewal key PLUS a Cloudeight Direct Computer Care PC Checkup Key for just $29 here.
This offer is valid through Monday, December 6, 2021.  
When you support us with a small gift, you help us continue our mission to keep you informed, separate the truth from the hyperbole, and help you stay safer online. Plus, our computer tips make your computer easier to use.
Did you know that we provide support to thousands of people? Every week we help dozens of people via email at no charge. The questions and answers you see in our newsletters are from the email answers and help we provide to everyone free of charge.
Thanks to your gifts, we do a lot more than provide this free newsletter. We help you recognize online threats, fight for your online privacy, provide you with the knowledge you need to navigate the Web safely, provide you with suggestions for safe, free software and websites, and help you get more out of your PC.
Please Help us keep up the good fight with a small gift.
Interested in making an automatic monthly gift? Visit this page. Help us keep helping you… and helping you stay safe on the Web. 


See all our CyberWeek specials on one page!  

Thank you so much for your continued support and for your friendship.
We wish you a blessed and happy Thanksgiving and a safe and happy holiday season!
Best wishes,
Darcy & TC
Cloudeight Internet
November 24, 2021