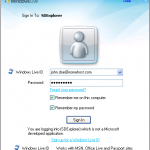 We, and most of you, have a least one Hotmail account. We don't use ours much anymore, but we still have them. Many of you have a Windows Live account. I guess that is somewhat better than having a Windows Dead account – we've all had those before.
Anyway, some of you know about Microsoft's SkyDrive – but most of you probably don't. So for those of you who don't, SkyDrive is a cloud-based file storage system that you can get free with a Windows Live account. If you have a Hotmail account or an MSN account you already have Windows Live account.
There are a lot of cloud-base file storage sites and systems on the Web. More seem to crop up every day. While we're a little hesitant to recommend anything by Microsoft these days, SkyDrive is one of the things that they've done well. And SkyDrive offers all Windows Live (Hotmail, MSN) users 25 gigabytes of file storage free. So if you're looking for extra storage space for those precious files, 25 GB is a pretty generous serving of hard drive space – you can store thousands of digital photos, documents, etc. And no matter what happens to your PC, those files will be safe and waiting for you. Microsoft doesn't need yet another PR disaster, so you can bet that they have your files well secured and backed up. To access your 25GB of free hard drive space in the cloud, go to http://login.live.com/ – login with your Hotmail, MSN, or Windows Live credentials. Hover over the Windows Live link at the top and select "Skydrive" from the drop down menu.
And now that you know what Skydrive is, you'll want to know what SDExplorer is. SDExplorer lets you access your 25GB Skydrive space as if it were on your own computer. It's a lot easier than logging into Windows Live and jumping through hoops and watching ads flash in front of you eyes.
The author of SDExplorer is not shy or laconic. He's proud of his program – as well he should be. Here's what he says:
"SDExplorer is a free, easy-to-use, but very powerful extension for Windows Explorer. With SDExplorer you can perform all everyday operations with your documents on Microsoft Live SkyDrive™ using Windows Explorer, as if they were on your computer itself. Moreover, you don't need to install and configure any additional programs or ActiveX components. SDExplorer will take care of communicating with the online storage all by itself.
Why do you need SDExplorer?
If you want to make your work with SkyDrive™ more efficient;
If you are tired of the inconvenient and complex web interface for Microsoft Live SkyDrive™.
If you want to assign a drive letter to your SkyDrive™ folders;
If you want to work with your cloud storage files quickly;
If you want the data on your SkyDrive™ account to always be at your fingertips.
Then you surely need SDExplorer!…"
Yes. If you want to use the 25GB of space that Microsoft is giving you free, and you should, then you will want to make it as easy to use as possible – because you know Microsoft won't.
SDExplorer makes Windows Live SkyDrive seem like just another drive on your computer – you can work with it the same way you'd work with any other drive – for instance, you can drag and drop files from your C:\ drive (or any other drive) into your SkyDrive using SDExplorer.
So if you're using SkyDrive, or if SkyDrive sounds like something you could use (and who couldn't use an additional 25GB of storage space), then get the most out of it and download SDExplorer. SDExplorer comes in two flavors – one of which is free. The free version offers plenty of features to make it plenty useful
Get the most out of the 25GB that Microsoft is giving away free and use SDExplorer to make SkyDrive as easy to use as a hard drive right on your computer.
Get more information about and / or download SDExplorer (Base version is free) from here. http://www.cloudstorageexplorer.com/products.php .
PS: We're not telling you how to game the system, but you can have more than one Hotmail or Live address. See what we're getting at?