A  Simple Tip to Keep You Safe: Hover Over Links Before You Click Them
One of the tricks miscreants use is to disguise links, either with an image or a text link that looks safe but isn't. We have written dozens (maybe hundreds of times) that it's really important that you think before you click.
One of the things you need to think about is counterfeit links. Those are links that look safe or text that disguises the true destination of the link. By hovering over a link, you can see the real deal – the real link – uncloaked and not disguised. And you'll know in an instant if the link goes somewhere you don't want to go.
But we have learned when some folks hover over links, they don't see the "real" URL because they don't know where to look. We were remiss and forgot to tell people where to look to see the real URL. So we're going to show you right now.
How to reveal the true destination of a link
To make sure that everyone knows how to reveal the true URL  (web address) by hovering over any link, we made the animation below. You can watch as the mouse pointer hovers over the link and how the actual URL is displayed at the bottom left. You can see in an instant that the link that appears will take you to Microsoft Support will not take you to Microsoft Support… but to https://www.thundercloud.net/infoave/new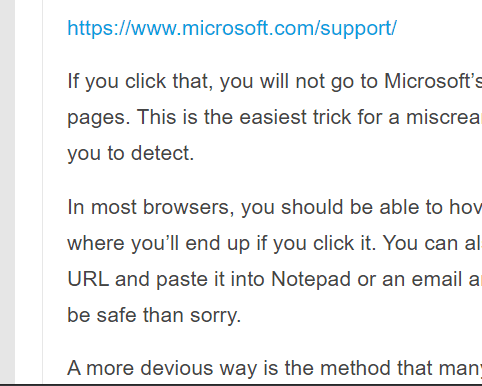 In this case, the destination of the counterfeit link led to a safe site (ours). But it could have just as well lead you to a fake site that looked like Microsoft support but would have led you into a very expensive tech support scam — or a hive of malware.
The true destination of a link (either a text or image link) will always show at the bottom left corner of your browser when you hover over it. This works in Chrome, Edge, Firefox, and most other browsers.
THINK BEFORE YOU CLICK
This is a fundamental tip that can help you stay safe on the Web. And remember – always think before you click. You'll serve yourself a lot of grief if you do.