A Windows 10 Test For You
The question:
What is the quickest way to access the following on Windows 10:
Apps & Features
Mobility Center
Power Options
Event Viewer
System
Device Manager
Network Connections
Disk Management
Computer Management
Is it by going to:
A. Settings
B. Control Panel
C. Hidden Start Menu
D. None of these
Who said C? You're right!
The hidden start menu, or the Power users' menu (which is not really either)… actually it's just an extra start menu that you can access by right-clicking the Windows 10 start button. Or, if you're a keyboard shortcut fan like us, you can open this menu by holding down the Windows key and tapping X.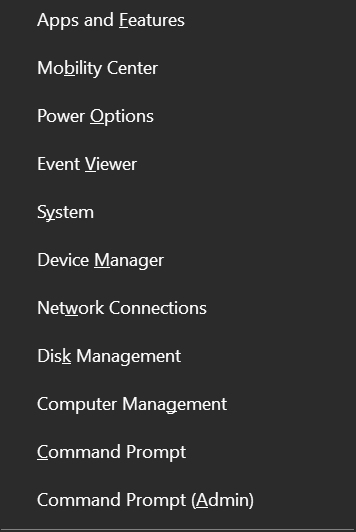 Bonus test!
Why does mine say Command Prompt and Command Prompt (Admin), but yours probably says Windows PowerShell? I changed mine because I use Command Prompt a lot more than Windows PowerShell. If you do too, you can change yours from PowerShell to Command Prompt just as easy as flipping a switch.
Right-click a blank area of the taskbar, click on "Taskbar settings" and flip the switch under "Replace Command Prompt with Windows PowerShell in the menu when I right-click the start button or press Windows Key+X"
See?
OK that's it. Hope you did well on our little Windows 10 test!