Once in a while we'll feature a Windows tweaker program because we know some of you like to play around with them – and sometimes we do too. Some tweakers are powerful programs that can change some important Windows settings and make serious changes to the Windows registry. All this can be good or bad. Some tweaks are best used by advanced users, because if you don't know what you're doing you can, at worst, make some unwanted changes to your Windows system. So we're often reluctant to recommend a really powerful tweaker like this one. We don't like getting letters from people that say – "I downloaded that program and now my computer has nothing but Chinese text ….".
X-Setup Pro is an extremely powerful Windows tweaker that enables you to make over 1,900 changes to settings that are usually hidden deeply in configuration-files and the registry with just a click. You can use it on Windows XP, Vista, or Seven (32 or 64 bit). It's fairly easy to use and has a friendly user interface. You can make changes to almost every aspect of your computer. X-Setup Pro is one of the most powerful and comprehensive tweakers available – which means it is also one you need to use with caution.
X-Setup Pro sold for $14.95 when it was still being sold. But alas, like so many other small Web companies, the folks who built their hopes and dreams on their programming skills have closed up shop. But they've been kind enough to allow everyone to use X-Setup free. This means two things: You can get X-Setup free and it's no longer being developed. If you download and install X-Setup you'll notice some features are a bit dated. For instance, you'll see settings changes for Internet Explorer 6, 7 and 8 – but not for 9. But don't let that stop you – there are still over a thousand setting changes you can make with X-Setup. It's still one of the most powerful tweakers you an install.
Here's a twist. We're not recommending this program simply as a tweaker. We're recommending it as a Windows learning tool. Almost every settings change you can make is accompanied by a complete description of what that change does and how a certain part of Windows works. This program is worth downloading even if you never use it to make a single settings change. If all you do is read the information that accompanies each potential settings change – you'll learn a great deal about Windows.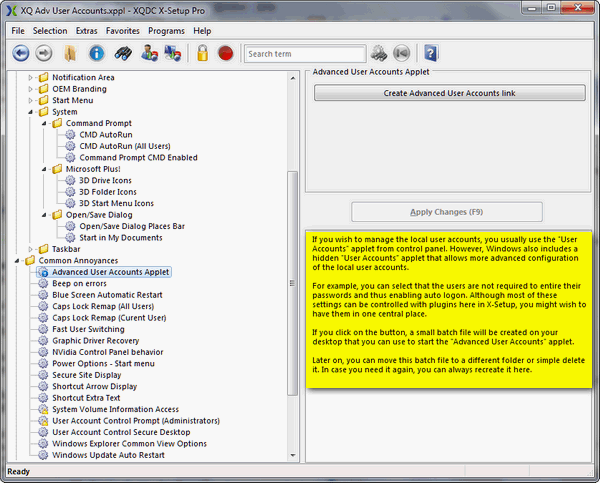 If you're interested in getting one of the most powerful Windows tweakers available (Works on 32bit and 64bit versions of Windows XP, Windows Vista and Windows Seven) or if you're just interested in learning more about the Windows you use every day you should download X-Setup Pro. At one time you would have paid $14.95 for this program, but now you it's free. You can download the program from here and register it with the free registration key posted on the download page – or if you forgot to copy the key, use the key below:
XSA092-11TA9R-8K12YT