Lillian doesn't like carets
How do I get rid of carets from Outlook Express when I want to forward an email that is loaded with them.  You used to have a freeware program for it, but I can't remember the website.
Our answer
There are several programs you can use to remove carets from email messages, but to be quite honest, the only program you need comes with every Windows computer – it's called "Notepad". Since all "caret removers" we've seen require you copy and paste the email message and then remove the carets, then paste the cleaned email message back into your email program, you're just as far ahead to use Notepad.
Here's how you do it. Open Notepad (Windows Key + R , type notepad.exe and press Enter). Copy the message with all the carets and then paste it in Notepad. Click on "Edit" (on the toolbar) and click "Replace". Next to "Find what" put a carat. Next to "Replace with" put nothing – leave it blank. Then click "Replace all" – all the carets are gone. Now highlight the entire old message with all the carets (in your email program) by pressing the CTRL A keys then, while the entire message is highlighted, right click on it and chose "Paste" (or press CTRL + V).  Your message is now caret free and you didn't have to download any special programs to do it.
Here's a couple of screen shots for you so you can see how it works.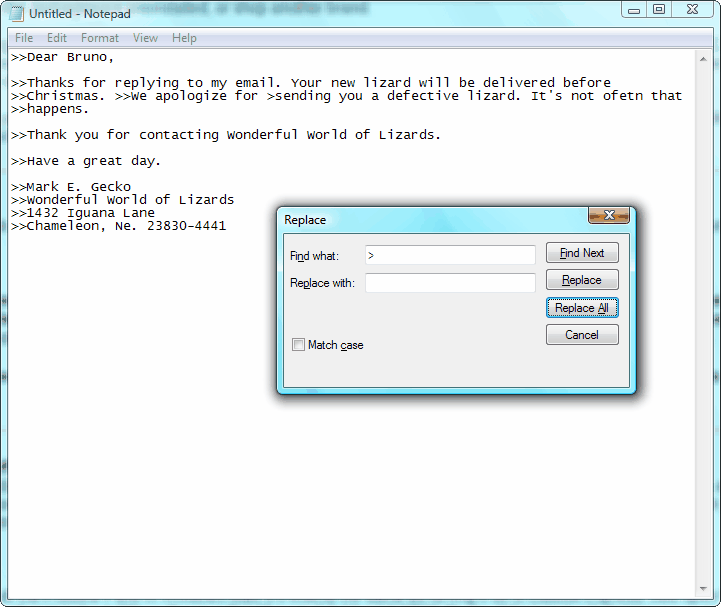 Above – all the carets make the email look sloppy.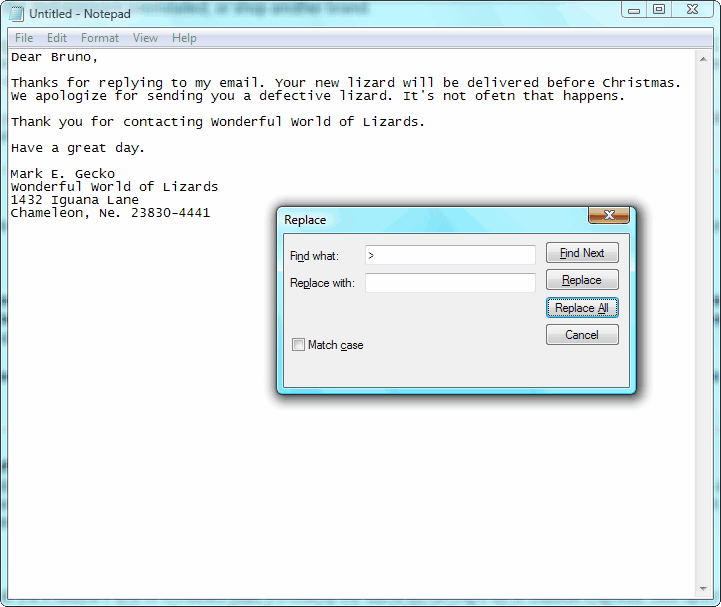 Now the email is nice and clean.
Remember, the best way to keep carets at bay is not to exacerbate the problem by adding carets to your own emails. Make sure you email program doesn't insert carets on reply. In Outlook Express and Windows Mail you can easily do this.
Click Tools/Options/Compose, then  click the "Plain text settings" button and uncheck the box that says "Indent the original text with '>' on replying or forwarding. (See screen cap below):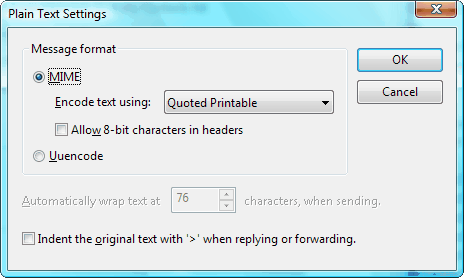 As long as you're there you might as well change the HTML settings too, so your HTML replies aren't indented every time you reply or forward. Click the "HTML settings" button and uncheck the box that says "Indent messages on reply".