The following article was written by and is provided courtesy of our friends at Emsisoft. We thought you'd be interested to know that another ransomware attack has been launched worldwide. Those of you who are using Emsisoft are protected from this and other virulent ransomware and malware. Here's the article from Emsisoft… so you'll be in the know!
ALERT: Global Petya ransomware attack under way

Following the high profile WannaCry attack merely a month ago, we have detected another ransomware outbreak that is spreading rapidly across the globe. It appears to be a new variant of the known Petya ransomware, also known as Petna, and it has already affected many high profile companies and government institutions across Europe and currently shows no sign of slowing down.
The cyber attack takes advantage of the same NSA exploits that Wannacry ransomware used to gain access to systems worldwide, yet Petya does not exhibit the same security holes and is therefore less likely to be stopped as easily.
Emsisoft's commitment to providing class-leading ransomware protection is paying off for our customers: licensed customers of Emsisoft Anti-Malware or Emsisoft Internet Security are protected from this latest outbreak. Thanks to our Behavior Blocker technology with Anti-Ransomware layer, which does not rely on malware signatures but instead detects suspicious software behavior, the exploit is detected before it can encrypt any files…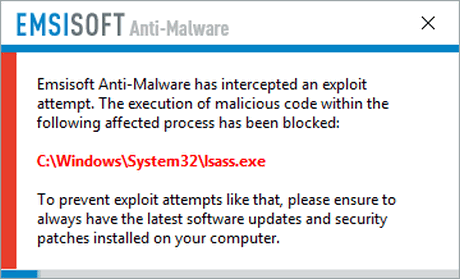 …We at Emsisoft consider ransomware the biggest threat and will continue our commitment to provide our customers with the best possible malware protection.
[Article written by Emsisoft and is used with permission.]
---
Is Your Computer Protected by Emsisoft?
If you don't have Emsisoft why not? With our special pricing + free installation and configuration, there's no better time to switch to Emsisoft. Take advantage of our Emsisoft + Free Installation special right now. Our Emsisoft with free installation & configuration package includes complete removal of your current AV software, installation and configuration of Emsisoft by Cloudeight Direct Computer Care and a one-year license for Emsisoft. All for one great price. Learn more here.