Another Weapon You Can Use in the War on Scammers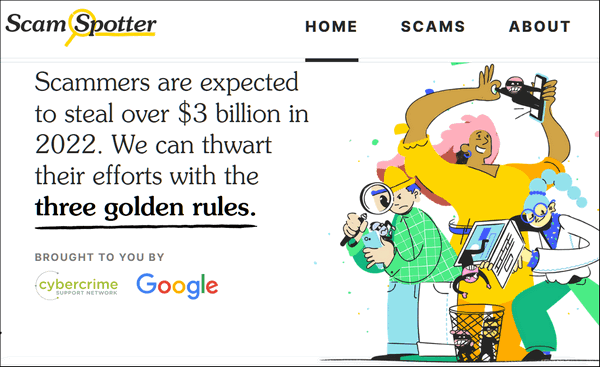 Scammers prey on the trusting, uninformed, and those in a hurry. And during the holiday season, scammers take advantage of the Christmas shopping season to bilk consumers out of hundreds of millions of dollars.
We want you all to enjoy a happy holiday season and a Merry Christmas. So we're doing all we can do to help you avoid being scammed this time of year.
A lot of people falsely believe that only ignorant people get ripped off. this is not true. The vast majority of people who get ripped off by scams are intelligent people who are too trusting. Yes, a lot of intelligent people get ripped off by criminals every year. And many computer-savvy people are ripped off by clever scammers as well.
And during the holiday season, when we all seem to be in more of a hurry than ever, more people will lose more money to scammers than at any other time of the year.
Besides being careful, taking your time, and using the same common sense on the internet as you do in your "real-world" life, learning all you can about how scammers trick you and the methods they use, can help keep you safe.
So, to that end, we present this article and a Cloudeight site pick. We want to do all we can to make sure you and your family have a great holiday and a Merry Christmas.
So today, to help you stay safe, we present our site pick "Scam Spotter". 
Bad news out of the blue? News too good to be true? No matter the scheme, we can apply the three golden rules to spot the scam…

If the stories scammers used were actually true, they'd be unbelievable.

Is your relative really in need of gift card bail payments? (Video)

Is that really the government asking for gift cards? (Video)

Is that really your boss asking for gift card PIN numbers? (Video)

Scammers are expected to steal over $3 billion in 2022. We can thwart their efforts with the three golden rules.

Tech support scammers will try to convince you there is a problem with your device, asking you to pay for services you don't need to fix a problem that doesn't exist.

Slow down
Be Skeptical of Urgent Pop-ups

Spot check
Investigate the company

Stop! Don't send
Avoid Unusual Payment Methods

…It's clear from the numbers that scams are on the rise, so teams at Google and the Cybercrime Support Network are saying enough is enough.

With Google's help, we are spotting the most common patterns used by scammers and offering practical advice to help you stop them in their tracks.

Scams are always growing and evolving. Take a look at the numbers to see just how pervasive these schemes can be.

$124 million
Lost in Gift Card Scams in 202

$6,279
Lost to Fraud Every Minute

1.19 Million
Lost in "Romance" Scams
Please do yourself a favor. Learn all you can about scammers and the most popular scams such as gift card scams, tech support scams, romance scams, bad news scams, and other popular scams. Learning how to spot a scam is the best way to avoid becoming a victim.
The more you know the safer you are.
Take some time and visit our site pick – Scam Spotter.
The money you save may be your own!