Christine has an issue with our choice of Geek Uninstaller because she can't download Geek without getting Zip Opener too.
You recommend geek uninstaller. What's with the download the zip opener? I don't need the zip opener but cannot download Geek without it.
Our answer
We recommend Geek Uninstaller, it's an easy to use uninstaller than removes leftover traces of programs you uninstall.
We have covered this subject at least one hundred times over the course of these newsletters and we understand that advertisements can be deceiving. We have constantly reminded all our readers to be careful, to take their time and not rush, and how to distinguish advertisements from the real download.
Let's look at your statement that you cannot download Geek without downloading the malware-bundler Zip Opener. Here's the Geek Uninstaller download page: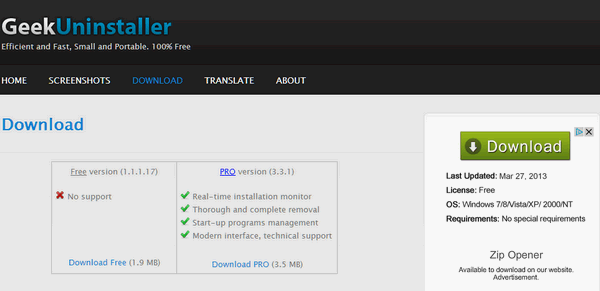 The Zip Opener is the big green download button — we'll enlarge that for you: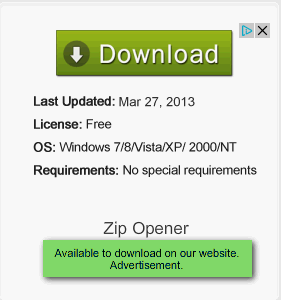 If you follow our advice you'll take time and read everything before you click anything. As you can see, the Zip Opener is an advertisement, it's even labeled as such.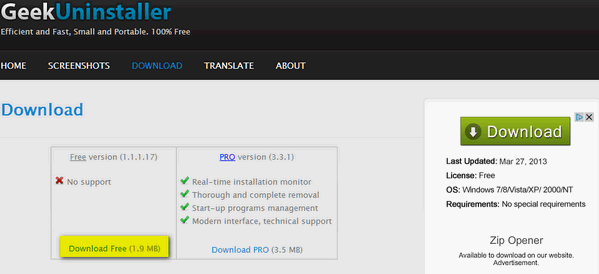 Above you can see, we have highlighted the actual download link in yellow. Under "Free version", there's a link that says Download Free (1.9 MB). We'll enlarge that for you: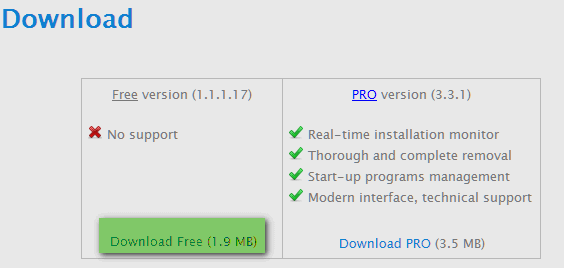 We have highlighted the Geek Uninstaller free download link in green above.
Don't feel badly, Christine. Every day we work on computers which have a lot of malware installed, some with browsers crippled by the malware, and it comes from installing software bundled with something else, or by clicking links which are not for the program they wanted to download. Had you clicked on the download button for Zip Opener, you might also have installed malware, but you wouldn't have installed Geek Uninstaller.
Yet, the download link for Geek Uninstaller free is right there – available to you and everyone else who visit that page. But you really cannot take chances anymore. You can't be in hurry and you can't assume. And we've been really trying hard to get everyone thinking the same way:
1. Use caution
2. Read everything
3. Be wary
4. Don't let big download buttons trick you
5. Make sure you know what you're downloading, if you're not sure, don't download it
6. When installing read every single dialog. Uncheck any options to installed bundled software. Take your time and do not rush through installing software. Taking a few extra minutes installing a program could save you hours later – not to mention a lot of computer problems.
We hope this little mini-tutorial helps you and others realize the importance of being careful and reading everything. Stop and think before you download. Be wary.