Being part of the Cloudeight Direct Computer Care service has allowed us to visit with many of you and to see a lot of the common problems that occur with Windows systems. There are many common problems and sometimes it takes some digging around to get to the bottom of them. We like to find out what is causing the problems with the computers we repair and sometimes we'll keep on digging until we finally find it. No software program made is going to do that.
There are other non-serious problems which can be corrected rather simply by software programs such as Captain Optimizer. One of the best features of Captain Optimizer is its PC Advisor/ PC Fixer module. And no it's not going to fix all your problems — and we're not promising it will. But if your problems are more annoying than serious then Captain Optimizer is a tool you should have in your tool chest.
Captain Optimizer's PC Fixer section will scan your computer looking for common Windows problems and then fix them for you. If they are those common Windows problems we've all had from time to time, there's a good chance that Captain Optimizer's PC Adivsor/ PC Fixer module can fix them quickly and easily.
PC Advisor / PC Fixer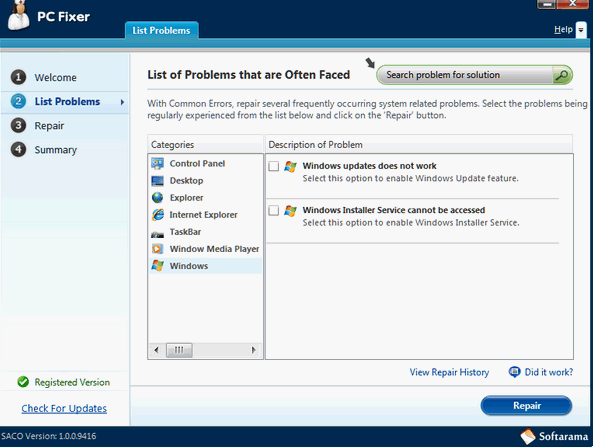 CaptainOptimizer does many things and it does most of the things it does it does better than any stand alone product we've tried. No software program is perfect, but Captain Optimizer is a program we think every Windows user should have in their utility and maintenance toolkit.