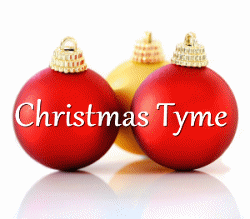 Our newest Cloudeight Christmas collection, "Christmas Tyme", is a collection that features beautiful Christmas-themed stationery. Our new collection features a wide selection of stationery so you're sure to find exactly the right stationery for each of those special Holiday emails you'll be sending this year. And because this collection has been created in several different versions, you'll find exactly the right collection for your favorite email program, whether it be Windows Live Mail, Windows Mail, Outlook Express, Thunderbird or IncrediMail.
We wish you and your family the best all through the Holiday Season and we both wish you a very Merry Christmas; we hope that each one of you gets to share the Holidays with your friends and family, and that you all get the chance to  make some special memories too!
Our "Christmas Tyme" stationery collection features 8 great stationery designs:
Peace on Earth
Merry Christmas
Happy Holidays
Snowman
Christmas Wishes
Christmas Trees
Ho! Ho! Ho!
Season's Greeting!
You can preview and download our brand new Christmas collection, we call "Christmas Tyme" from here! Enjoy our newest collection and have a wonderful Holiday Season!