Cloudeight InfoAve Weekly Bonus Questions & Answers: Part 22
Every week we receive more questions than we can answer in our Weekly newsletter due to space restrictions. We do try to answer every question we receive personally. But many times we don't have enough room to put all the questions we answer in our InfoAve Weekly newsletter. 
Whenever we have substantially more questions than we can answer in our newsletter, we'll post some of them here and share them with our Cloudeight InfoAve Weekly subscribers, our InfoAve Daily subscribers, and our website visitors also.
Below are some of the questions and answers we didn't have room for in this week's (June 5, 2020 – Issue #869) Cloudeight InfoAve Weekly newsletter.
Thanks so much to all of you who sent us your questions last week. Please keep them coming!
---
Kenneth wants to know the best way to transfer files from an old computer to a new one
Which way do you recommend transferring data from an old computer to a new computer? I'm in the process of buying a new desktop and would like to know the best way to accomplish this task. Thank you.
Our answer
The best and easiest way to transfer data from one computer to another, in my opinion, is this way.
1. Use an external hard drive. If you don't have one, you can buy a 1 TB external hard drive for less than $60.
2. Plug the external drive into a USB port on the old computer and copy the contents of C:\Users\Your User Name (If you don't know your username, open a command prompt. Type CMD in taskbar search and press Enter when Command Prompt appears. Or if you're using Windows 7 type Cmd in Start menu search and press Enter when Command prompt appears. In the command prompt type WHOAMI .Your computer name and user name will be displayed in this format: computer-name/username.
3. Once you've copied the entire C:\Users\Your Username folder to the external drive you'll have all your files and folders copied to your external drive.
4. Plug the external drive into your new computer, open the folder you copied. Then, one at a time, open Pictures, Documents, Music, Videos, Desktop. On the new computer open the corresponding folder and copy the contents on the folder on the external drive to the corresponding folder on the new computer. DO NOT MOVE THE ENTIRE FOLDER FROM THE EXTERNAL DRIVE TO THE NEW COMPUTER. Only copy the contents of the folders to the corresponding folders on the new computer.
If you need more help or something isn't clear to you, let me know.
---
Paul's SD card reader isn't working
I have an HP Pavillion PC and the SD Memory card reader has stopped working, I've searched the net but can not find any answers. Your help and advice, please. Kind regards, Paul.
Our answer
Hi Paul. This is a hardware problem. It's most likely the card reader that is bad. You can tell by trying a different card with it and see if it works. If you can't get it to work, don't spend a lot of time or money on it. You can buy a portable SD Memory Card Reader for less than $15. It plugs into any available USB port so no installation is required. If your card reader is not working, don't spend time trying to fix it.
Here one at Walmart that is an SD and Micro SD card reader that plugs into any USB port on your computer for around $12.00. You can also buy them at BestBuy, Amazon, and other stores that sell computer products and peripherals.
I hope this helps you, Paul.
---
Linda wants to know where to find temporary Internet files on Windows 10
Hello. It has been a few years since I have written with a question, but now is the time.
I was in the Paradise Campfire, the deadliest fire in California history. We survived, Praise the Lord, but we lost our computers. I didn't play on the computer for many months afterward but we finally bought new ones. I was pleased to discover that I still had all my friends' email addresses and mail saved in "Old Mail" on AOL. I am learning how to use the new computer but I do have a question for you. How do I view my "temporary internet files?"
I used to be able to go there to retrieve things that normally I would not be able to save. I think they were found in temporary files but I am not sure. I would click on an email link to listen to a song but there was no way to save it on my computer until I discovered I could get it from temporary internet files. Please tell me how to find that list now on the new Windows 10 computer. Thank you, Linda
Our answer
Hi Linda. We are all is well for you now. That must have been a harrowing experience. We're glad you're doing well. It is nice to hear from you again.
The location of Temporary Internet Files varies by browser. First, before you will be able to see the folders below, you'll need to show hidden files and folders. To do that type FOLDER OPTIONS in taskbar search. When you see "File Explorer Options" appear in the search results, press "Enter".
In the Folder Options dialog that opens, click on the View tab at the top. Tick the circle next to "View hidden files, folders and drives" and click "Apply/OK".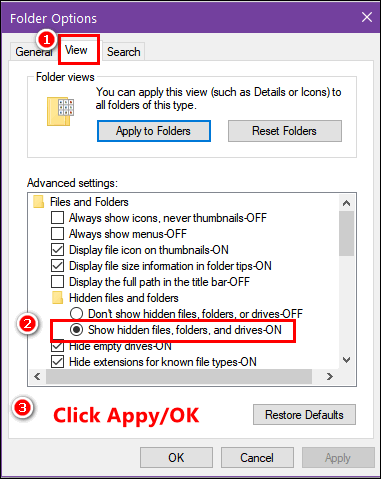 Once you do that, you'll be able to navigate to the hidden directories where temp Internet files are stored. Here are the locations for the most popular browsers.
Chrome stores temporary Internet files at:
"C:\Users\<Your Username>e\AppData\Local\Google\Chrome\User Data\Default\Cache"
Internet Explorer and Microsoft Edge store temporary Internet files at
"C:\Users\<Your Username>\AppData\Local\Microsoft\Windows\Caches"
Firefox stores temporary Internet files at
"C:\Users\<Your Username>\AppData\Local\Mozilla\Firefox\Profiles\<profile>" (Firefox profile is numerical)
I hope this helps you, Linda.
———–
Linda wrote back: "Thank you so very much for your quick reply and for all the help you give me and so many others through your emails and website. Have a wonderful day! Linda."
---
Paul D. wants to put a shortcut to Microsoft Edge on his desktop
I have a window 10 and 8.1. My question is how do I put a Microsoft Edge icon on my desktop and not the taskbar?
Our answer
Hi Paul. To put a shortcut to MS Edge on your desktop open the following location:
C:\Program Files (x86)\Microsoft\Edge\Application\
Find msedge.exe and right-click on it. Choose "Send to > Desktop (Create shortcut)" from the right-click menu.
You can remove the MS Edge taskbar icon by right-clicking it and choosing "Unpin from taskbar" from the right-click menu.
——-
Paul D. wrote back: "Thanks for the great help. Stay safe and take care. Paul."
---
Susan has trouble with Firefox
Hi TC & Darcy… My current problem has to do with my Firefox. When I get an email with a link I want to click on, instead of opening a new tab in my current Firefox, it opens a new browser and closes the current one. It never used to do that. What can I do to stop that and go back to the way it was. I sure don't want to close my current browser and open a new one. I usually have several tabs open on my current browser and don't want to close them. Thank you for your help. You always have a solution. Cheers, Susan.
Our answer
Hi Susan. I'm not aware of any changes in Firefox that would cause this. It may have been an extension you installed, one you installed that was bundled with a freeware program, or one you installed that auto-updated and changed your settings. If you reset Firefox it will return Firefox to its default settings. If you want to try resetting Firefox, read our instructions on resetting Firefox here.
Good luck, Susan.
---
Our answer
Hi Enid.  We covered this in InfoAve Weekly Issue #867  For your convenience I've pasted our TotalAV answer below:
Michael asks about TotalAV
Hello from Indianapolis. I read your take on VPN's and sure got my eyes opened, thanks for that. I am curious about your take on TOTALAV security software. Are they any good? do they measure up to Emsisoft? Please let me know what you think before I make a mistake and buy it. Regards, Michael…
Our answer
Hi Michael. Thanks for your nice comments.
The company that makes TotalAV is the same company that made the scam-ware program called ScanGuard (see our article about that here). https://tinyurl.com/y7d2dduz
And from Reddit this:
"… TotalAV and ScanGuard is the same company and both are a scam: https://www.totalav.com/special-deal-2019
This is not a coincidence, stay away from them. Also (I'm) pretty sure this site belongs to them as well https://antivirus-review.com/.
Even more proof… https://malwaretips.com/threads/total-av-is-it-a-scam.80362/ …"
There's a pattern of people downloading the "Free" version and being charged, being overcharged, and not being able to cancel without jumping through hoops. See this page.
In my experience working on computers, customers who have been tricked into downloading TotalAV have had trouble removing it. Even if the product worked well, the company behind it, the tricky marketing, and questionable marketing, to me makes it a must to avoid.
The only price that is shown on their site for "up to 3 computers" is $19 for one-year. But nowhere on that page does it say that is only for the first year — after the first year, it's $99 a year and it auto-renews and you get charged $99 automatically.  This is from a hidden part of their page informing users they have to call  TotalAV support to cancel the automatic charge… and you can almost imagine how that runaround will go.
"…Our current standard price for an annual subscription is $99. Don't want to auto-renew? You can speak to our 24/7 support team to assist with switching this off…"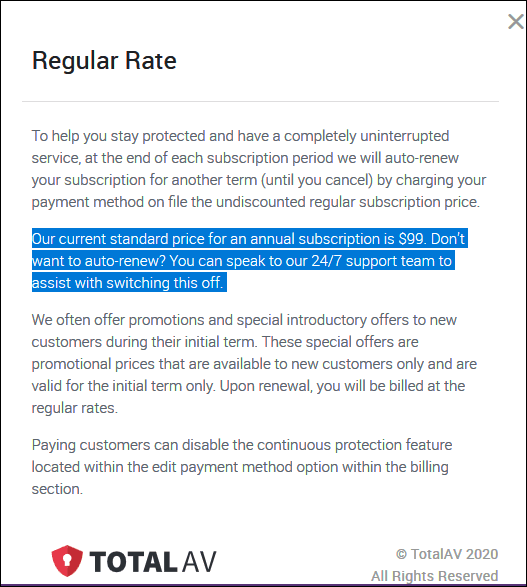 Finally, they promote TotalAV using reviews from TrustPilot, but can you trust TrustPilot?
See https://tinyurl.com/y82jfxvl and this https://tinyurl.com/yc9lcoku.
or search for "can you trust TrustPilot"
Comparing TotalAV to Emsisoft? There's no comparison. Emsisoft is a trusted product and has protected our computers for over 5 years. The pricing is upfront. Emsisoft does not rely on tricks or fake reviews.
Which would you rather have? I hope this helps you make the right decision.
More sage advice: Don't rely on anything CNet says, they are a known malware bundler and are also known to recommend products solely for financial compensation… earning commissions regardless of the quality of the product or the problems the products they recommend may cause users.
---
Joann can't get rid of Bing in Firefox
Somehow, unfortunately, I now have Bing mixed up all over my opening Firefox page. I wanted to view Bing wallpaper & somewhere along the way I must have missed unchecking something & so everything has changed to BING Bing, Bing…
I would like to get back to my normal W/10 opening page when opening Firefox. I have not been successful in doing that for about 2 days now & I waste a lot of time trying.
So I would really appreciate your help.
Thank you so much, Joann
Our answer
Hi Joann. All you need to do is reset Firefox to its defaults.
1 Type About:Support in the Firefox address bar

2. Troubleshooting Information will open

3. Near the top – on the right side, you'll see 2 options. Under "Give Firefox a tune-up" click "Refresh Firefox"

Here's a closer view.
Once you do that Firefox will be reset to its defaults. You'll need to restart Firefox to see the changes.
Refreshing Firefox saves your bookmarks and saved passwords and removes any customizations you made, as well as installed add-ons and extensions. It will also delete browser history and cache.
This will quickly fix your Firefox problems as this resets Firefox to its default state but saves your bookmarks and saved passwords (if any).
——
Joann wrote back: "Thank you so very, very much. I was able to follow your directed steps & accomplish the task. I will go back to using the Cloudeight start page, which I've been very happy with for a long time. Thanks again.