Steve wonders what's up with CNet
What's going on with CNet? I used to download a lot of software from them, but now they have something called a CNet Downloader with something like CBS Interactive. What's up with them and does their download install some kind of bundle of spyware? Thanks for the great newsletter.
Our answer
Apparently things over at CNet are getting financially tough. So tough, in fact, that CNet has resorted to using a download wrapper that wraps otherwise perfectly safe and good software in a CBS Interactive/CNet bundle which attempts to install a toolbar – and could potentially be used to install whatever else they choose with whatever program you actually wanted.
We think this is a terrible way for CNet to treat its customers, members, subscribers and visitors. This is the kind of cheap, underhanded way of making money that we deplore – and we have steered clear of for many years. But CNet has decided to disregard the trust they've earned and to trick visitors coming by wrapping legitimate software in their CBS Interactive/CNet bundler. Yes, it may be noted on their page that you will be using the CNet downloader, but it's written in such a way as to make it sound beneficial, which it is not, and most people will not even notice it. Shame on CNet.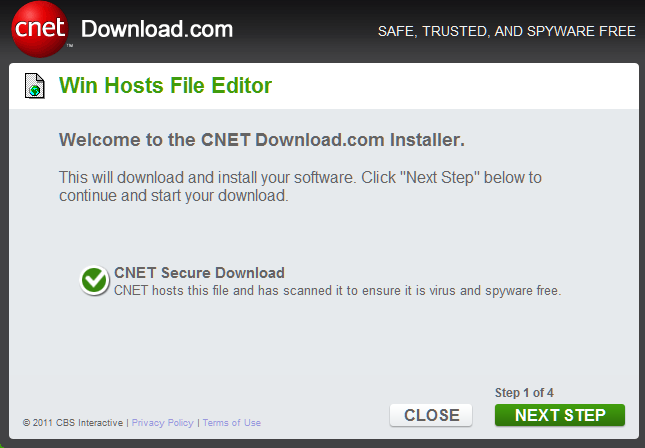 We'll not be recommending anyone download anything from CNet any longer. We know times are tough but that's no reason to trick customers who have come to trust CNet.
We recommend that all of you steer clear of C|Net for downloads.
Here is C|Net's response to their bundler – and their betrayal of their members and visitors:
Hello,
Thank you for your feedback.
When you initiate the download, you will encounter a single offer for additional 3rd-party software, which is clearly disclosed and provides the option to accept or decline the offer before proceeding with the download. We only show offers for software that is approved for listing on CNET Download.com. If you do not wish to use the CNET Installer, we provide a link to the direct HTTP download URL below the main "Download Now" button. You need to be logged in as a CNET member to use this link.
Regards,
Gregg
CNET Technical Support
However the 3rd-party application is selected by default,  CNet knows as well as we do that many people, when downloading from a site they trust, don't really read every dialog that an installation file presents. In fact, C|Net does its best to make it look like you're only getting the file you wanted and not a bundle of one or more other things you don't want and don't need. We know for a fact that C|Net serves millions of downloads per week and with the wrapper they're getting money from someone (whoever makes the 3rd-party software they're bundling) for every one of those.
C|Net is betraying the trust that it has earned over the years. Times are tough, no doubt, but that is no reason to stab those who trust you in the back. CNet had earned the trust of the Internet community – it took them years to earn that kind of trust. But we know it won't take them long to lose it. They've already lost our trust. We'll never download anything from CNet again – and we'll be pulling our files off C|Net as soon as we can.