Two things we always harp about: strong passwords and mirror-image backups. You're sick of hearing about those two things, but someday you'll thank us. You'll thank us when your friend's Hotmail account is hacked because she was using a password like 12345 – and your account is safe because you listened to us and yours was 99%2Ld4e6Z$4 . And when your cousin Walter's computer goes belly-up and he loses all those precious programs and photos, you can tell him you restored your computer in 45 minutes and all your precious photos and songs and programs are right back where they used to be. Don't gloat. Help those you care about – tell the old EB and young TC sent you to tell them:
Strong Passwords
Mirror-Image Backups
Yes indeedy folks, step right up for another lecture on the benefits of image-based backups – or hard drive cloning. If you're going to back up a few files for safe keeping, that's fine. But if your computer goes belly up, or your hard drive fails, you're going to have to start all over. Yes you can move those MP3s and photos from your file backups and you can listen to pretty music while you look at the baby's photos, but you'll be spending a month reinstalling programs, looking for registration keys, and setting up Windows the way you like it. If you had created an image-based back up you'd have had all those MP3s and photos backed up along with everything else – and you'd have been up and running in 45 minutes even if you had to replace your hard drive with a brand new one.
And there are several good image-based backup programs you can use to do your image backups…and there's at least two good free ones that we've tested and we've used. One of them is Paragon – the other is our freeware pick this week. That would be DriveImage XML of which we now speak (or write?)
And we're not going to add to you ennui with a long, drawn out sermon about the importance of good image-based backups. If you don't believe us by now, you're not going to believe. Those of you who take our advice will be thankful someday, those who don't will wish they had.
Anyway, the developer of today's freeware pick is very wordy, so he's perfect for our newsletter, and we'll let him ramble on about his program and hopefully he can convince you that image-based backups are the only way to backup. Well, not the only way – the only right way. So without further mushy rambling, here is the developer of DriveImage XML in person:
"Image and Backup logical Drives and Partitions
DriveImage XML is an easy to use and reliable program for imaging and backing up partitions and logical drives.
Image creation uses Microsoft's Volume Shadow Services (VSS), allowing you to create safe "hot images" even from drives currently in use. Images are stored in XML files, allowing you to process them with 3rd party tools. Never again be stuck with a useless backup! Restore images to drives without having to reboot. DriveImage XML is now faster than ever, offering two different compression levels.
DriveImage XML runs under Windows XP, Windows Server 2003, Vista and Windows 7 only. The program will backup, image and restore drives formatted with FAT 12, 16, 32 and NTFS.
Two Versions of DriveImage XML are available:
Private Edition: Private home users are allowed to use the Private Edition of DriveImage XML without charge. You are allowed to install DriveImage XML on your home PC. You must not use DriveImage XML commercially. No support is provided for the Private Edition.
Commercial Edition: If you are a business or organization or use DriveImage XML commercially, you need to purchase the Commercial Edition. The Commercial Edition is available with 5, 10, 20, 50 and 100-user licenses. The first screen of the Commercial Edition can be customized to show your name, address, support numbers, etc. The buyer of the Commercial Edition is allowed to install the denominated number of copies of DriveImage XML on computers in its own organization or on customer's computers. Support is provided to the buyer of the Commercial Edition for the period of one year and for the number of support incidences specified at the time of purchase. You are entitled to free updates for one year from the time of purchase. Buy the Commercial Edition…"
Obviously the only free version is the private edition. And it's the same as the commercial version sans the price tag, the promise not to use it commercially, and the lack of support. But the program has excellent help documentation, and the program very easy to use.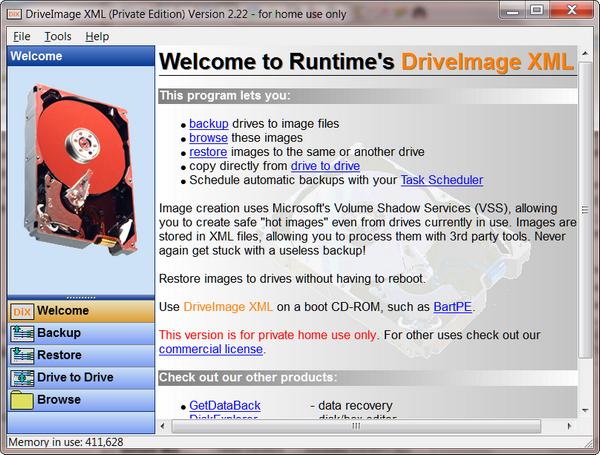 We invite you, one and all, to immerse yourself in the wonderful world of image-based backups by downloading and installing and USING – our freeware pick  – DriveImage XML.
DriveImage XML
Free backup program
Windows XP, Windows Vista and Windows 7 (32bit and 64bit)
1.78 MB Windows installer