If you're looking to cut long MP3 files into short clips without using a fancy complicated audio editor, you'll like MP3 cutter. The interface is self-explanatory – but before you begin using it you should look over the interface to see what each button does – the more you use it the more comfortable you'll be with it, and the more precise your clips will be.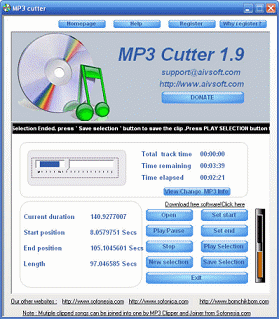 Now EB likes her cell phone to sound like the cacaphony of a rainforest when it rings – it makes her feel special when she's out to dinner with friends and her cell phone rings. Mos to of time it's not really anyone calling but a something she set up with a service that calls her on a schedule she selects – so if she's out on a bad date she has an excuse to get up an leave. Anyway, with bird's squawking and monkeys chittering away and rain falling and thunder rolling – it's impossible to not notice when EB's Android-X is ringing. Some of her dinner guests have actually been frightened by the sounds her cell phone makes and have called 9-1-1 thinking the restaurant was being invaded by a flock of angry South American blunder birds and and a cadre of boisterous baboons on the make. Not so. It's just her cell phone ringing.
TC on the other hand, prefers the old fashioned phone ring sound which is included on few modern cell phones. That's the reason why TC uses one of those old 1990's five-pound cell phones that have a strap so you can cart them around on your back. He rarely takes his cell phone with him though – he only gets 4 or 5 calls a year – normally from bill collectors and telemarketers.
OK. Enough. If you're one of those who likes fancy ringtones, and you have a favorite song or favorite songs you'd like to cut-down to ringtone size so you can use them on your cell phone, this program is for you. It's called MP3 Cutter (version 1.9) – and it's freeware. The author asks for donations and we can understand that. He needs to eat and you can't eat MP3s although EB has tried.
Anyway, here's what the author has to say about his MP3 Cutter program:
"Cut (a) small part of any MP3 song. These small parts can be useful in many ways e.g. you can use these small parts as ring tone of you cell phone. You can use these small part as startup sound of windows ( after converting to wav format).
Extract small clips from a MP3 song.
Put them as ring tone of your mobile.
Put them as windows startup sound ( after converting to wave format).
Play your selected clips from within the software."
That's all the author has to say. If you want to download it directly, you can do so from this page. If you want to visit the author's site and see all the ads, visit this page. It's up to you. I have to run – EB's cell phone is ringing – she has her "fingernails scraping on a blackboard" ringtone on today and it is driving me crazy! Gotta go!
MP3 cutter 1.9
6.5 MB
MP3 editor/cutter
Windows XP, Windows Vista, Windows 7
32bit and 64bit