Don't Let This Fake Flash Player Update Fool You
If you see this, then you could be in big trouble: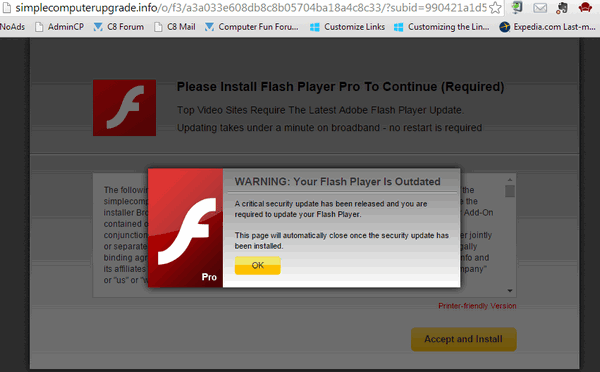 It looks real but it is not. I was reading an article on Reuters and suddenly this appeared out of nowhere. This is a fake. It's not an Adobe Flash Player update at all – it's malware.
This real-looking flash player upgrade notice appeared while I was on a respected site and a file called "installation.exe" started downloading immediately – as soon as the fake flash player dialog showed up on my screen.  Had I clicked on the installation file which started downloading immediately and if I hadn't been protected by common sense (and if I had been daydreaming Emsisoft had my back) I'd have been infected with a Trojan or malware. And the trouble is most antivirus programs are absolutely useless when it comes to preventing this sort of malware.
We have consistently told all of our readers to be wary, to not click things just because something says click to install. Always be sure of the site you are on, the URL of the ad being shown, and be very careful to read the dialog, you may find clues that tip you off that something in not right. And there are a couple of giveaways here. First if you look closely, it says "Pro". Then it says I'm "required" to update my "Flash Player". Adobe would recommend I update but would never say I'm required to update. Finally, the url showing in the browser's address bar is from a scam site called simplecomputerupgrade.info and when I tried to visit that site, it does not exist, meaning it's a forged URL. This malware outfit and its download package are most certainly not affiliated with Adobe or Flash Player and you must be wary at all times.
We don't want to incite paranoia. We want to incite due diligence. Be wary when something appears on your screen out of nowhere, for no reason. There's a better than even chance that's it's up to know good. Some fakes are poorly down and written in English even worse than mine – I tells ya!  But some fakes, like this Flash Player fake, if done professionally – a lot of time was spent making this look like the real deal.
The malware and Trojans that are installed by this kind of malware package could harm your computer, steal your passwords, or cause you monetary loss.
Now you've seen what this ruse looks like, we hope it will help you recognize it when you see it and keep you safe.
If ever you're unsure about Adobe Flash Player, go to the official site  – it's right here.