Don't like Cortana? Here's how to shut her up…
Those of you who have Windows 10 know who/what Cortana is — she's supposedly your digital personal assistant. She can tell you the weather, answer questions, give you directions, and help you find whatever you're looking for. But really, what she really is, is yet another manifestation of Microsoft's Siri Envy. For those who don't have an Apple device, Siri is Apple's version of a personal digital assistant; she has been around almost 3 years longer than Cortana.
When Apple announced Siri – the digital personal assistant, Apple-o-philes ran amok with delight. When Microsoft released Windows 10 with Cortana – the digital personal assistant – the conspiracy theorist ran amok. So now we've supposed to believe that Microsoft is somehow in cahoots with the government or the NSA or some other nefarious organization and Cortana is the Wicked Witch of the Windows 10. Nothing but a sneaky way for Microsoft to spy on its users.
Yawn. We heard conspiracy theories about Windows XP too; everyone forgot about them because none of them were true.
But worse than speculation is that you can't turn Cortana off – that Microsoft didn't give users the option to turn Cortana off because Microsoft wants to spy on users. But he truth is:  Cortana is Microsoft's answer to Siri and if Cortana is a spy tool on Windows, then, logically, Siri must be a spy tool on Apple devices. In the real world, though, Siri is Siri and Cortana is Cortana.  You can turn Cortana off and it's not hard to do.
First click Start then find Settings, then click on Privacy: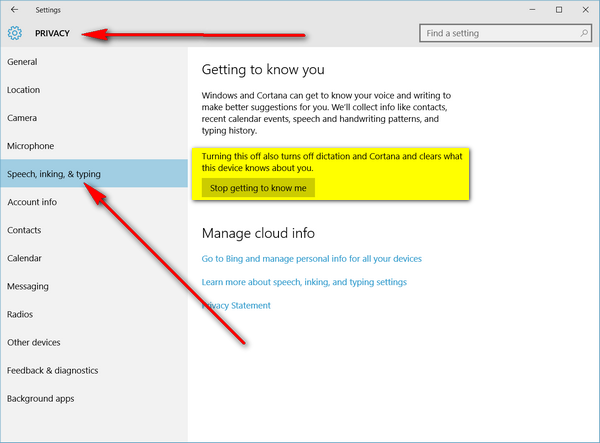 In the Privacy dialog, click on "Speech, inking & typing"
Under "Getting to know you" click the "Stop getting to know me" button.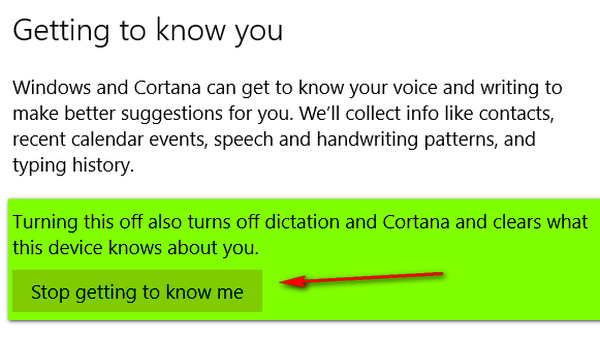 Read the information above highlighted in green: "Turning this off also TURNS OFF DICTATION AND CORTANA and clears what this device knows about you."  This device being your computer, tablet, or Smart phone; Windows 10 works on all three. (Emphasis – all caps – was added by us.)
So now, as clear as that is, someone, somewhere is going to say "that does NOT turn off Cortana" – It won't matter that it says it will turn off Cortana, they'll find a way to prove that it doesn't.
More on Windows 10 and your privacy coming up…
It does seem that Microsoft is going off the deep end with this getting to know you stuff – getting to know your voice and writing style and collecting calendar events, speech, etc. Apple has been doing this for years, but no one thinks Apple is a division of the NSA. And if you don't like Microsoft collecting info about you – you can change your privacy settings so Microsoft won't collect anything – or very little – about you. We'll be following this article up with more about how to shore up your privacy settings in Windows 10.