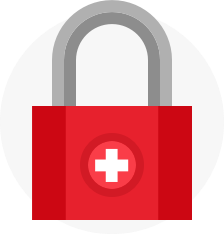 Email Privacy Made Easy
Remember, before you start reading – if you have something you want to keep hidden, don't put it on the internet.
You must hand it to the Swiss. They always seem to stay out of wars, make great cheese, keep a pristine environment pristine, and, of course, to this day, remain the world's only country that comes so close to being a true democracy. The USA is a republic, but that's not a bad thing, though.
When it comes to privacy and security, I don't think anyone would put much faith in the USA … not with such entities as the NSA or CIA.  So, email-based in the USA is always going to be under the scrutiny of the USA, or its agencies. Right?
God Bless the USA, but I'm just talking privacy here! Gmail, Outlook.com, Yahoo Mail – all are based in the USA. So, when you sign up for, let's say, an Outlook.com account, you have to give them an alternate contact (email address/cell phone number) and all sorts of other information. Like the name of your first-born child. Not really…  just kidding!  The same is true of Gmail and Yahoo.
But now, who would sign up or use a Yahoo account? Only those who don't care much about privacy or security, right?  I mean, one billion accounts were hacked. They should put up a sign like McDonald's once did. You remember that sign, the one that said: "Over one-billion hamburgers sold". Geez! That's one heck of a lot of cows!  Yahoo should put a sign on its site that says: "Over one-billion accounts hacked!" Hey, but unlike McDonald's, at least they didn't hurt any cows, did they?
Anyway… finally, I'm going to move on.
There is a mail service that was started for use by scientists at CERN. [CERN is the European Organization for Nuclear Research, where physicists and engineers probe the fundamental structure of the universe. … The name CERN is derived from the acronym for the French "Conseil Européen pour la Recherche Nucléaire", or European Council for Nuclear Research.]
Now, you can imagine that many big brains emailing each other about the fundamental structure of the universe are sure not going to want every Tom, Dick, and Harry reading their emails. No sir! They wanted privacy. Heck, they didn't even want the company handling the email to be able to read what they were writing. Hence, ProtonMail was born. In those early days, ProtonMail was used by fewer than one thousand scientists at CERN, now it's used by 1 million people.
So, your good old friends at Cloudeight thought we'd try it out and see if it looked like something that would be useful to the average non-eggheads like us. And we were impressed. Once we set up the account and tested it, we found it worked very much like Gmail and Outlook.com (and Yahoo… but why do we keep bringing them up?).
Easy to use means a lot. Cuz, we know if you decide to sign up for a ProtonMail account, you're not going to want to spend 117.5 hours learning how to use it. Relax friends! Once you sign up for your free account, you'll be able to start using it right away. It looks and feels like Outlook, Gmail, and…hmmm… Yahoo mail.
And keep this is mine. If you have some top-secret info you want to share with your friends or associates, and they have ProtonMail too, your emails to them will be encrypted end-to-end. But still, ProtonMail may hand over your info to the authorities if you're using ProtonMail to shield yourself from illegal activities. Suffice it to say though – ProtoMail is much more secure than Yahoo Mail and more secure than Gmail, Outlook.com, and others.
But no matter what kind of mail service your recipient has, if you're using your ProtonMail account, the mail in your account on ProtonMail is encrypted and safe. Only you can read it – not even ProtonMail's head honcho (Mr. Proton? What happens when Mr. Proton meets Ms. Electron?) can dig into your email trove and get that secret recipe for guanti, the one your great grandmother from Italy willed to you when she died at age 109 while playing pickleball in the rain with her boyfriend.
And when you sign up for a ProtonMail account, you don't have to give them anything I tells ya! Nada. You don't have to give them your name. You don't have to give them an alternate email address (it's optional). You don't have to give them your gender, age, or cellphone number. You don't have to give them NOTHIN!  
Just pick out a username and password… and sign up. The free account lets you send/receive up to 150 emails a day and gives you 500 MB of storage. That should be enough for most of us to use for sending top-secret, highly confidential letters to our adversaries, cronies, and canoodling buddies.
Keep in mind, ProtonMail will ask for an alternate email address, but it's optional. The reason they ask for it is in case you lose your password and must reset your password. If you're not worried about losing your password, don't give them an alternate email address. Hey! it's Switzerland, all you dudes, and dudettes! You're free at last!
Here's some info straight from ProtonMail.
Swiss Privacy
Data Security and Neutrality
ProtonMail is incorporated in Switzerland and all our servers are located in Switzerland. This means all user data is protected by strict Swiss privacy laws.
End-to-End Encryption
Automatic Email Security
We use end-to-end encryption and zero access encryption to secure emails. This means even we cannot decrypt and read your emails. As a result, your encrypted emails cannot be shared with third parties.
Anonymous Email
Protect Your Privacy
No personal information is required to create your secure email account. By default, we do not keep any IP logs which can be linked to your anonymous email account. Your privacy comes first.
Open Source
Free Secure Email
We believe email privacy should be available to all. That's why our code is open source and basic ProtonMail accounts are always free. You can support the project by donating or upgrading to a paid account.
Easy to Use
Security without the hassle
ProtonMail can be used on any device without software install. ProtonMail secure email accounts are fully compatible with other email providers. You can send and receive emails normally.
Modern Inbox Design
Security with Productivity
The ProtonMail inbox is optimized for productivity. Each detail within our secure email service is optimized to help you better read, organize, and send email.
Security Meets Modern Design
Our next-generation inbox is designed to help you work faster by being easy to use. The encryption we use to ensure email privacy is completely invisible.
So, by now, after all this info and yuck-yucks, you're either interested in ProtonMail or you're not.  If you're looking for a private, secure email address for private secret emails, perhaps ProtonMail will be light up your electrons.  If you'd like to read more about ProtonMail or sign up for a free ProtonMail account, just head on over to Switzerland and visit the ProtonMail website.
And as Columbo would say…"Oh and one more thing…" You won't be able to set ProtonMail up in your email client as you can do with Gmail, Outlook, (and here we go again) Yahoo Mail unless you pay for the premium version. But you can check, send, and read ProtonMail anytime you want for free – using your trusty browser. If you want to upgrade to a paid version and pay monthly, you can do so for about $6 (USD) per month – it's cheaper if you pay yearly. With a paid account you'll get more storage, more folders, more emails per month, and not only a YOU@protonmail.com address, but you'll get a hip and cool YOU@pm.me address … if you like cool hip stuff.
Danke! Merci!
Yay! Reading time is over. It's time for the pictures!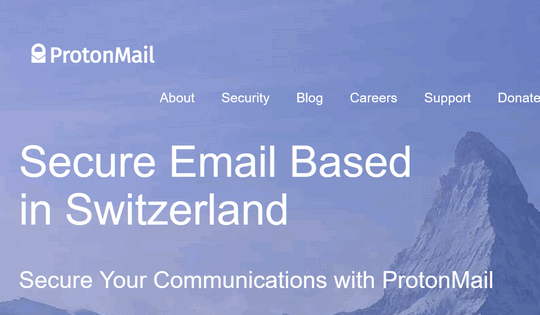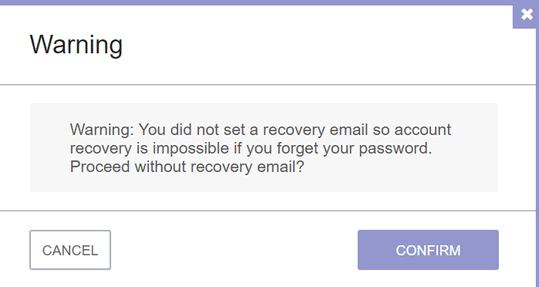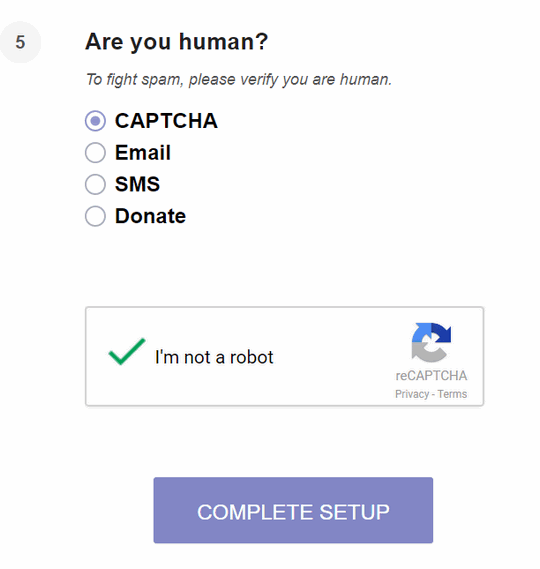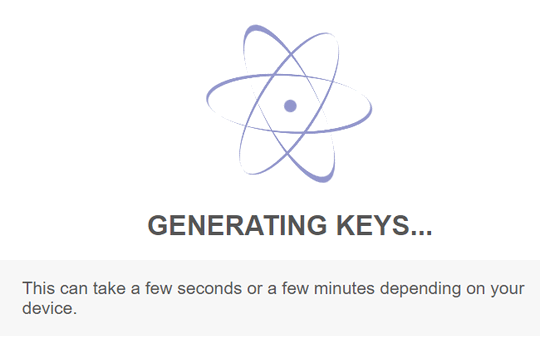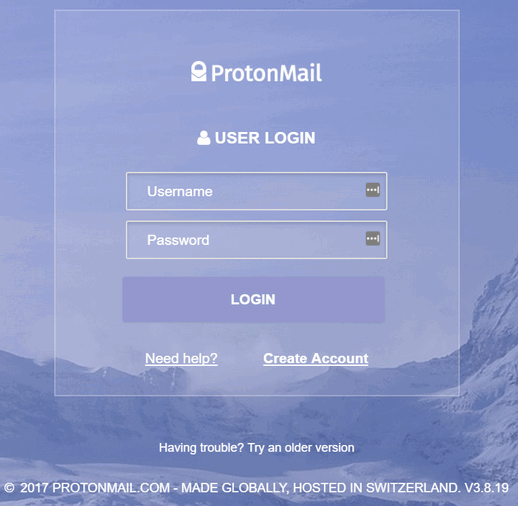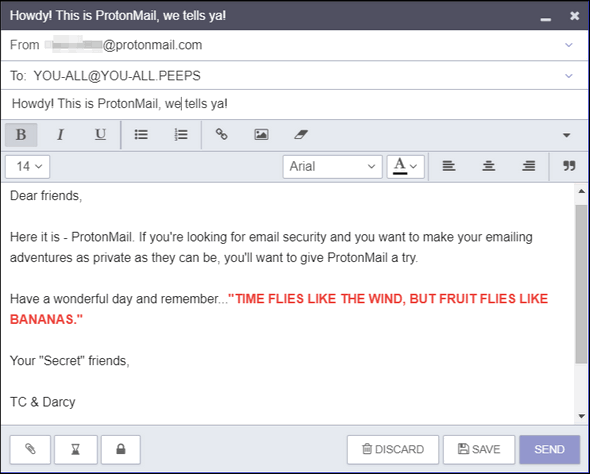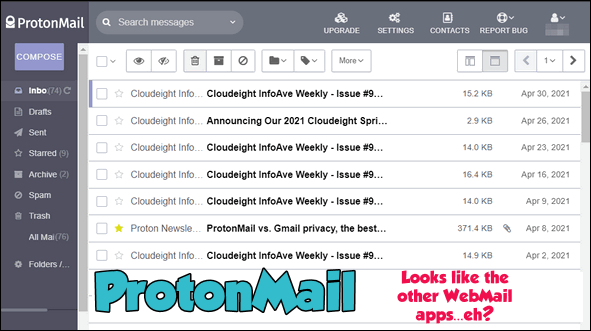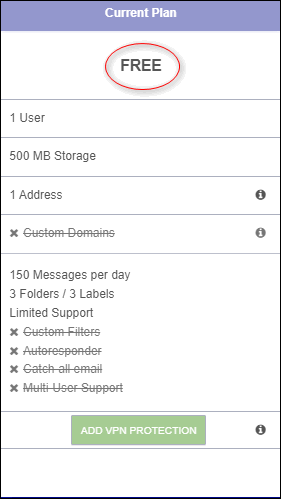 REMEMBER: THERE IS NOTHING ON THE INTERNET THAT IS ONE-HUNDRED PERCENT PRIVATE. IF YOU HAVE SOMETHING TO SAY YOU DON'T WANT ANYONE TO SEE; IF YOU ARE DOING SOMETHING YOU DON'T WANT ANYONE TO KNOW ABOUT; IF YOU HAVE SOMETHING TO HIDE – DO NOT PUT IT ON THE INTERNET. PERIOD. AS WE HAVE SAID LITERALLY DOZENS OF TIMES –THERE IS NO SUCH THING AS PRIVACY ON THE INTERNET. PROTON MAIL, VPN SERVICES, AND COMPANIES LIKE NORTON WHICH FALSELY ADVERTISE PRIVACY, DO NOT AND CANNOT GUARANTEE YOUR PRIVACY. PERIOD.