EXPLORE!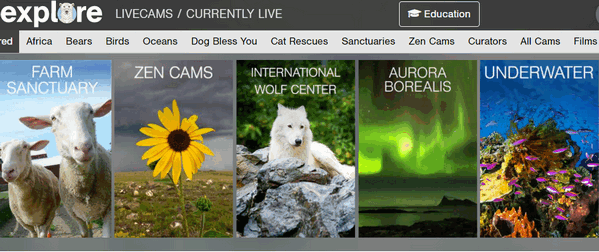 EXPLORE is the largest live nature cam network on the planet. You can enjoy the natural world right from the comfort of your home – on your computer, tablet, or phone. Watch the natural world unfolds in real-time in front of EXPLORE's cameras.
EXPLORE.org lets you view live nature cams around the world whenever you want. You can watch nature cams featuring cats, dogs, birds, marine life, and more. You can view live cams from all around the world. View African wildlife, watch gorillas and Panda bears, in on live cams. You can even watch black bears from Alaska. And if wildlife is not your thing go to the Zen Den to watch live cams of beaches, rivers, mountains, the Aurora Borealis, and much more.
The cams can't always be live, but when they are, you'll see a "Live" label in the lower left of the video. If a cam is not live, you'll see "LifeCam Highlights". All cams are not live all of the time because of the dark or night, restrictions, and/or requirements of the location.

Above. A giraffe on a live cam wiggling its ears…
If all those live cams and live cam highlights are not enough, you can watch Documentaries and more on EXPLORE's YouTube channels.
YouTube | explore films
YouTube | explore Africa
YouTube | explore birds bats bees
YouTube | explore bears & bison
YouTube | explore cats lions tigers
YouTube | explore dogs
YouTube | explore farm life
YouTube | explore oceans
YouTube | explore the zen den
If you have an Android or iOS device Explore has an app for you:
For Android devices go to…
https://play.google.com/store/apps/details?id=com.actolap.explore&hl=en_US 
For Apple devices visit the App Store…
https://apps.apple.com/us/app/explore-org/id534289239
And since you're probably reading this on a Windows C right, you can take a trip around the world by visiting our Cloudeight Site Pick – EXPLORE.