Firefox Quantum: Test Drive It Today
If you're not afraid of trying beta software (software in testing stages) you might want to test drive Firefox's current, in-the-works  attempt to catch up with number one Chrome.
We tested Firefox Quantum today, and we didn't find it was 2x times faster, but it does use less resources. Whenever a browser claims to be faster, it makes us wince, because it so misleading.  Most people read that and think it will load Web pages 2x faster, but that's not the case. How fast web pages open, primarily depends on your Internet connection speed. Firefox Quantum (the program) does open faster than the current version of Firefox, but whether it's 2x faster is debatable.  As far as using less memory than Chrome, that seems to be true based on our tests.
Here's what Mozilla Firefox says:
2x faster

Powered by a new, cutting-edge engine, Firefox has doubled its speed from last year. Because the Internet waits for no one.

Lean, mean speed machine

Firefox Quantum's new engine uses 30% less memory than Chrome, so other programs won't slow down during browsing. Now that's a win-win.

Library

Enjoy everything you've saved to Firefox while browsing in one, easy place.
You can test drive the Firefox Quantum beta or sign-up to be notified (or both) when the Firefox Quantum browser is out of beta and in its released version.  We found the beta to be stable and without any glaring defects. Some Firefox extensions (LastPass for example) won't work in the beta version, although you can be pretty sure that by the time it is released most extensions will be updated to work with it.
If you're the kind of person who likes to try new things, we don't think you'll have any problems using Firefox Quantum beta versions.
If you want to download the beta, keep in mind that it MAY overwrite your current version of Firefox – and some of your extensions might not work.  Our bookmarks imported into Firefox Quantum effortlessly.
If you're interested in downloading and trying Firefox Quantum or you want to sign-up to be notified when it is released to the public (scheduled release date is November 14, 2017), or you're just curious and want to read more about Firefox Quantum — all you have to do is visit this page. 
Our screenshot gallery
Installing…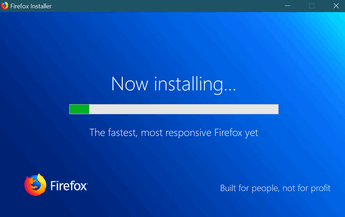 Below: About Firefox Quantum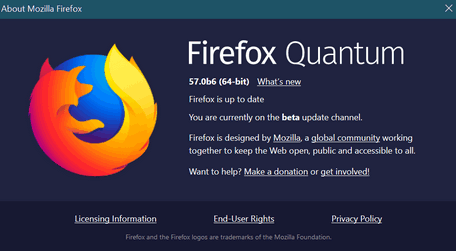 Below: Overview… Firefox Quantum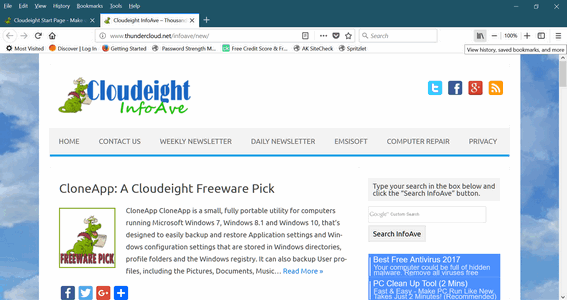 Below: Overview… Firefox Quantum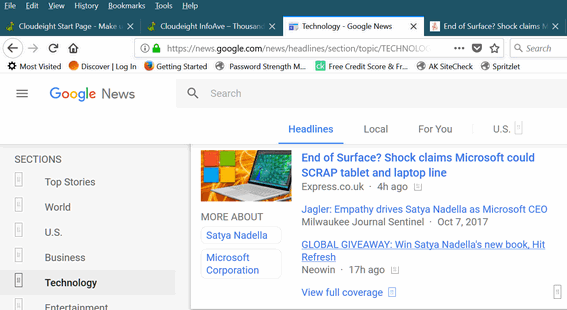 Below: Firefox Quantum's "Library".