Free From Microsoft: Eight Windows 10 Guides for Beginners
Did you know that Microsoft offers 8 Windows 10 visual guides for beginners? The 8 guides are Desktop at work, Windows Defender, Connect to a network printer, Movies & TV App, Microsoft Store, Photos App, Maps App. and Bring your own device.
Not a beginner?. These guides go beyond basic beginner-level Windows, but they are visual and very well done so everyone will find something about Windows 10 they didn't know. And best of all, these visually oriented guides are very easy to use and understand.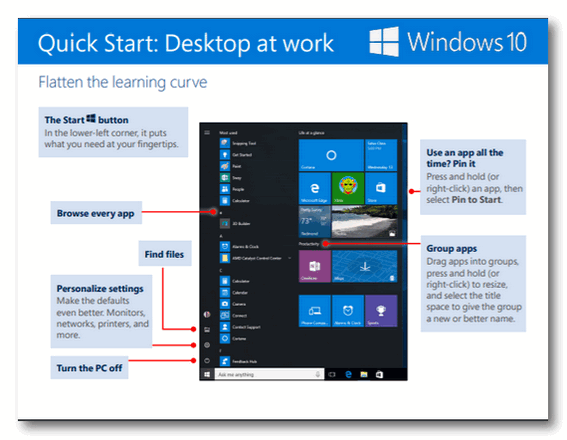 1. Quick Start: Desktop at work
Learn all about the Windows 10 Desktop including the Start menu, taskbar,  Action center, Cortana and more.  Learn  how to rearrange, resize, and manage Start menu tiles. You'll learn how to show and hide system tray icons, clear notifications in Action center and more. To view this guide click here.
2.  Quick Start: Windows Defender
This guide explains features of Windows Defender and how you can configure it. Click here to view this guide.
3. Connect to a Network Printer
This guide shows you all the ways you can connect a network printer in Windows 10.  Even if you're not a beginner, you'll find this guide very useful.  View the Network Printer guide here.
4. Quick Start: Movies & TV app
The Movies & TV app comes on all Windows 10 computers. It lets you to watch Movies on your Windows 10 PC which you can buy or play movies already on your computer. If you're interested in learning more about the Movies & TV app,  click here.
5. Quick Start: Microsoft Store
This guide shows you how to navigate the Microsoft store. It show you how to understand what each tile means, how to install Microsoft Store apps, search for new apps, etc.  Keep in mind you can only use the Microsoft store if you have a Microsoft account. To learn how to use the Microsoft Store app click here.
6.  Quick Start: Photos app
The Photos app in Windows 10 keeps getting better and better. Now you can use the Windows 10 Photos app to create and edit 3D images. The Photos app as many features to help you edit and organize your photos, create photo collections and more. This Quick Start guide to the Windows 10 Photos App is excellent and you can check it out here.
7. Quick Start:  Maps app
The Maps app is not very well known and not very popular, but it does have some useful features. You can learn all about the Maps app here.
8. Quick Start: Bring your own device
This guide is useful if you use your Windows 10 device at work or school.  To use this Windows 10 feature you'll need your account information from your place or work or your school.  If you're interested in learning more about "Bring your own device" click here.
Keep in mind these guides are being constantly updated, therefore some of the guides may not match the version of Windows you're using. That being said, we think you'll find them useful and educational and definitely worth your time.