How to Create a Password Reset Disk and Never Get Locked Out of Your Windows PC
This tip is for Windows 10 and Windows 11
First…if you're using a Microsoft Account to log in to Windows and you forget your password you can reset it online. One advantage to using a Microsoft Account is that you can reset your password online using any internet-connected device (Smartphone, tablet, laptop, etc.). So, if you're logging in with a Microsoft account, you don't need a password reset disk. 
[Note: Most of you using Windows 11 are using Microsoft accounts unless you took extraordinary steps when you first set up your computer.]
But if you are using a local account and forget your password, keep in mind that there are not many easy/free ways to recover a lost Windows password. Creating a Password Reset USB flash drive ensures you'll never get locked out of your PC.
So, if you're using a local account on your Windows 10 PC, we will show you how to create a password reset USB flash drive that you can use to reset your Windows password should you ever forget your password and get locked out of your PC.  You can use the password reset USB to reset your Windows password and regain immediate access to your Windows computer.
How to create a Windows 10 or Windows 11 password reset USB
1. Insert a USB Flash Drive. We suggest using a new 2GB USB flash drive. If you use a USB flash drive that already has data stored on it, everything will be erased. So we strongly suggest that you use a new USB flash drive or make sure the USB flash drive you use does not have any important data on it.
2. Type Password Reset Disk in Taskbar search
3. The "Forgotten Password Wizard" will appear. 
4. Follow the instructions that appear in the onscreen dialogs: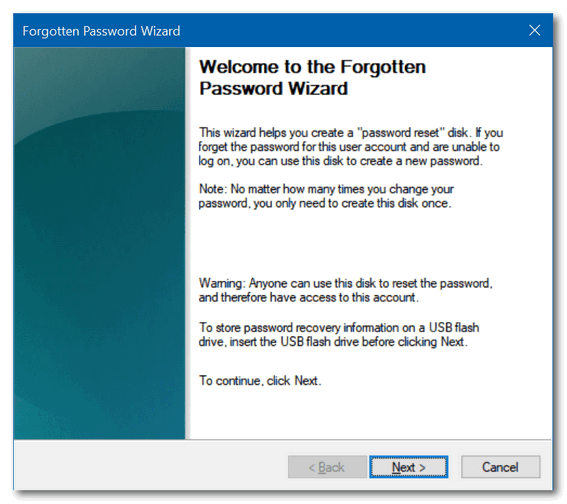 C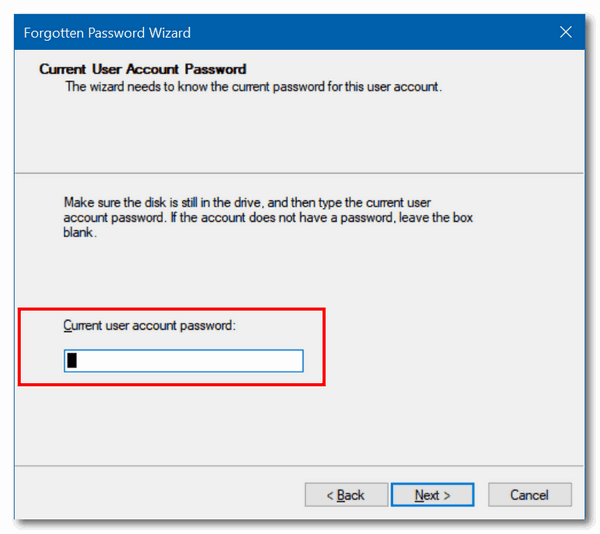 How to use the password reset disk to reset your Windows password.
1. Boot the PC and type in a password.
2. Click OK when the password fails.
3. Insert the Password Reset Disk and click Reset Password.
4. Click Next.
5. Select the Password Reset Disk and click Next.
6. Type and confirm the new password.
7. Create a password hint.
8. Click Next.
9. Click Finish.
Keep your Password Reset Disk in a safe place. If you ever forget your Windows password you can use this flash drive to reset your password and unlock your computer.