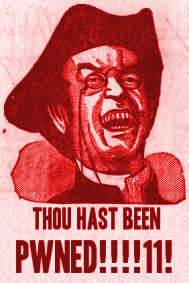 EB is pretty cool,, she knows all the hacker terms like pwned and crack. I don't know any of them, but if I need to know one she'll tell me — reluctantly. Because you're all good people like TC, you probably don't know what pwned means, so EB told me it's OK to tell you. Pwned means owned. And in the case of this interactive tip, pwned means someone has access to your email username and password — and therefore anything in your email account. Did I mention these hackers can also use your email account for nasty things — indeed they can.
Now you're all curious to see if any of your email accounts have been pwned, aren't you? You should be; one hundred fifty eight million is a lot of pwned email accounts, isn't it? It's even more email accounts than EB has. It's a lot.
Seriously folks, this is serious business. We've harped at you until we're blue in the fact about using strong passwords and about using a good password manager to create strong passwords and remember them for you. So if you haven't done so by now, we're not going to convince you. Maybe, if you discover that one or more of your email accounts has been pwned, and your emails and your email account or accounts are in the hands of criminals who could then use all your information for nasty deeds, you'll listen to us and change all your passwords to strong passwords and download a good password manager like LastPass (free version) http://lastpass.com/ .
So go forth now and see if your email address or more then one of them has been pwned. Visit http://www.haveibeenpwned.com  and see if you have been pwned. We hope not!