We've been recommending Microsoft Security Essentials for quite a while now. Last week we were besieged by folks who'd read an article in another newsletter which bashed MSE – basically saying it offered very poor protection. By the number of emails we received, it appeared that this article got a lot of attention. We mention this because the article's purpose was more about getting your attention than providing you with factual information. And it's too bad that some newsletters are more concerned with writing sensationalistic articles, the purpose of which is not very well veiled. This kind of knee-jerk journalism isn't written to inform you or keep you safe – it's written to drive people to a Web site to read the article. Traffic equals money. The more people who ventured to the site -the more chance the newsletter had to gain more subscribers, and more traffic equals more clicks on advertisements. Money makes people do things they wouldn't ordinarily do.
It's nothing new. Have you ever been in a line at the supermarket and read the headlines on the tabloids?
"92 year-old Nebraska woman gives birth to alien twins"
"Elvis Presley sited in Starbuck's in Memphis: Exclusive interview inside"
"Doctor teaches cucumber to talk in Toledo"
It's too bad that sensationalism sells. But it does and we all have to deal with it. Since many of you are concerned we've been lax and haven't done our homework regarding Microsoft Security Essentials, we wanted to ease your mind with facts.
There are two sites which are traditionally regarded as the best source of information regarding anti-virus and security programs: AV Comparatives and AV Bulletin. Neither was the source of the MSE-bashing article which appeared in several geeky newsletters last week. The testing that rated MSE "mediocre" was done by a German company, AV Test, which we've never heard of. What better way to get your name out there than to bash Microsoft and have all the geeks who search for anti-Microsoft information in order to write sensational articles and drive more traffic to their sites. We're not pro-Microsoft by any means. We see the end of Windows coming within the next ten years. We think Microsoft's greed is leading to its demise. But Microsoft Security Essentials is not one of Microsoft's mistakes. It's a great free antivirus that runs quietly and doesn't drain your system resources. It's an effective free antivirus and you can trust your computer to it.
And there's the truth. MSE isn't the best antivirus you can install. There are better. It's the best free antivirus you can install – and it will protect your computer as well as McAfee or Norton and better than some commercial antivirus programs. And we're going to prove it to you – not with a lot of arcane test results, just summaries.
The German company's methodology is unclear, but there's no doubt that your computer will never have to deal with thousands of viruses at one time – no matter how careless you are – you can't possibly be so careless as to encounter thousands of viruses, Trojans, worms, and other malware in a lifetime – let alone in a few days.
So when you view the summaries below, keep in mind that MSE did very well in real tests by respectable and well-known independent testing labs which have been around for a long time.. Also keep in mind when you see Avast and AVG listed in these tests, these are not the free versions which were tested, they are the paid (commercial) versions. MSE does not offer a paid version.

MSE rates better than Norton and slightly less effective than McAfee.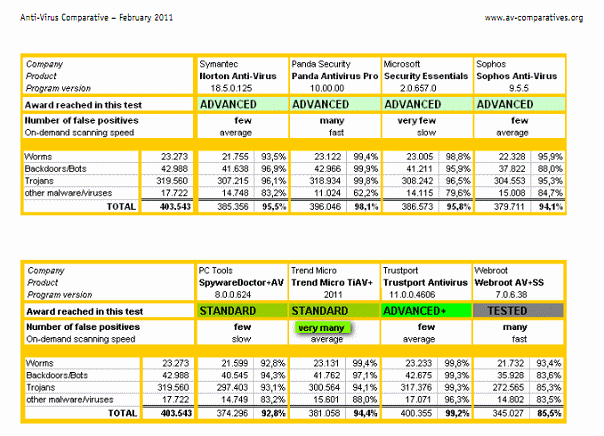 MSE achieves the same "Advanced" security rating as Symantec (Norton), Trend Micro, Panda. and Sophos. It beats PC Tools AV+Spyware Doctor and others. Keep in mind that none of the others are free.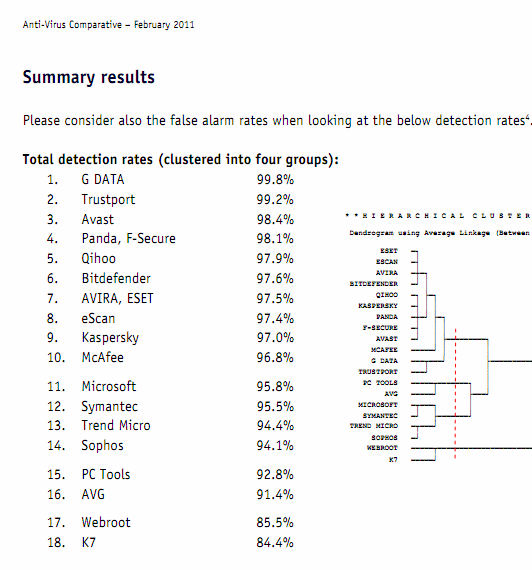 The above image speaks for itself. Right?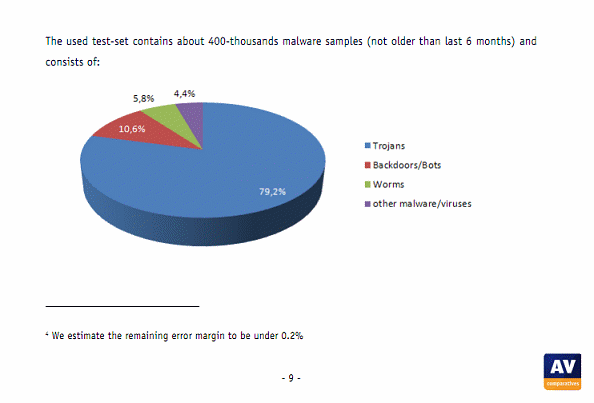 You are not likely to encounter 400,000 viruses, Trojans, worms and botnets in your lifetime. But this is the kind of vigorous testing that was done.
MSE ranked #2 in false positives. False positives are an indicator of how accurate an antivirus is. Again, MSE is the only free antivirus in the list.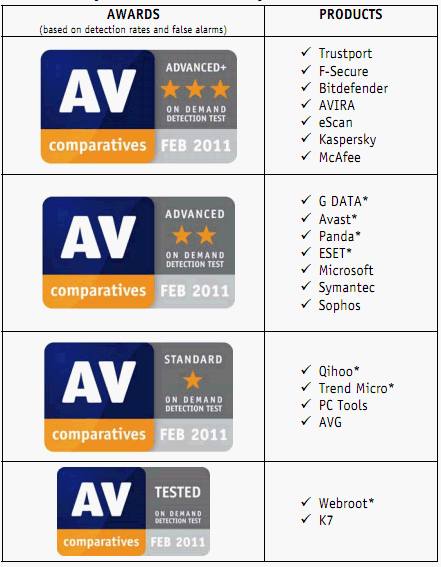 Microsoft Security Essentials does well.
All of the above were taken from AV Comparatives Web site. The tests were conducted February 2011 by AV Comparatives – generally regarded as the most reliable independent AV testing lab in the world.
More about AV Comparatives from their Web site: "AV-Comparatives.org is an independent, nonprofit organization that tests antivirus software in conjunction with the University of Innsbruck in Austria. The organization only evaluates the effectiveness of programs at detecting viruses and malware, but the test report is very thorough and detailed. AV-Comparatives.org conducts many types of tests, but this one — the proactive/retrospective test — is considered the most demanding. Fifteen antivirus programs are evaluated, and nine earn the highest Advanced+ certification. AV-Comparatives.org also publishes standard detection tests and a whole-product summary, which is helpful for evaluating Internet security suites."
AV Comparatives does complete testing every three months. The May test results will be available in June 2011. If there's any major change, we will let you know.
The other respected testing lab is called AV-Bulletin – and as you can see (below) from the results of their tests, MSE did well there too.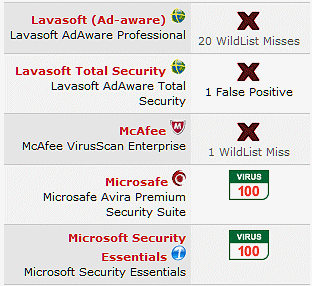 We stand by our recommendation of Microsoft Security Essentials. Sensationalism sells but it also bends the truth. There is no other free AV that will protect your computer better than MSE. Not one. And if you want to spend $40 or $50 on antivirus, don't spend it on McAfee or Norton. They are clearly not the best. We use MSE on all our computers. It runs well, it protects our computers and unless we encounter a real threat we don't even know it's running. That's exactly what we want – great free protection that runs silently in the background keeping our computers safe.
The next time you see geeky newsletters using sensationalistic headlines, don't fall for it. Do your own research and find the facts. They're out there, but sometimes facts are not easy to find. And always remember that safety and security don't start with a software program – they start with you.