Let's Put "Copy to / Move to" Back on Your Right-click Menu
This tip is for Windows 10 all versions, but can be used for Windows 7 and Windows 8x too!
As most of us Windows 10 users know by now, there are two major Windows 10 updates every year. And sometimes little tweaks we add to our computers to make them more to our liking, often vanish after a major Windows 10 update.
Most of you have, or will be getting Windows 10 Fall Creators Update.  If you're like us, and you had "Copy to" and "Move to" on your Windows right-click menu, the Fall Creators Update will remove it.
So, we think this tip will come in very handy for all of you who really like (or would like) having the convenience of right-clicking on any file or folder and having the option to copy or move the file or folder to another location without a lot of fuss.
For instance, if you have ever wanted to move a file or folder from, let's say, your C:\ drive to a flash drive or external drive, You could open up two Windows Explorer windows and drag and drop the folder or the file, but this is a lot of unnecessary rigmarole. Or tou could also copy it from one location and paste in another location, but why make it difficult?
Before we tell you how to put it back, we're going to tell you why it's gone. The brains at Microsoft removed "Copy to" "Move to" from the Windows right-click menu with the introduction of Windows Vista. Wouldn't it just have been easier for the Windows brain trust to have left "Copy to" "Move to" on the right-click menu in Windows Vista, Windows 7, Windows 8, Windows 8.1 and Windows 10? Indeed it would have been a piece of cake, but it typical Microsoft fashion. logic does not play a large role in decision making. So "Copy to / Move to" vanished from the right-click menu.  And why? We don't know why… Bill and company will not answer our calls!
Let's put Copy to / Move To back on your right-click menu
Click on this link and save it to your computer. Unzip the file you just downloaded and either right-click on one of the two files inside the zip then choose "Merge"- or double-click on one of the 2 files in the zip. You'll get a warning that you're about to enter information into the registry. You can either trust us and allow the registry info to be entered and you'll have "Move to" or "Copy to" items on your right-click menu (depending on which file you chose). After you're done with the first file, do the same with the second file. After you've finished you'll have "Copy to" and "Move to" displayed on your right-click menu whenever you right-click on a file or folder.   You'll find it is a lot easier copying and moving files with this nifty right-click enhancement.
If you want you can copy or move multiple files by holding down the CTRL key while you select each file you want to move, when all files you want to move or copy to another location are highlighted, right-click one of the selected files and choose "Copy to" or "Move to" from the right-click menu.
In the example below, I'm copying our wonderful, packed-full-of-goodies 2017 Cloudeight InfoAve Premium Volume 14 E-Book (which you can get here) to a flash drive.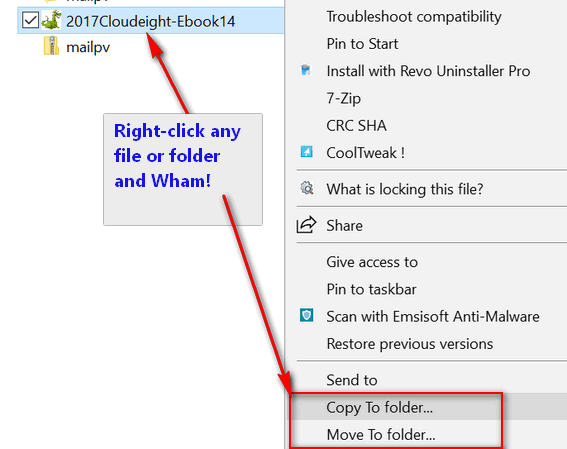 Now … if I could just put a "Move to" menu on EB's forehead. I'll let you all guess where I'd move her to! I sure would never copy her!