Looking for Your Next Great Read? Whichbook is a Site You'll Love!
Up here, in the top half of the world, we're getting ready for winter. Those of us crazy enough to live in the northern parts of the USA are making sure our fireplaces, snowblowers, snow shovels, and our cars are ready for the grueling grind of another gray and cold winter. While I do love to read in the summer in the shade under the old maple tree in my yard, there's nothing like hiding from old man winter engrossed in a good book in front of a crackling fireplace. Nothing helps me escape the wicked wrath of winter more than a good book. With a good book to read, I can be sipping drinks on a sunny beach in Hawaii while the winter wreaks havoc right outside my window.
But one thing I've found, and if you're a reader, I'm sure you've found too, it's not always easy to pick out the next book to read. I'm one of those "Pick-by-author" types until either there are no more books to read by that author or the author failed me by writing "cookie-cutter" novels when one book is just like the next with different characters. But that's not a good way to pick out books. If you limit yourself to a few favorite authors, you're missing out on a whole of other possible future favorite authors.
To make a long story shorter and to ease your burden of reading my yammering, I decided to look for help in picking out my next book. And that search led me to Whichbook, which can help you select your next book by helping you find exactly what kind of book you're looking for.
You can search for books in many different ways. You can search for books by "Mood & Emotion", or by setting or country (World Map). You can choose by "Character and Plot" and from a nice selection of best sellers.

When I reviewed this site they focused on choosing books by "Mood & Emotion" and even provide a gadget for making sure you find exactly what you're looking for.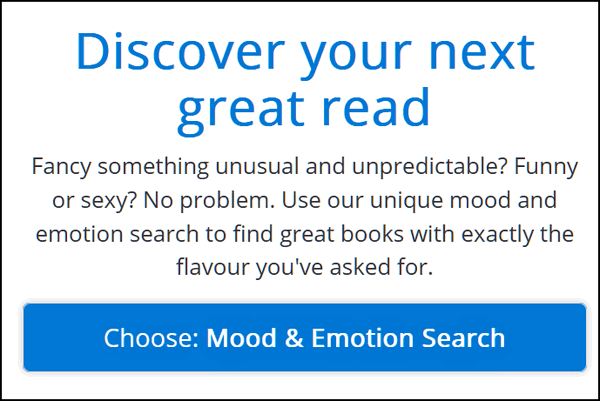 I call it a gadget, you can call it whatever you want. You can choose from many different categories, by using sliders. Some sliders are on the main gadget and some are not until you click one of the white boxes then you'll see even more choices.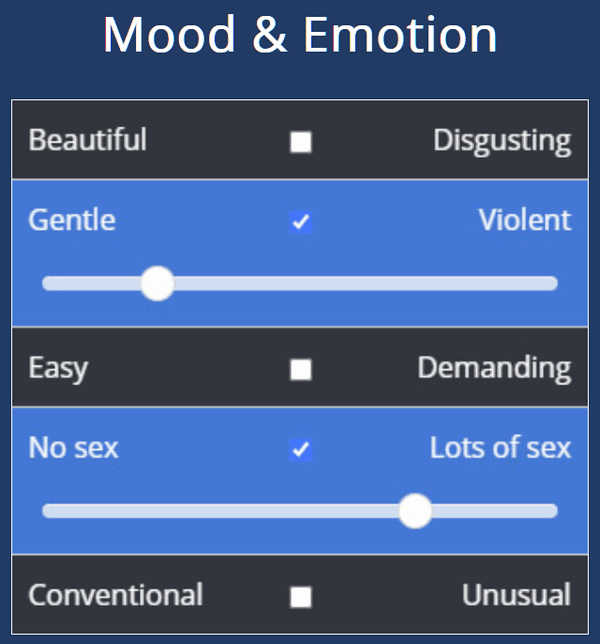 If you click one of the white boxes in the gadget above you see that you have more choices to choose from using up to 4 more sliders based on your selections.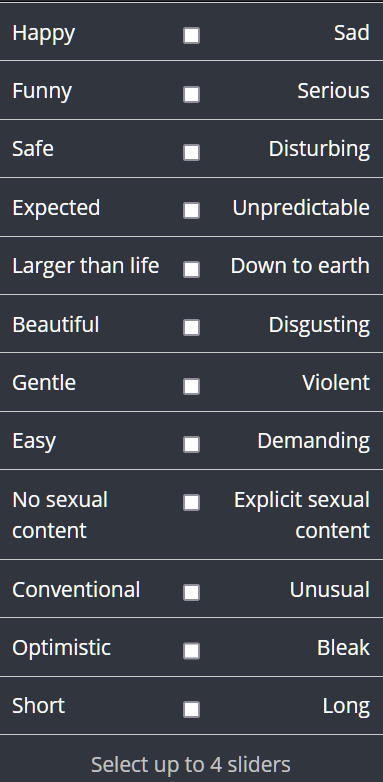 You can also look through some of the week's bestsellers.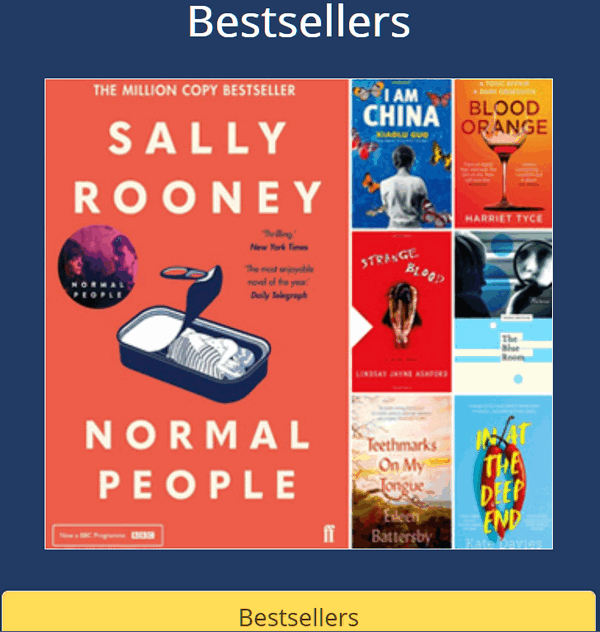 And if all that is not enough to help you find the right book to read next, Whichbook also has "Quick starting points" to help in choosing your next book. Here are some of these Quick starting points:
Happy books to cheer you up
Sad books from wistful to heartsick
Funny books with all kinds of humor
Serious fiction to get you thinking
Safe books to keep you warm
Disturbing books – find your limit
Unpredictable books to keep you guessing
Beautiful books to read
Disgusting books to shock you
Gentle books to slow things down
Violent books from slapstick to depravity
Demanding books that offer a challenge
Weird and unusual books to stretch the imagination
Books to give you hope
Short books to read
Long books to read…
Now finally it's time to let the site developers have a word with you.
About Whichbook
A new way to choose where the reader is in control

Searching book sites usually means keying in an author's name or a book title. But if you know the name already, your search is likely to turn up books you've already heard about. No surprises there.

How about if you didn't need an author name at all? If you could start with what you as a reader are looking for right now? You might be in the mood for a funny read, or something to make you think. Do you want a book that's easy going or more of a challenge to get your teeth into?
If you're a reader like I am, then you're constantly looking for your next "read'. I think you'll find Whichbook very helpful in helping you find just the right book to read next.
Visit our site pick Whichbook right now and find you're next great read!