In older versions of Windows, fonts were sometimes difficult to install and manage, but Windows 7 presents a welcome change for all of us who love fonts. Additionally, Windows 7 offers more default fonts than any previous version of Windows. But, we'll get to that a bit later.
I'm reading the biography of Steve Jobs (if you haven't read it, you should) and I was amazed to learn that the reason we have such nice fonts on PCs is because Steve Jobs dropped out of college and then decided to sit in a calligraphy class. Jobs fell in love with typography, fonts, and calligraphy – and when he was working on the Macintosh he wanted to include (and did) a large number of great fonts – which were then copied by Microsoft and used on PCs. And that's why we have such great fonts on our computers.
OK, back to business:
Windows 7 offers a much easier way to work with your fonts – and much better way to see what the fonts you have actually look like – than any previous version of Windows. You can access the font folder in Windows 7 this way: Click Start, Control Panel, Fonts. In the Font folder you can preview, delete, show or hide all the fonts installed on your system.
You can adjust ClearType text from the Fonts folder too. ClearType improves readability of text on LCD screens and makes text more readable on older monitors as well. With ClearType letters and number appear almost as sharp and clear as those on a printed page
Let's take a look the Font folder and how it is displayed in Windows 7: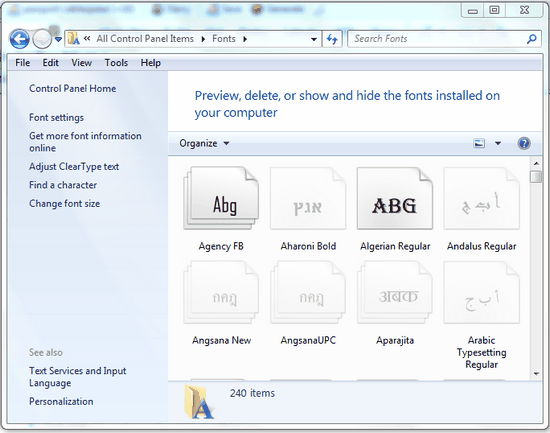 You'll notice that you can also find Windows Character Map here also. The Character Map utility has been included on all Windows systems and is used to copy and paste accented letters, foreign language characters and symbols into any Windows application. Other commands found in the fonts dialog are Set custom Text Size (make it easier to read what is on your screen), and more general font information.
Here is a page that shows a screenshot of all the fonts that will be included in Windows 7. The list is over 60 screens long; it will take you awhile to get through it.
Windows 7 makes installing, viewing and working with fonts easier than ever before. So all you font-a-holics using Windows 7 — rejoice!