Microsoft Ain't Gonna Call You
Every week, every single week without fail we get an email from someone who was bilked out of hundreds of dollars by scammers posting as Microsoft employees. They use various tactics to get you to allow them to connect to your computer. The number one way they convince users to allow them to connect to their computers is by telling them that their computer is infected with malware and spreading malware and spam all across the internet. Of course, they are counting on people assuming that Microsoft has a finger on everything and every computer on the internet… but that is not even close to true.
They will run fake scans showing hundreds of so-called malware, trojans, cookies, and rogues. These are fake, but people are gullible and panic and before you know it the scammer has the person's credit card number. And once the person has been bilked, the scammer will run another fake scan showing that the malware mess has been cleaned up.
Microsoft ain't gonna call you, I tells ya!
Another favorite way they trick users is by telling them their computer is on the verge of ruin and it needs to be fixed…and guess who can fix it. They convince people that their computers are in bad shape by opening the Windows Event Viewer and scrolling down a list of events until they come to bunch of red "critical" errors and yellow warnings. When the uninformed computer user sees all the errors they want them fixed. And if you pay these crooks, every error will be fixed. How? They simply clear the event logs – then go back and say "See? All your errors have been fixed". It's a scam. And giving these people your credit card number is like taking 3 or 4 hundred dollar bills and throwing them into the toilet and flushing them down into the sewer.
The Event viewer is ALWAYS going to show some critical errors and some yellow warnings. This is normal. Most of these are temporary events that were logged as they happened but are temporary and not "critical" despite their name. The Event Viewer is a tool that some legit computer techs use to troubleshoot computer problems. But unless someone has cleared the Event Viewer logs, you're going to see some critical (red) errors and (yellow) warnings – if your computer shows no critical events and no warnings then you're one in ten million.
See? Here are some "critical" errors in my Event viewer…and my computer is running very well and is well maintained. I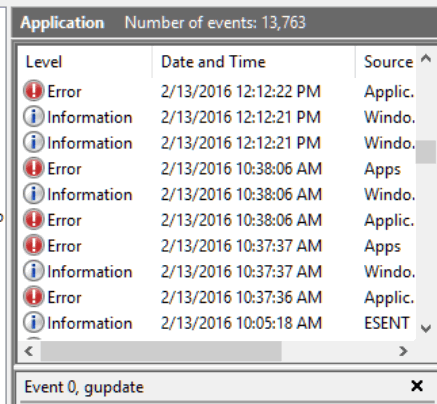 No legitimate company or person is going to call you out of the clear blue sky and tell you that your computer is infected or that you have serious problems that could ruin your computer. If anyone calls you out of the blue tell them you don't have internet, tell them you don't have a computer, tell them anything but DO NOT ALLOW THEM TO CONNECT TO YOUR COMPUTER. NEVER. NEVER. NEVER.
Please don't be a victim of a telephone scam. No one legitimate is going to call you out of the blue and tell you that your computer is full of malware, or that your computer is sending malware & spam all over the internet, or your computer is in bad shape and needs to be fixed.
You can call law enforcement, but most of these scammers aren't from the same country as you are – therefore local law enforcement can't do you much good.
The best way to protect yourself is to hang up on scammers, tell them you don't have a computer, tell them you don't have internet, tell them you're still using a Commodore 64…tell them anything but DO NOT LET THEM CONNECT TO YOUR COMPUTER AND DO NOT GIVE THEM YOUR CREDIT CARD NUMBER.
NEVER. NEVER. NEVER.
Microsoft ain't going to call you!