Microsoft Relents, Shows Users How to Bypass Its Own System Requirements for Windows 11
And all you need is a simple registry change.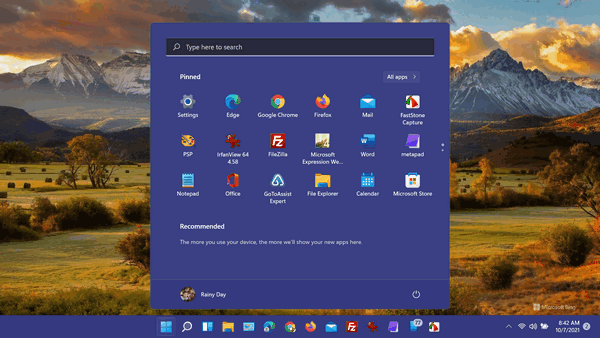 Microsoft, taking heat for introducing a new version of Windows that wouldn't work on computers older than a few years, has finally relented. This week, it published a simple registry hack that allows millions of users to upgrade from Windows 10 to Windows 11 as long as the computer meets its other minimum requirements, which most computers running Windows 10 already do.
The problem with Windows 11 was its stringent requirements for TPM 2.0 and for a seventh generation or newer processor. Many modern computers don't meet those requirements, so millions of Windows users were left with the choice of using Windows 10 until its end of support date – October 14, 2025 – or buying a new computer. And this created a lot of bad press for Microsoft.
Microsoft has relented, at least somewhat, by publishing a registry hack on its support site.
Here is the registry hack instructions and warnings from Microsoft.
Microsoft recommends against installing Windows 11 on a device that does not meet the Windows 11 minimum system requirements. If you choose to install Windows 11 on a device that does not meet these requirements, and you acknowledge and understand the risks, you can create the following registry key values and bypass the check for TPM 2.0 (at least TPM 1.2 is required) and the CPU family and model.

Registry Key: HKEY_LOCAL_MACHINE\SYSTEM\Setup\MoSetup

Name: AllowUpgradesWithUnsupportedTPMOrCPU

Type: REG_DWORD

Value: 1

Note: Serious problems might occur if you modify the registry incorrectly by using Registry Editor or by using another method. These problems might require that you reinstall the operating system. Microsoft cannot guarantee that these problems can be solved. Modify the registry at your own risk.
In a nutshell, if you want to install Windows 11 on a PC that does not have TPM 2.0 (but does have TPM 1.2 and it's turned on) and/or does not have a seventh generation or newer processor, this is what you need to do:
Press Windows Key + R to open a Run box.
Type REGEDIT into the Run box and press Enter to open the Registry Editor.
Navigate to the following Registry location:
HKEY_LOCAL_MACHINE\SYSTEM\Setup\MoSetup
Right-click MoSetup and create a new DWORD (32-bit) Value.
Name it:
AllowUpgradesWithUnsupportedTPMOrCPU
Right-click on the new DWORD click Modify and set its value to 1.
Close the registry editor.
***We've also made this available to you as a reg file that you can download and double-click to modify the registry. Download this file. Unzip the file and double-click on tpm-cpu-bypass.reg.***
Remember there are no guarantees or warranties implied, included, or intended. Please don't assume anything. If you choose to circumvent the Windows 11 "Official" requirements, you must also assume the risks.
I tested this registry hack on a five-year-old Windows 10 PC that did not meet the requirements to run Windows 10 (the processor was a fifth-generation processor). Now that PC is running Windows 11.
Keep in mind, your computer still must meet the other minimum requirements to run Windows 11.
Here are those other requirements:
Processor: 1 GHz or faster with 2 or more cores on a compatible 64-bit processor or System on a Chip (SoC)
Memory: 4 GB RAM
Storage: 64 GB or larger storage device
System firmware: UEFI, Secure Boot capable
We are not recommending that anyone upgrade right now. All Windows users know from experience it's better not to be on the cutting edge if you're looking for problem-free, hassle-free computing.
Our experience with Windows 11 has been good so far, but we're not ready to give it our stamp of approval. And remember that "so far so good", is not a recommendation.
If you still want to install Windows 11, and your computer supports it, or you've done the Microsoft registry hack, here's how to do it.