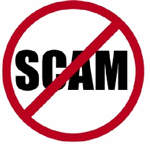 Money for Nothing
We get dozens of emails like the one we're going to show you later in this article. And we get them every single week. And just about every single week we also get emails from people who receive emails like this that scare them so much that they consider paying the criminals the ransom they ask. Thankfully, many of these folks ask us for advice before they pay the criminals and our advice to those who ask for advice is always the same:
DELETE THESE KINDS OF EMAILS AND PAY NO ATTENTION TO THEM!
This is just another form of the bitcoin extortion scam. These kinds of emails are sent out by the millions – it's nothing but spam and a phishing scam. These kinds of emails are composed and sent by criminals whose only goal is to scare people into paying them money for nothing – looking for people to take the poison bait. 
DON'T BE A PHISH! DON'T BE A VICTIM OF A THIS KIND OF SCAM!
An example of this kind of scam/spam/extortion scare email is included below. This is almost an exact copy of the emails we receive dozens of times each week. We modified some of the text in the email so it is less offensive; the Bitcoin wallet address has also been changed. Otherwise, this is a replica typical of the dozens of spam/scam/extortion emails we receive every week. This kind of email is sent out by the millions and its purpose is to induce panic and try to terrorize people into paying these criminals. The only purpose of these emails it trying to scare people into paying money for nothing. 
Here is the email…
Hi, I'm a hacker and programmer, I got access to your account xxxx @ youremailaddress.com.

Your device was infected with my private malware, because your browser wasn't updated / patched, in such case it's enough to just visit some website where my iframe is placed to get automatically infected, if you want to find out more – Google: "Drive-by exploitH".

My malware gave me full access to all your accounts, full control over your OS and it was possible for me to spy on you over your webcam.

I collected all your private data, recorded few videos of you (through your webcam) and I RECORDED YOU DOING NASTY THINGS!!!

I can publish all your private data everywhere, including the darknet, where the very sick people are and the videos of you, send them to your contacts, post them on social network and everywhere else!

Only you can prevent me from doing this and only I can help you out, there are no traces left, as I removed my malware after my job was done and this email(s) has been sent from some hacked server…

The only way to stop me, is to pay exactly 795$ in bitcoin (BTC).

It's a very good offer, compared to all that HORRIBLE crap that will happen if you don't pay!

You can easily buy bitcoin on the next services: paxful, coinbase or check for bitcoin ATM near you, or Google for other exchanger. You can send the bitcoin directly to my wallet, or create your own wallet first here: blockchain com, then receive and send to mine.

My bitcoin wallet is: 15ZG3b68ZDP6YyJUhMKQkqwkvWykT974ufB3
Copy and paste it, it's (cAsE-sEnSEtiVE)
You got 72 hours time.

As I got access to this email account, I will know if this email has been read. If you get this email multiple times, it's to make sure that you read it, my mailer script is configured like this and after payment you can ignore it. Please do not reply to this email. The sender's address is automatically generated to ensure that this email is received.

After receiving the payment, I remove all your data and you can life your live in peace like before.

Next time update your browser before browsing the web!
DON'T FALL FOR THIS KIND OF SCAM. DELETE THESE KINDS OF EMAILS AND PAY NO ATTENTION TO THEM!
Your personal information, the files on your computer, your programs, your data, your browsers, and your hard drive are safe. This is a scare tactic. It's a spam email sent by criminals trying to induce panic so you'll pay them money for nothing. 
DON'T DO IT!