Online Radio Box: Listen to Radio Stations from All Around the World for Free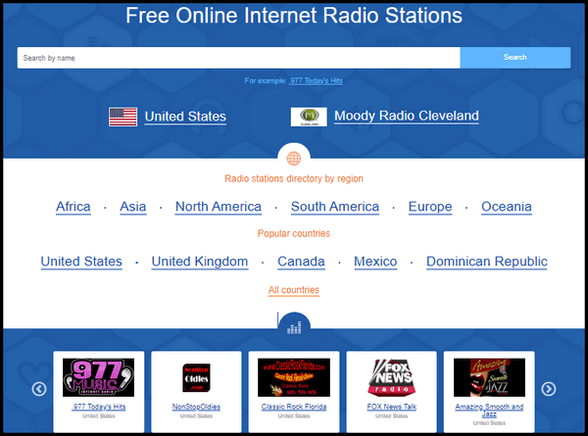 Online Radio Box makes it easy to access live radio from stations worldwide. Online Radio Box makes it easy to find the kinds of music you like to listen to, and if you register for an account, you can save a list of your favorite stations so on future visits you can skip the searching. If talk radio is your thing, you'll find plenty of talk radio stations to listen to also.
Online Radio Box has an expansive and eclectic selection of radio stations from all over the world and covering just about all genres of music and talk radio. You can listen to the radio in your browser on your Windows PC or download apps for your Android or iOS device.
The player is easy to use — just click the play button next to a station to start the live stream for that station.
You can use the Online Radio Search bar to search for musing by genre, station, city, country, language, etc. Click on a station to start playing the music stream. Each station page displays what is currently playing, a list of the top songs on that station, and a playlist. The playlist shows songs that were played in the last 24 hours. Clicking on a song in the playlist will show the YouTube video if one is available.
If you click a link to a music artist, it takes you to a page with a brief description of that artist along with a list of radio stations playing songs that artist and the artist's most popular songs on those stations.
Here's some info from the Online Radio Box developers:
About us

We are all used to listening to the radio through a good old receiver on either AM or FM frequencies, twisting the tuning knob and listening to the whispers of the switching radio stations. But times have changed – now, virtually every radio station offers digital broadcasting on the Internet. Indeed, we live in unique times when free Internet radio stations from around the world are just one click away. They offer a variety of programs, news and music in a wide range of styles and trends. Therefore, to help you listen to the radio online for free we endeavoured to gather all the stations of the world in one place. Come to our site or install our free application on your smartphone, and we will do our best to make it convenient for you to listen to your favorite radio station.

How to Use

Our fast and convenient online player will open to you the world of the Internet radio broadcasting. There is no need to install special software or pay for the access to our service – with Online Radio Box you can listen to the online radio directly in your browser for free! Use "Search" to find your favorite radio station or simply select something new to your taste! The radio stations that our users consider most popular are located at the top of the list, and using "Search by genre or country" you can find something special to your taste. You can also install our free radio application and listen to music from anywhere in the world right in your smartphone. Our app supports Android and iOS and can be downloaded from both Google Play Market and App Store. We would also like to emphasize that you can save your favorite radio stations in the "Favorites" section to make sure they are always at your fingertips.

What to listen to

In our "Genres" section, you can listen to online music of any style you like. No matter what you are looking for: heavy metal, 1960s retro or drum-n-bass – here you will always find your favorite Internet radio! And of course do not forget talk-show formats: news, sports, weather, politics, business, education, and religion – all theme-oriented radio stations are available on our website! In the "Music" section we have collected top-charts of all styles and configurations; here you can select any genre and find out what music is currently playing on popular Internet radio stations from around the world! Moreover, on the page with the list of radio stations we show the names of the tracks that are currently playing on the radio. You can switch from one station to the next simply by clicking the tracks you want to listen to.
No Sign-up Required but…
You don't have to sign up for a free account to listen to music on Online Radio Box. However, if you want to create a list of your favorites stations, you'll need to sign up for a free account. There is no email sign-up, but you can sign-up for a free account using your Google, Facebook, Twitter, or Yahoo account.
Online Radio Box has an excellent selection of worldwide radio stations covering just about every genre of music. In many cases, you can listen to radio stations in your area. I was able to find several stations within 50 miles of my home – and I live in the middle of nowhere.
So whether you want to listen to music — or talk radio — from stations right around the corner or on the other side of the world, you'll want to give Online Radio Box a try.