Using OpenDNS to improve and speed up your Internet experience
Last night something happened that caused me to remember an article I had read somewhere (sorry I can't remember where) that was about how OpenDNS can actually help speed up Internet connections — or at least the rendering of pages and videos. Of course, being a skeptic and having fast cable internet connection, soI sloughed off the article as just so much drivel.
But last night — pages — even pages like PayPal, Accuweather, and other pages were either not opening or not opening all they way. Email was working normally and I was connected to the Internet — but apparently one of Spectrums servers or one of the servers from which they acquire Internet bandwidth was having problems and so, therefore, I was too. This went on for about an hour before I finally decided to take matters in my own hands.
Remembering the article that I had scoffed at several weeks ago, I decided to give OpenDNS a try. When I was finally able to get to www.opendns.com  — I followed the instructions and reset my domain name servers (DNS) to theirs — and I'm telling you, if everything continues as it is, I'll never go back to allowing Windows to automatically detect DNS.
I have to be careful because my IP address is tied to several accounts – where, for added security, I can only log into if I'm using my computer from home and my IP address matches. I took a chance that OpenDNS would not affect my IP address –and I was correct. The IP address I use is assigned to me by Road Runner and it usually is the same for about four to six months (I'm too cheap to pay for a static IP address). But four to six months is static enough for my purposes — so I only have to contact the companies whose web sites use my IP address as another level of security for login two or three times a year.
It took me less than five minutes to set up OpenDNS on my Windows 8 computer (Open DNS works with all versions of Windows and Mac — and they provide step by step instructions for each operating system.)
If you have noticed pages opening slowly or your Internet connection seeming to be slow, you really should try OpenDNS. It can't hurt anything and resetting your computer back to its normal configuration is as easy as ticking a checkbox.
We're going to show you how to set up OpenDNS on your computer.
First you'll need to go to www.opendns.com  and sign up for a free account ( you will be sent an email to activate your account and verify your email address.)
Once you get your account you see a page where you can choose instructions for Windows XP, Vista, Windows 7, Mac. If you're using Windows 8 — follow the instructions for Windows 7 — they are identical.
Here's an overview of how easy it is to set up OpenDNS on your Vista, Windows 7/8 computer (if you're using XP see www.opendns.com  for instructions).
Open Control Panel and go to Network and Sharing Center
Click on Change Adapter Settings
Click on your active connection  (See image below):
Now, you'll see the following dialog:
Click "Properties" and you'll see this: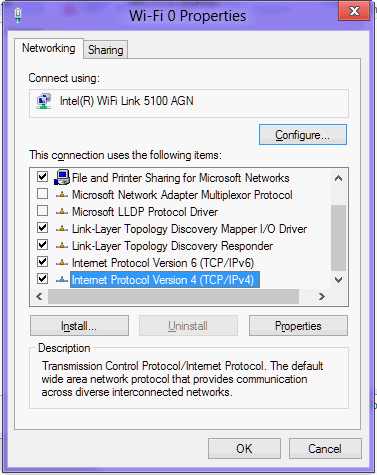 Highlight "Internet Protocol Version 4 (TCP/IPv4) and click "Properties":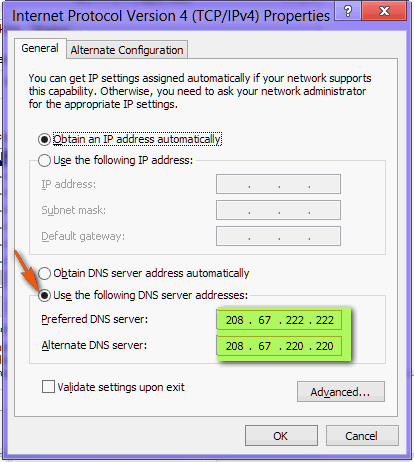 Uncheck "Obtain DNS server address automatically", check "Use the following DNS server addresses", and enter the two OpenDNS server addresses given to you by OpenDNS (they may be different than those shown above) in the boxes next to Preferred DNS server and Alternate DNS servers. Now click, OK.
You're almost done. Rather than rebooting your computer — open a Command dialog (press the Windows Key plus the R key and type CMD and press Enter). At the prompt type the following command:
IPCONFIG /FLUSHDNS
Now press Enter.
If you did it right (and left a space between IPCONFIG and the slash) you'll see "Successfully flushed DNS resolver cache".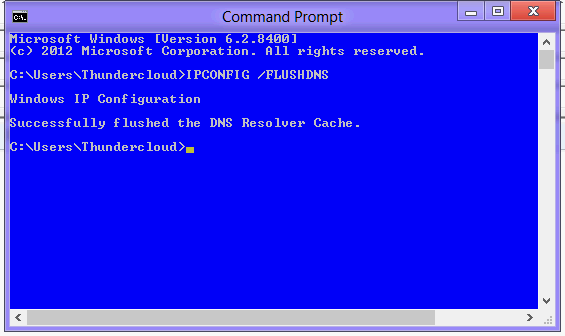 If you see this message then your DNS resolver cache has been cleared, and you're now be using OpenDNS
I'm a skeptic by nature and had it not been for Road Runner's DNS problems last night, I'd have never bothered trying OpenDNS, having already assigned it as one of those things that just makes everything slower and more complicated. I'm amazed and at least for now, I'm going to continue using OpenDNS because pages do open faster — and that makes my internet connection seem faster even though it isn't really. I am sold on OpenDNS and I think if you try it you will be too. Videos open faster, animated weather radar seems instant now (there used to be a delay) and all pages I open seem more zippy. Take it from a skeptic whose mighty resistant to believing that simple things can make such a difference.
You've got nothing to lose — if you don't notice a difference, just go back and check "Obtain DNS server address automatically", then flush your DNS resolver cache, and you're right back to the way you were before you started using Open DNS.
Here are a few words from OpenDNS that explains how OpenDNS works:
"Speed up your Internet experience
OpenDNS's 12 global data centers are strategically located at the most well-connected intersections of the Internet. Unlike other providers, OpenDNS's network uses sophisticated Anycast routing technology, which means no matter where you are in the world, your DNS requests are answered by the datacenter closest to you. Combined with the largest DNS caches in the industry, OpenDNS provides you with DNS responses faster than anyone else.
Make your Internet more reliable
With our extensive data center footprint and use of Anycast technology, the OpenDNS network has built-in redundancy ensuring zero downtime. SmartCache technology, an OpenDNS innovation, enables you to access sites that may otherwise be inaccessible due to authoritative DNS outages, providing you with the most reliable Internet possible.
Improve your security
OpenDNS owns and operates PhishTank, the largest clearinghouse of phishing information on the Internet. OpenDNS incorporates PhishTank into its services to protect you from fraudulent websites that attempt to steal your personal information and money. In addition, OpenDNS provides protection against two of the most pervasive Internet security threats that continue to infect millions of users — Conficker, the largest botnet, and Internet Explorer exploits…."
OpenDNS does boost your Internet speed. That's up to your ISP. But I tell you this: pages will open faster, videos and other multimedia content will be smoother and faster, and your Internet experience will be improved. It worked for me — and I'm a skeptic. I didn't believe I'd notice a difference. Now I'm an OpenDNS fan — I think, if you try it, you will be too.
Get started right now, visit http://www.opendns.com to download or get more information.