Our New InfoAve Premium E-book and 2018 Black Friday Specials
Cloudeight Special Newsletter
Wednesday, November 21, 2018

Dear friends,
Happy Thanksgiving! 
We both wish you and those you love a very Blessed and Happy Thanksgiving! We are very thankful for the support you give us.

This year we're offering great prices on some of our most popular products and services. This is your chance to save and get exceptional products and Cloudeight services.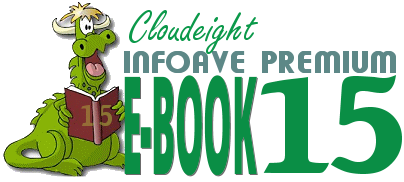 Our all-new 2018 InfoAve Premium E-book Volume 15 is available now with special Black Friday pricing! Our new E-book contains all the questions and answers, tips and tricks, freeware picks, site picks, and Back to Basics from all 52 issues of InfoAve from October 2017 to October 2018. Here's a chance put all the info in all 52 issues of InfoAve Premium at your fingertips.  With it's great built-in search feature, you'll find what you're looking for quickly and right when you need it.
Our new ebook can even read aloud to you! This Ebook supports Speech APIs so that it can be used to say the selected text or the entire document aloud using headphones or speakers.

This ebook works great in all versions of Windows, including all versions of Windows 10. This ebook contains many the tips and questions that apply to Windows 7, Windows 8x users as well as all of you are using Windows 10. There's plenty of useful information in our ebook no matter what version of Windows you're using.
Save 25% off with our intro Black Friday pricing. Get our new Cloudeight InfoAve Premium Ebook Volume 15 for just $15 – or get more information here.


During our Black Friday sales event, you can buy one Cloudeight Direct Computer Care Repair Key at the regular price ( $50 ) – and we'll give you one free. You can give the second key to your favorite student, a family member, friend or anyone you like – or just keep it for yourself! Don't miss out. Cloudeight Direct Computer Care Repair Keys never expire – they are good until you use them!
We can fix most Windows PC problems remotely – you don't even have to leave your house or drop your PC off at a repair shop — we'll fix it for you while you relax in your easy chair and watch us work. We've helped thousands of folks with their computers – we can help you!
BOGO pricing good through Sunday, November 25  2018.
Take advantage of our Black Friday sale and get 2 Cloudeight Direct Computer Care repair keys for the price of one  

During our 2018 Black Friday Special Sale, when you buy a Cloudeight Direct Computer Care SeniorPass, we'll give you our new 2018 InfoAve Premium E-book Volume 15 FREE!
With our Cloudeight Direct Computer Care SeniorPass, our friends age 60 and older get one full year of unlimited computer care and repair for one low price. You'll get the best computer care anywhere – any time you need it, as often as you need it. SeniorPass customers qualify for Anytime Support with our Unattended Session feature. PLUS during our Black Friday Sale – we'll send you our brand new 2018 Cloudeight InfoAve Premium Volume 15 E-Book containing all the content of all 52 issues of our InfoAve Premium newsletter from October 2017 to October 2018.

Cloudeight SeniorPass is valid for unlimited computer care & repair sessions for one full year! And the clock does not start ticking until you use your SeniorPass for the first time. A great deal! 

Having SeniorPass is just like having insurance for your computer. You'll get one full year of computer care and get help with almost any computer problem whenever you need it. We're here to help you.
Get Unlimited Computer care & repair for one full year + PLUS get our brand new 2018 Volume 15 E-book FREE.
GET YOUR SENIORPASS NOW and GET OUR NEW EBOOK FREE!  
Offer good through Sunday, November 25, 2018.

We are thankful for you!
Thank you for subscribing to our newsletters, and for your continued help, friendship and support.
Best Wishes for a Happy and Blessed Thanksgiving to all of you.
Thanks so much!
Darcy & TC
Cloudeight Internet
November 21, 2018