Paribus
Have you ever bought something and then a few days later found it for less somewhere else? Sure, we ll have.
Wouldn't it be nice if there was a way to get back the money difference between what you paid and the lower price… especially if you didn't have to do anything to get it?
Well, we're already in the holiday shopping season and we found a service that could be the next best thing to finding free money. It's called Paribus.
You're going to have to do a little trusting on this one, but this site comes highly recommend by some of the most nitpicking money gurus… and according to all reports it works well with millions of dollars of refunds being sent to Paribus members.
The free money finding starts when you emaiol inbox to Paribus and let their patented "Receipt Fetcher" identify your purchases. If it finds any purchases it cross-references them against a continuously growing list of retailers that the propriety software Paribus uses is compatible with.
If Paribus finds lower price a lower price on anything you purchased, it automatically files a price adjustment claim for you and you get 100% of the savings.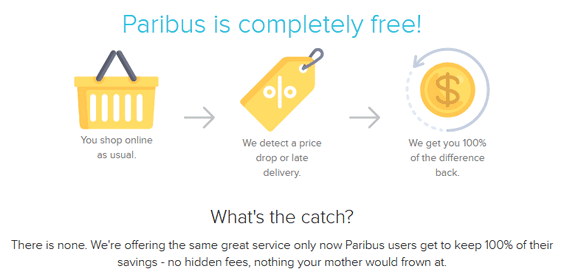 Here's what Paribus has to say:
"Stores could owe you money. We're gonna get it for you.

Connect your mailbox to let the Paribus Receipt Fetcher identify purchases. Shop normally. Paribus works in the background to monitor for opportunities to get money back.
money

Save automatically. Whenever you're eligible, Paribus files price adjustment claims on your behalf and you keep 100% of the savings.

Savings may vary based on purchase type and merchant

Paribus watches for price drops at stores with price adjustment policies. (These policies are independent of Paribus and subject to change.) …

…Price Drop Refunds: Filing Claims, Fees and Payment

Our price drop service monitors your eligible purchases for price reductions after you buy. Paribus will file a refund claim for an eligible purchase where we detect a price drop of at least three dollars USD ($3.00) or more. Paribus may file claims for smaller price drops at its discretion. After the first claim is filed, Paribus will not file additional claims for the same item, even if the price drops again. Not all price drops may be detected, and Paribus is not responsible for any missed refund opportunities.

There is no fee for the price drop Service. Any refunds that Paribus obtains will be credited by the Merchant to the credit card (or other form of payment) you used to make the purchase, as determined by the Merchant's policy.

Each month, Paribus will send you a summary of refunds we obtained…"
Here's a complete list of stores that Paribus currently monitors (this list is growing ) so check with Paribus to sen
Big-box retailers
Amazon
Costco
Kohl's
Sears
Target
Walmart
Clothing & accessories
Anthropologie
Athleta
Banana Republic
Bloomingdale's
Bonobos
Gap
J.Crew
L.L.Bean
Loft
Neiman Marcus
Nordstrom
Old Navy
Saks Fifth Avenue
Zappos
Housewares
Bed Bath & Beyond
Crate & Barrel
Home Depot
Overstock
Wayfair
Electronics and office supplies
Best Buy
Newegg
Office Depot
Staples
Sporting goods
REI
We realize that in a world full of data breeches, Internet crime and identity theft, allowing a company access in order to scan your email for receipts from retailers may be a concern. While we checked out Paribus very well, if this concerns you, we recommend setting up a separate email account for shopping websites. If you do this, then Paribus is linked only to your "shopping" email account, and any and all other accounts are separate.
If you're interested, you can get more info and or sign-up for Paribus (it's free) by visiting https://paribus.co/
---