As we've been telling you for a couple months now – the world is changing. Last year over one-quarter billion people bought smartphones. Over 8 million tablet computers (iPad, Samsung Galaxy Tab, etc.) were sold over the holidays alone. And whether we like it, you like it, or anyone else likes it, the age of the cloud is here, and we're all going to have to live in it – use it – or at least learn to live with it.
Before you go on, you'll need a Gmail account to use this tip. You can get one free at www.gmail.com .
Imagine you have one printer in your home, and you're 1000 miles away from home and there's something you need to print. How could you do that? Before the cloud became popular (actually the cloud is the web) you had one way of doing that – by installing a remote PC application like LogMeIn
(LogMeIn is   great by-the-way. It's something I use every day to sit in my living room and access my Vista desktop – located about 50 feet away – using my Windows 7 laptop. But distance doesn't matter;  if I'm 50 feet away or 5000 miles away, I can remotely control my Vista desktop computer as if I were sitting right in front of it. Amazing technology. If you're interested in LogMeIn you can read more about it and/or download the free version of it at http://logmein.com/ . Keep in mind you have to install it on both the computer you want to access remotely and the computer from which you want to control it.)
But, now, using the cloud, you can print from any Windows computer, many tablet computers, and/or many kinds of smartphones (Droids, iPhones, Blackberrys, etc.)
And all you need to do it is the latest version of Google's Chrome Browser, a Gmail account – if you're using a smartphone or tablet computer you'll need an App – available for iPhone and smartphones running Android.
First, you need a Gmail account. If you do not yet have one, you'll need to get one. Gmail accounts are free. Visit http://gmail.com/ to sign-up for your free Gmail account.
If you already have a Gmail account (or you just signed up for one) the next thing you'll need to do is to download Chrome – you'll need version 9 or higher (current version is 11). You can get the current version of Chrome from http://chrome.google.com .
After you've downloaded and installed Chrome, you'll need to restart the Chrome browser.
From the computer to which your printer is attached – login to your Gmail account (if you don't you'll have to login to it before you can enable and use Cloud Print). Now in the Chrome browser do the following:
1. Click the tools icon in the top right-hand corner of Chrome (it looks like a little wrench)
2. Click Options – click the "Under the Hood" tab at the top of the dialog
3. Near the bottom of the "Under the Hood" dialog you'll see "Google Cloud Print"
4. Click the "Enable Cloud Print" button
5. After Cloud Print is enabled, click the "Manage print settings…" button
6. Configure your printer(s).
After you've done this you'll see the following dialog – you'll have to login to Cloud Print to use it: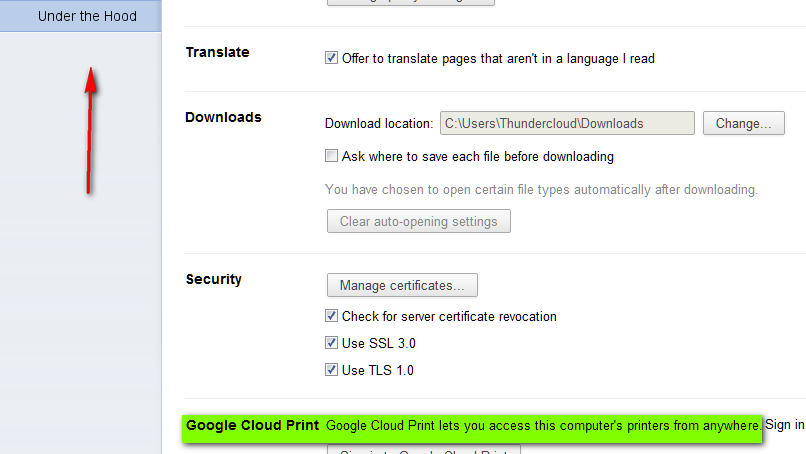 Once Cloud Print is set up and your printer is configured, you can use Google's Cloud Print from any Windows Computer (XP or newer), or most smartphones, tablets, or other devices. You'll need to download the Cloud Print App for iPhone, iPad, or your Android-based smartphone/tablet to use your printer with your smartphone or tablet. If you're using something other than iPhone, iPad, or Android-based smartphone, check your APPs market and look for a Cloud Print app. We know for sure there is a Cloud Print App available for iPhone, iPad, and Android-based smartphones, tablets, and devices.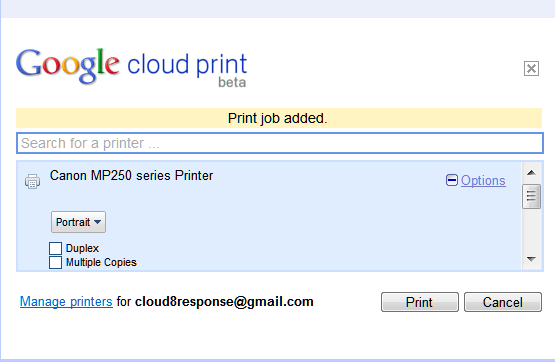 .
The following is from the Google blog:
"Google Cloud Print is built on the idea that printing can be more intuitive, accessible, and useful. Using Google Cloud Print you can make your printers available to you from any Google Cloud Print enabled web or mobile app," explains Google.