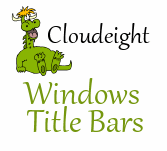 Sometimes those program window controls, at the top right of almost every window, you know the minus sign, the rectangle(s) and the plus sign – can be difficult to work with.
Did you know that you don't need them anyway? Just double-click the title bar. In case you don't know, the title bar is the strip along the very top of the window which contains the program's name or "title".  Double-clicking the title bar does the same thing as clicking the maximize button. To restore the Windows to its original size (if original size is not "maximum") just double-click the title bar again. If you want to see the window's context menu, right-click the title bar or hit the "Alt" key plus the spacebar key. You'll get choices to minimize, restore, or close the Window. And if the window has been maximized at some point in the current session, you'll see "maximize" there too.
And, speaking of maximizing, did you know that if you want to minimize all open windows at once  just press the Windows key plus the "M" key; press the Windows key plus the M key again and all the windows are restored.