"Quick Start Guide to Windows 10" E-book Available Free From Microsoft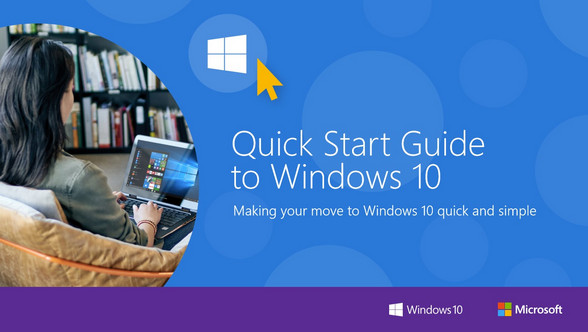 Many of you who were using Windows 7 have recently upgraded to Windows 10. And while it's not a huge leap to move from Windows 7 to Windows 10, it can take some time to get used to the change.
There are a lot of similarities and and some significant differences between Windows 7 and Windows 10 For instance, in Windows 7 when you wanted to change settings and options you opened the Control Panel. In Windows 10, although Control Panel is still there, you'll find most of your settings and options are in the Settings App. In Windows 7 the taskbar was fairly simple; in Windows 10 it's more complex with more options.
Microsoft's "Quick Start Guide to Windows 10" e-book, is a great way to learn about all the Windows 10 features, settings, and options.
The e-book contains 8 sections:
1. Understanding your desktop
2. Setup and personalization
3. Apps and Programs
4. Tips and Tricks
5. Security, privacy and scam protection
6. Accessibility
7. Windows updates and upgrades
8. Additional Resources
Microsoft says:
Whether you're picking up a Windows device for the first time or you're a long-time computer user transitioning from Windows 7, we cover the fundamental topics to help get you up and running on Windows 10 quick and easy.

We designed this e-book so you can walk through the very basics. From setting up your taskbar to organizing your start menu, to the more advanced topics such as securing your device and keeping it healthy, we've got you covered from start to finish. If you've been using Windows 10 for a while now, you can jump around and find the topics most suitable to your needs.

Thank you for taking this journey with us. If you have any feedback for us on this guide let us know in the comments. Happy learning!
We are not much for hyperbole, but this Windows 10 E-book is very nicely done. And you can't beat the price. FREE.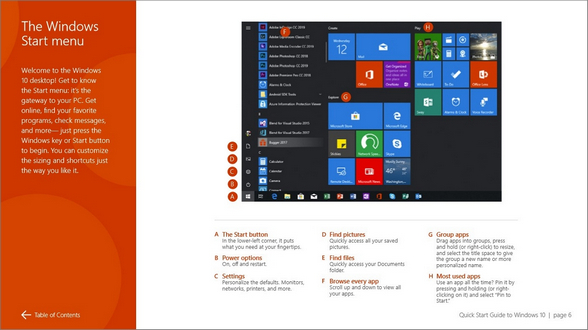 If you're new to Windows 10, you'll find this e-book an invaluable aid in learning Windows 10. And if you've been using Windows 10 for years, we are almost certain that you'll learn something in this e-book you didn't know.
Visit this Microsoft page and get your free "Quick Start Guide to Windows 10" e-book