Recycle Bin Tips
These tips work in Windows 7, Windows 8x, & Windows 10
1. Use shift / delete to bypass the Recycle Bin.
2. Use the option to make different settings for how Recycle Bin works on all drives, including external – e.g. you can control the amount of space allocated for the Recycle Bin on each drive. You can also change a setting and bypass the Recycle Bin completely as in the previous tip.
3. If you accidently delete a file, use Ctrl + Z to restore it.
4. You can choose whether or not you want Windows to display the delete confirmation box – i.e. "Are you sure…".
5. If you've got nothing better to do and want to change the sound that plays when you empty your recycle bin – just go to Control Panel, Sounds and click on the Sound tab. Now scroll down to File Explorer, find Empty Recycle bin, and browse for a any new sound you want to play when you empty the trash 🙂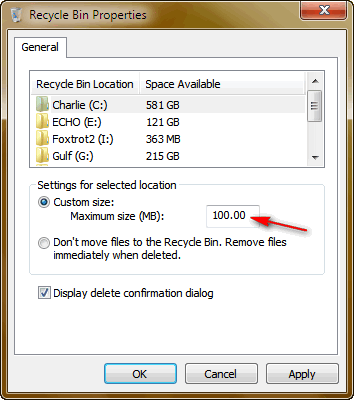 Set the maximum size for your Recycle Bins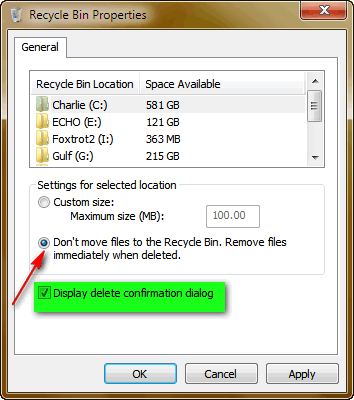 Turn the delete confirmation dialog on / off.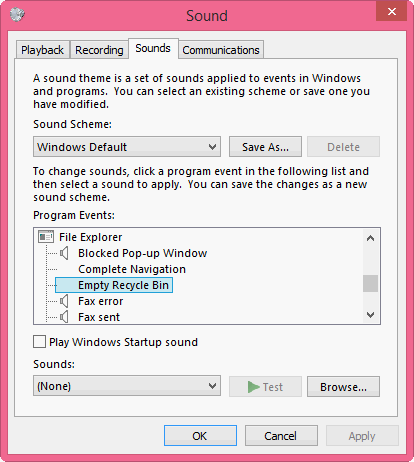 Change the Empty Recycle Bin Sound.
---
Our Fall Booster Drive Is Going on Right Now! Help Us & Get FREE Software!
Become a Cloudeight Booster this week and we'll give you FastStone Capture FREE
This fall we're asking for your help. We are inviting you to join Cloudeight Boosters. Our Boosters get special prices on our most popular software and services as well as a lot of free stuff. And this week (though Sunday, October 2, 2016), join our Cloudeight Boosters and we'll give you a lifetime license for FastStone Capture Pro with every donation of $15 or more.
Every screen shot in all of our newsletters for past 10 year has been made with FastStone Capture. The registered version has so many cool features – it even has a screen recorder and you can even make animated gifs from videos! Get a lifetime license (a $19.95 value) FREE when you make a donation of $15 or more during our fall Cloudeight Boosters membership drive.
If you're already a booster, we have some really great specials coming for you soon…so stayed tuned. We'll be sending a special Cloudeight Boosters' newsletter in the near future – be watching for it.
Help us today with a donation of $15 or more, and we'll send you a free lifetime license for FastStone Capture – the only screenshot tool we use.

Click here or on the image above to make a donation of $15 or more and get FastStone Capture Free (Booster membership is not required, but we'd love to have you!)