10AppsManager: Remove Unwanted Windows 10 Apps (and reinstall them if you want)
We always say …why take the long road if the short road gets you to the same place, only faster? Just like you don't have to jump into danger to prove you're brave, you don't have to mamby-pamby around with all kinds of arcane geeky code in Windows PowerShell just to remove Windows 10 apps, just 'cause you can. Your spouse won't be impressed, your friends will think you're a nutcase, and we'll think you're a masochist.
You wouldn't cut down a tree with a butcher knife, even if you could. would ya? You wouldn't use a hand saw if there were a chain saw handy, would you? No, I tells ya! So don't be a masochist, or a hooligan on a pedantic "I-AM-SO-GREAT" trip. No! Be an erudite Windows user.  Use tools that get the job done quickly with a minimum of fuss. That leads us to today's freeware pick: Ta Da! The not-so-colorfully named 10AppsManager created by our brethren at The Windows Club. (Great, segue, TC!)
If you don't use all those preinstalled Windows 10 apps such as the pathetic and pedestrian Mail app, or the 3D Builder, or Maps, or Get Office ( you either got it or you don't want it), Get Skype, Get Milk (I just put that in there to see if you're paying attention), Phone Companion, etc., why not just get rid of them, eh? 10AppsManager makes it easy to take control of all those preinstalled Windows Apps. You can remove them and/or reinstall them with a click.  You get the idea, right?
From the developer:
10AppsManager is a freeware that will allow you to easily uninstall and reinstall the default, built-in, preinstalled Windows Store apps in Windows 10. While you can always manually install, uninstall or reinstall the Store apps, the process is not so easy for the preinstalled apps. It is easy to uninstall or reinstall 3rd-party apps, but not the default preinstalled apps. What this tool from our TWC stables does, is automate the process and let you carry out the operations in a click.
This useful tool will allow you to uninstall the following preinstalled Store apps:
3D Builder
Alarms
Calculator
Camera Film & TV
Get Office
Get Skype
Get Started
Mail and Calendar
Maps
Money
Music
News
OneNote
People
Phone Companion
Photos
Solitaire
Sports
Store
Voice Recorder
Weather
Xbox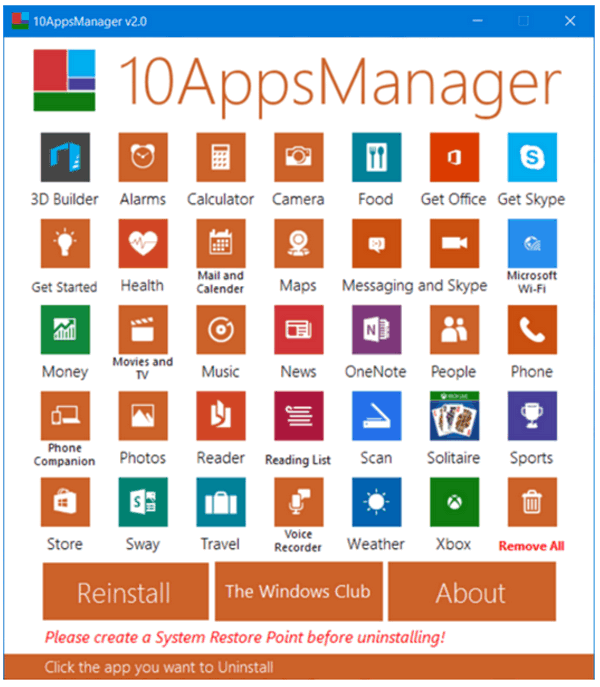 Are you interested? Great!  Head over here to get more info and/or to download 10AppsManager.
If you're not exactly going ape for apps, then this is the tool for you.