Saturday Bonus Questions and Answers – 052122
Yay! It's Saturday and that means it's time for our Saturday Bonus Questions & Answers.
Sometimes the best tips and tricks are hidden in the questions and answers we publish. And rarely do we post questions and answers on this website. Today, we're featuring some of the questions and answers from past issues of our InfoAve Weekly newsletters. 
These answers were selected at random from past InfoAve Weekly newsletters.
---
Saturday Bonus Questions and Answers – 052122
Susan has trouble with Firefox
Hi TC & Darcy… My current problem has to do with my Firefox. When I get an email with a link I want to click on, instead of opening a new tab in my current Firefox, it opens a new browser and closes the current one. It never used to do that. What can I do to stop that and go back to the way it was. I sure don't want to close my current browser and open a new one. I usually have several tabs open on my current browser and don't want to close them. Thank you for your help. You always have a solution. Cheers, Susan.
Our answer
Hi Susan. I'm not aware of any changes in Firefox that would cause this. It may have been an extension you installed, one you installed that was bundled with a freeware program, or one you installed that auto-updated and changed your settings. If you reset Firefox it will return Firefox to its default settings. If you want to try resetting Firefox, read our instructions on resetting Firefox here.
Good luck, Susan.
---
Elaine wants to know how to email us when she gets a new computer
Hi, my computer is quite old, I don't know how to find out how old it is. I will be getting a new one at some stage and will want Thunderbird email installed again. If this computer crashes how do I email you about the new one and do you just need my email address to come on to the new one and install Thunderbird and whatever else I need to be done. Thanks so much. Elaine M.
Our answer
Hi Elaine. Since you have an Outlook.com account, you can email us from any internet-connected device including a brand-new computer. So, if you get a new computer with Windows 10 (or Windows 11) on it, it will come with Microsoft Edge (browser). You can open Edge and go to https://www.outlook.com/ and log into your Outlook.com account and email us.
You can also contact us on your new computer by opening the Edge browser that comes with Windows 10 (or Windows 11) and using it to go to https://thundercloud.net/contact.htm and contact us from there. Just be sure to include your email address so we can reply to you.
This is a tip for everyone. One of the best things about having a Gmail or Outlook.com (or any webmail account) is that you don't need Thunderbird, Outlook, or any other email program to send and receive email.
While having an email client like Thunderbird, Outlook, etc. is more convenient for most people — since you can send and receive emails without opening a browser– if you have a webmail account and you get a new computer you can open a browser and send and receive email even if you haven't installed an email program yet.
We hope this helps you, Elaine.
---
Carol uses AbleWord and wants to know if it handles Excel files too
I am so glad, thanks to you, that I won't be forced to pay Microsoft to continue using MS Word. AbleWord is a great option. My question is: Will this also cover my Excel documents? Thanks so much for all your advice. It is much appreciated!
Our answer
Hi Carol. Thanks for your kind comments. AbleWord only replaces MS WORD, it does not replace Microsoft Office. To open Excel docs you need to have MS Excel or equivalent.
Open Office (www.openoffice.org) and Libre Office (www.libreoffice.org) are both complete office suites that replace Microsoft Office. Both Open Office and Libre Office offer alternate programs equivalent to MS Word, MS PowerPoint, MS Excel, and MS Access. There are other free office suites too, but these are the two we're most familiar with, and that work we
---
Joyce wants to know where to download Irfanview
Concerning Irfanview: I would like to download this program that you recommended in your newsletter. It has been such a long time since I downloaded a new program that I don't remember which download I should use to download just the correct program for my 64-bit computer. Can you please help me? I guess I am just getting too old and afraid to do these things anymore.
Our answer
Hi Joyce. Go to the following page:
https://www.snapfiles.com/downloads/irfan/dlirfan.html
On that page, click on the "Download the 64-bit version" link. Just FYI, if you have a 64-bit computer you can run any 32-bit program, so even if you downloaded the 32-bit version it would work
Let us know if you need anything else.
---
Barb wants to create brochures, flyers, and more
Can you recommend a free simple program to make personal desktop brochures, flyers, etc.? Thank you.
Our answer
Hi Barb. We don't know of any free desktop publishing software that comes without unwanted bundled software. But there are useful design sites online where you can design, create, and download brochures and flyers.
https://www.canva.com/create/flyers/
https://www.canva.com/create/brochures/
Canva is a legitimate and clean site. The flyer and brochure makers come with templates and allow you to download your finished projects. It's free for individuals and small groups working on quick projects
---
Michael asks about TotalAV
Hello from Indianapolis. I read your take on VPNs and sure got my eyes opened, thanks for that. I am curious about your take on TOTALAV security software. Are they any good? do they measure up to Emsisoft? Please let me know what you think before I make a mistake and buy it. Regards, Michael…
Our answer
Hi Michael. Thanks for your nice comments.
The company that makes TotalAV is the same company that made the scam-ware program called ScanGuard (see our article about that here). https://tinyurl.com/y7d2dduz
And from Reddit this:
"… TotalAV and ScanGuard is the same company and both are a scam: https://www.totalav.com/special-deal-2019
This is not a coincidence, stay away from them. Also (I'm) pretty sure this site belongs to them as well https://antivirus-review.com/.
Even more proof… https://malwaretips.com/threads/total-av-is-it-a-scam.80362/ …"
There's a pattern of people downloading the "Free" version and being charged, being overcharged, and not being able to cancel without jumping through hoops. See this page.
In my experience working on computers, customers who have been tricked into downloading TotalAV have had trouble removing it. Even if the product worked well, the company behind it, the tricky marketing, and questionable marketing, to me make it a must to avoid.
The only price that is shown on their site for "up to 3 computers" is $19 for one year. But nowhere on that page does it say that is only for the first year — after the first year, it's $99 a year and it auto-renews and you get charged $99 automatically.  This is from a hidden part of their page informing users they have to call  TotalAV support to cancel the automatic charge… and you can almost imagine how that runaround will go.
"…Our current standard price for an annual subscription is $99. Don't want to auto-renew? You can speak to our 24/7 support team to assist with switching this off…"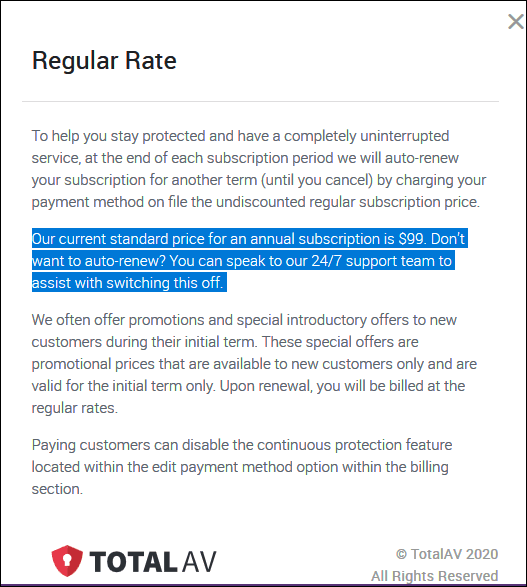 Finally, they promote TotalAV using reviews from TrustPilot, but can you trust TrustPilot?
See https://tinyurl.com/y82jfxvl and this https://tinyurl.com/yc9lcoku.
or search for "can you trust TrustPilot"
Comparing TotalAV to Emsisoft? There's no comparison. Emsisoft is a trusted product and has protected our computers for many years. The pricing is upfront. Emsisoft does not rely on tricks or fake reviews.
Which would you rather have? I hope this helps you make the right decision.
More sage advice: Don't rely on anything CNet says, they are a known malware bundler and are also known to recommend products solely for financial compensation… earning commissions regardless of the quality of the product or the problems the products they recommend may cause users.
---
Joann can't get rid of Bing in Firefox
Somehow, unfortunately, I now have Bing mixed up all over my opening Firefox page. I wanted to view Bing wallpaper & somewhere along the way I must have missed unchecking something & so everything has changed to BING Bing, Bing…
I would like to get back to my normal W/10 opening page when opening Firefox. I have not been successful in doing that for about 2 days now & I waste a lot of time trying.
So I would appreciate your help.
Thank you so much, Joann
Our answer
Hi Joann. All you need to do is reset Firefox to its defaults.
1 Type About:Support in the Firefox address bar

2. Troubleshooting Information will open

This popup will appear: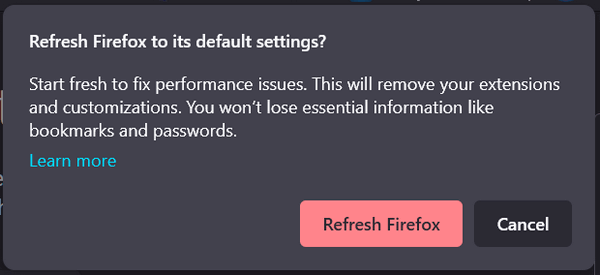 Click"Refresh Firefox" and Firefox will be reset to its defaults.  
Refreshing Firefox saves your bookmarks and saved passwords and removes any customizations you made, as well as installed add-ons and extensions. It will also delete browser history and cache.
This will quickly fix your Firefox problems as this resets Firefox to its default state but saves your bookmarks and saved passwords (if any).
——
Joann wrote back: "Thank you so very, very much. I was able to follow your directed steps & accomplish the task. I will go back to using the Cloudeight start page, which I've been very happy with for a long time. Thanks again.
---
Uwe wants to know how to send large files via email
I tried to send a file(below) through email, but It seems to be too large. How do I send a larger file via email?
(MP4 File (.mp4) 14.0 MB (14,694,417 bytes)
Thanks, Uwe.
Our answer
Hi Uwe. Most email providers have a limit on how large a file you can send via email. The limit varies by email provider. The maximum file size you can send with Gmail is 25 MB.
There are dozens of services (many free) that allow you to send large files by email. Here are three:
https://www.dropsend.com/#send_file
And there are many more.
You can also share large files if you have a Google account using Google drive. You can also share large files via email (links) using OneDrive or Dropbox.
---
Delores wants to use Thunderbird as her default email client
I want Thunderbird as my default email. but I still get a message that there is no default email associated. What else do I have to do? Thanks for your help and for always being so kind and putting up with us.
Our answer
Hi Delores. Thank you for putting up with us!  Did you try this?
1. Type Default Apps in the Taskbar search
2. When Default apps appears in the search results, press Enter
3. In "Default apps" under Email, click on the icon that is displayed under it.
4. Choose Thunderbird from the list that appears when you click the icon.
5. Close settings & restart your PC
Thunderbird will be your default email program.
---
Patty says her computer went incognito
I woke up this morning and found my laptop telling me I had gone incognito. I cannot remember what this means or if it is something I need. What does it do? Is it a good thing to have? If not, how do I go back to whatever mode I had?
Our answer
Hi Patty. Computers don't go Incognito, but browsers do. Google Chrome has an incognito mode – Firefox and Edge have "Private modes". It just means your browser is not saving cookies or browsing history when you're in Incognito mode (Chrome). Just close Chrome and reopen it – and it should reopen in normal mode.
---
Beverly is getting Blue Screens (BSODs)
Hello EB & TC. On three occasions lately, I have had a blue screen pop up that says Your device has run into a problem and needs to restart. We're just collecting some error info, and then we'll restart for you. For more information about this issue and possible fixes, visit https://www.windows.com/stopcade. If you call a support person give them this info."
I failed to make note of the info the first time, but the second time it said…
"Stop Code: page fault in the non-paged area,
What Failed: win32kfull.sys"

And the third time it said:
"Stop Code: SYSTEM SERVICEEXCEPTION
What Failed: eppwfp.sys."
Even though it said it would restart for me, it never did and I had to do a hard shut down and restart. Can you tell me what is going on? Thanks in advance for any help you can give.
Our answer
Hi Beverly. Blue Screens are almost always caused by bad drivers. Make sure you have not installed any driver updater programs – intentionally or unintentionally via bundled freeware. But I'm skeptical of the origin of this message since the link it gives you leads to a "page not found".
I suggest that you uninstall any driver updater programs that are installed and then follow the instructions on this page on how to run SFC and DISM scans.
I hope this helps you, Beverly.
---

Don't have a Cloudeight SeniorPass? It's a great deal. Learn more here.
Our Cloudeight SeniorPass is a great deal. You get unlimited support for one full year from the date you first use your SeniorPass. We can help keep your computer running well, fix all kinds of computer problems, clean up malware, and a whole lot more. Our SeniorPass is like having insurance for your computer. And it's only $99 for an entire year.
Get your SeniorPass today for just $99.  It's just like having insurance for your computer – only better!
To learn more about our SeniorPass, please see this page.
---
Jean needs to find her wireless network password
I am moving, packing, etc. For years I have had my WIFI network password in one place. It was on the writing desk. Everything in the writing desk was packed in two small boxes or so I thought. I now cannot find the envelope that contains the password. I am moving on Jan 4 and need the password to connect WIFI in the next place. Downloaded Nirsoft. Windows Defender tried to stop it, but I got over that hump. Extracted the files. Down at the bottom of Wireless Key view, 0 Keys are entered. But I do have a key and I do have a password.
When I attempt to install WIFI in the new place, I could use a new name and password but would rather not.
I also tried the instructions you gave us using the command prompt. It said "The wireless autoconfiguration setting is not running. " I tried it twice.
Is there any other way to recover my password or should I just create a new one when the time comes?
Our answer
Hi Jean. Good question. Many people got new smartphones, tablets, and streaming devices for Christmas and they may also need to find their wireless passwords to set up their new internet-connected devices. So we posted this tip this morning to remind folks there's a really easy way to recover wireless passwords without using any 3rd-party software.
At the bottom of that article, there is a link to another way to recover wireless passwords without using any third-party software.
We hope this helps you, Jean.
---
Dotty has a mysterious user account on her login screen
I first turn it on. in the lower-left corner are the two user accounts. There's my account and then there's an account called "Administrator". I can't remove this account because it does not show up in "Accounts" in settings. How do I get rid of it?
Our answer
Hi Dotty. That's called a "Super Administrator" account. You can remove that account only one way:
Type COMMAND in taskbar search. When Command Prompt shows up in the search results, click on "Run as administrator".
At the prompt, in the command box, type this (exactly as shown).
Net user administrator /active:no
and press Enter.
That's it. The super administrator account will be gone, and you won't see it on your login screen.
——–
Dotty wrote back: "It worked. You are awesome. Keep up the great work. Thank you!
---
Ellen has problems with Edge
During the past 2-3 months, after Edge updates, when I want to access different websites, Edge takes a very long time to reach the sites and eventually, an on-screen message quickly flashes " This isn't working right…Try clearing cookies (which I do very frequently) …Error…too many redirects". Then, the desired website finally appears on the screen. This happens every day, many times every day.
I have tried researching the message but can find nothing like it and no remedy either. I hope you can recommend a solution. Thank you, Ellen.
Our answer
Hi Ellen. This sounds to me like you have a bad extension installed or something corrupted Edge. The "Too many redirects" error sounds like a bad extension. I would recommend you reset Edge.
1. Click on the 3 dots at the top-right corner of Edge
2. When "Settings" opens click on "Reset settings" (in the menu on the left).
3. On the page that opens, click on the arrow to the right of "Restore settings to their default values"
4. You'll see the following…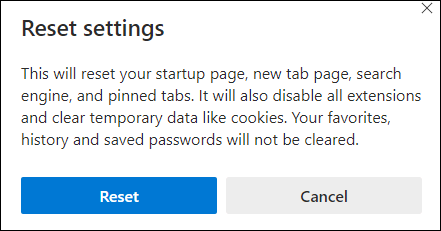 Click on "Reset".
I recommend that after doing this you restart your computer and then try Edge again.
I hope this helps you, Ellen.
---
Mary's search box disappeared from her taskbar
The search bar disappeared from the taskbar. I have searched for it many times and cannot find it. I even asked Microsoft and cannot get any answers. Can you help me with this? I am lost without it. Thank you for all your help every day and weekly. I would be lost without your newsletters.
Our answer
Hi Mary. Right-click on your taskbar. Find "Search" on the menu.
Click on the little > (arrow) and a menu will appear.
Choose "Show search box" from the menu.
See this screenshot.

And keep in mind that you can use always the Windows key + S shortcut to open a search box anytime.
We hope this helps you.
---
Wait! Before you go…
Every week we help dozens of people with their computers without charge or any expectation of payment. And we have helped many folks who have fallen for tech support scams or other scams designed to steal their money.
And we now depend more on readers like you to help keep us going. Your donation helps us to help more people with their computers and helps us keep everyone safer online.
Please help support our small business and help us to keep on helping you.