Saturday Bonus Questions & Answers – 100221
It's Saturday! And you know what that means. It's time for more Bonus Questions & Answers.
Sometimes the best tips and tricks are hidden in the questions and answers we publish. And rarely do we post questions and answers on this website. Today, we're featuring some of the questions and answers from past issues of our InfoAve Weekly newsletters. 
These answers were selected at random from past InfoAve Weekly newsletters.
---
Saturday Bonus Questions & Answers – 100221
Bill asks about a registry cleaner and Norton LifeLock
Hi Neighbors! Yup still above the sod—at least for some time yet I hope. Suppose you two are ready for the winter temps and such? It's coming a tad too early. Had about 4" here, but that's mostly gone.
I had a question that I've been wanting to write you about so just decided to write you directly. I've had a program entitled Registry First Aid that I've been using for several years. I know what you're going to say—I think, but I can handle it. (Smile) I got it from my AU pal. She was using it at the time. I must have been using it for a couple of years or so. I'm not an expert here by any means as it seems to be doing well, but I'd like your take on it. The reason being that I'd like to assist you a bit again in your efforts to survive a bit longer at this computer business by purchasing your Reg Organizer when my program is due to renew.
Isn't Life Lock associated with Norton? I thought I read that somewhere. Anyway, I wouldn't have Norton stuffed up my nose anyhow. I used to use it way back in time when I was running Macs, which I loved btw, but it let some crap in even after I was keeping it current, or thought I was. I don't want to hurt your feelings either, but I detest Facebook too. I feel the same way about all those social programs. Maybe I'm getting too old and cranky?
Anyway, you two take care and keep up the good work. Good to hear from you. Oh, and another thing, I'm having trouble keeping current with your InfoAve Premium. Too fast for me anymore.
Our answer
Hi Bill. It's good to hear from you again.
Registry First Aid is not something we think highly of – it's a registry cleaner which is not necessary. These kinds of programs can get you into trouble. Luckily it has not gotten you in trouble yet, I hope.
As far as LifeLock, Norton bought it and it sure belongs with Norton which is still riding on the reputation it earned way back in the 1990s when it was one of the only antivirus programs available then. Those were the days when viruses were everywhere. Now more sophisticated malware means most computer viruses are things of the past. Norton has only gotten worse it doesn't do a very good job of protecting its users from the malware they are most likely to encounter. Rather than improving the software, they just keep adding things to it like VPNs and LifeLock.
LifeLock has a long reputation of not delivering on its promises. LifeLock has been sued many times and it has been fined by the FTC for false advertising. Currently, LifeLock is involved in a class-action lawsuit. If someone wants to throw away $120 to $240 a year, I wish they'd throw it our way!
Here's part of that article…
"A new class action lawsuit alleges that LifeLock, an identity theft protection service, fails to deliver on the promises it makes to consumers in its TV, radio, and online advertising.

The LifeLock class action states that the Federal Trade Commission (FTC) has even brought legal action against the company on two separate occasions, but LifeLock continues to misstate the services it purports to provide to consumers.

Plaintiffs Joe Weingarten and Darrell Hunter allege that they each paid hundreds of dollars to LifeLock based on advertising that promised protection from identity theft; however, the company did not live up to its promises.

Weingarten says he discovered that his Social Security number and personal credit were being used fraudulently. Further, LifeLock failed to notify him that his address had been changed with the United States Postal Service without his knowledge.

Hunter alleges that he paid for LifeLock services in 2014 and 2015, but when he tried to use LifeLock to resolve a credit inquiry, the company failed to do anything about the problem even months later…"   To read more see this page..
The best way to keep your identity safe is not to buy Norton/LifeLock but to use common sense and reasonable care when giving out your personal information (social security number, home address, credit card numbers, etc.) online. Most identity theft begins with an email designed to look like it came from the government, a bank or a credit card company asking the recipient to "verify" his/her personal information. A link is provided. Click the link and you will see a site that looks just like you expect. But it is only a very good counterfeit of the site you're expecting to see. These criminals are clever and talented and they can design emails and websites that look exactly like the real thing. But no bank, no credit card company and no government will ask you to click a link to verify anything – if they need you to take action, they will tell you to "Log in to your account" or call. Never click a link in an email asking you to verify your personal information or update your password.
We've taken steps to shorten our InfoAve Weekly newsletter, so it should be easier to read.
It's good to hear from you, Bill. I agree – every day above ground is a good day!
I hope this answers your questions.
---
Heinz has a problem with a website form that's being auto-filled by his browser
I am a Disabled American Veteran service officer. I work in VA claims for Veteran Compensation. Here is the issue: I go to VA Forms for the latest forms that they have. They change frequently. When I pull in a form from the VA website, I get a form that I previously filed out for a veteran instead of getting a new blank form. I have cleared the cache and cookies, but it still happens. How can I find this filled-out form on my computer and permanently delete it? Hope you understand this issue.
Our answer
Hi Heinz. Incognito, Private, and InPrivate browser modes would solve your problem since no browser saves anything in these modes. But since I'm not sure of what browser you're using, I'll try to cover all of the popular browsers and show you the easiest way to open incognito or private browser windows.
Chrome
If you're using Chrome, with Chrome open press the CTRL+SHIFT+N keys to open a new incognito window. In incognito mode, Google Chrome does not store anything or save anything, so this should work for you every time.
Firefox
If you are using Firefox, with Firefox open, press CTRL+SHIFT+P to open a new private window, like incognito mode in Chrome, Firefox does not store or save any data from your browser sessions.
Microsoft Edge
If you are using MS Edge, right-click on the MS Edge shortcut and click "New InPrivate Window". InPrivate mode is the same as Incognito mode in Chrome and Private mode in Firefox.
Let us know if this helps you. If it does, and if you'd like, we can show you how to make shortcuts to open your browser directly in incognito or private modes.
——–
Heinz wrote back: "Thank TC, for your response. I will try all of those examples on Monday, where I work for DAV. I would like the shortcuts to browsers… Heinz"
---
Earl wants to know how to make his mouse pointer easier to see
Hi. First thanks so much for all you do to keep us safe and informed. My question is is is there some way to make the pointer bigger, so it is easier to see and find? I'm using Windows 10. Thanks!
Our answer
Hi Earl.  Windows 10 makes it easy to change your mouse pointer and your cursor so they're easier to see.
Here's how to do it:
Customize the Mouse Pointer
You can make the mouse pointer very small or very large – or any size in between by using the size slider. And you can make your mouse pointer any color you want.
First, let's open Ease of Access the easy way. Hold down the Windows Key and press the U key. On the Ease of Access page, click on Mouse pointer on the left. And you'll see a slider that allows you to choose custom pointer sizes and an option that allows you to change the pointer color.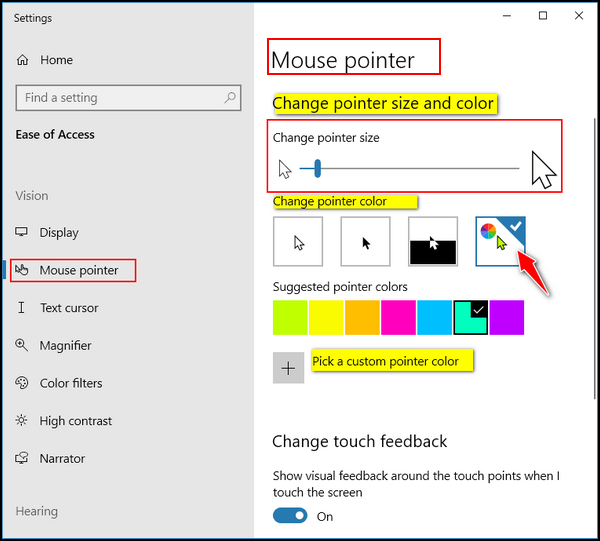 Once you click on the "rainbow" option (see above) Windows will display seven color boxes showing you preset pointer colors from which to choose. But if you don't like any of those colors, just click the "Pick a custom pointer color" button and choose any color you want.
Customize the Text Cursor
On the same Settings page, you can change your text cursor's size and thickness. And you can enable the text cursor indicator that can make your text cursor easier to find. If you have trouble seeing your cursor, you should turn on the text cursor indicator by turning on the switch under "Turn on text cursor indicator."  Once you've done that you can choose a text cursor indicator color. Choose from the preset colors or create your own custom color by clicking on the plus sign next to "Pick a custom color."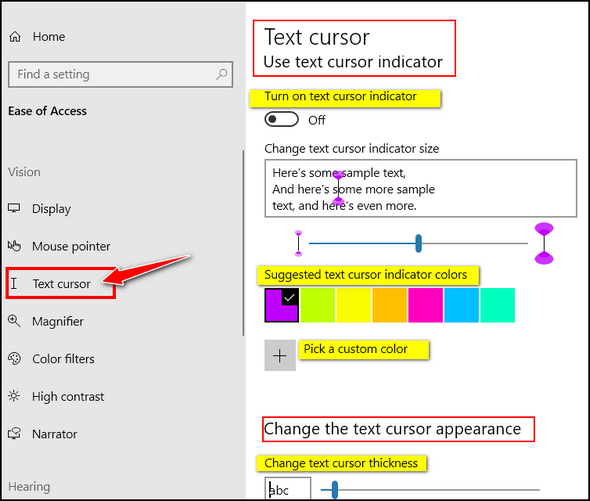 Further down on the page, you'll find a slider that lets you make your text cursor thicker and therefore easier to see. But, be careful with this, if you make your cursor too thick it will cover up letters and spaces in your text. So, user discretion with this setting.
Here is an example. You can see that I made my mouse pointer easier to see.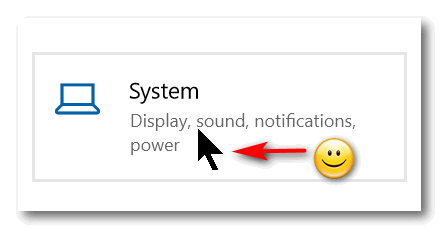 ---
Carol's husband's computer is blocked
Hi. My husband's computer seems to be blocked. We cannot even run a virus scan. Wondering if this is legit or a scam?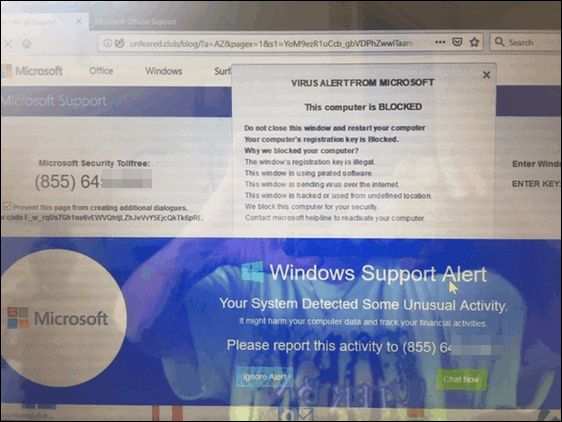 Any recommendations? Thanks, Carol D
Our answer
Hi Carol. This is just a typical Microsoft tech support scam with its traditional dire warnings. While the warning mentions Microsoft many times, the alert is coming from a scam web site, see?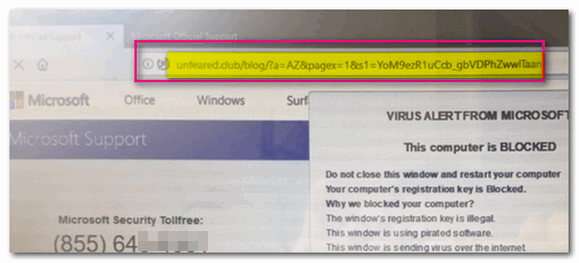 In the screenshot directly above, you can tell immediately that this warning is not legitimate and not coming from Microsoft. Microsoft is never going to show you a warning like this or display a number to call not right out of the clear blue sky.
Do NOT call the number on your screen. Shut down your computer and wait a few minutes and restart it. Be careful when you open your browser after restarting, it will ask you if you want to reload the pages that were open – don't do it. Once you open your browser, clear the browsing history. No matter what browser you use, press CTRL + H with the browser open to open the browser history. You see options to delete browsing history on that page.
AGAIN – do not call that number, do not click on anything on that page. It's a scam and they're trying to scare you into giving them a credit card number.
We've covered these kinds of scams numerous times in our newsletters – if you missed our articles – now would be a great time for you to read and see how these kinds of scams work. See the following Cloudeight page.
 
https://www.thundercloud.net/infoave/new/tech-support-scams-are-still-riding-high/
Hope this information helps you avoid being scammed by any of these tech support scammers.
---
Lee wants to know why links don't open up with his email program anymore
I used to use Outlook 2010 and when I clicked on an email link on a website it automatically opened a new Outlook email for me to complete. However since I had to stop using Outlook as Sky Mail won't accept it anymore, can you please tell me how to link my new email client, say Gmail, so that a website email link will open a Gmail new email. At the moment it still opens Outlook. Thanks for all the help this past year and all your great advice and tips.
Our answer
Hi Lee. Thank you! The program that opens email links is not determined by your email service, it is determined by your Windows 10 settings.
Type DEFAULT in the taskbar search
When "Default apps" appears in the search results press Enter or click "Open"
In Default apps click on "Mail"
Select "Google Chrome" or "Gmail" (if you see it).
Close Settings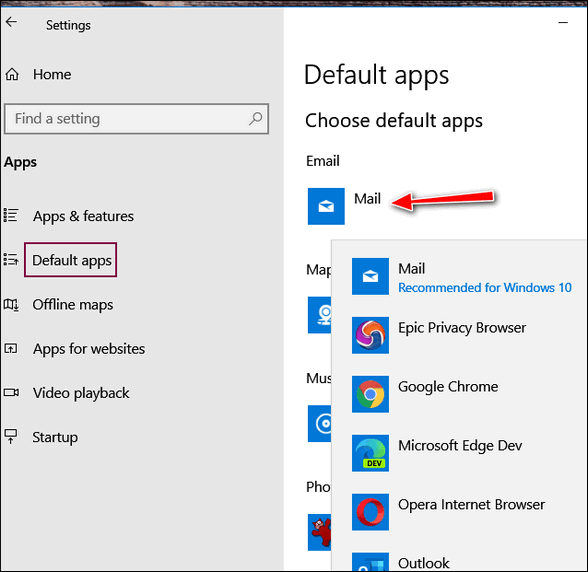 I hope this helps you, Lee.
---
Terry's right-click function on Windows 10 no longer works
The right-click function on my Windows 10 laptop has stopped working. It is driving me crazy because I used that feature all the time. I really miss being able to quickly right-click when I need to. I have been using Windows 10 for 3 years and I have never had any trouble with it until now. Do you have any advice for me? Thanks, Terry.
Our answer
Hi Terry. Have you tried this simple fix?
1. Shut down your PC completely (all power lights off)
2. Wait for 4 or 5 minutes.
3. Turn on your computer.
4. Let Windows 10 load completely.
5. Try your computer and check to see if you still have problems.
If you still have the right-click problem, follow the alternate instructions on this page.
I hope this helps you, Terry.
——-
Terry wrote back: "It Worked! Thanks a lot. I can't believe that just by shutting off my computer for a few minutes fixed my annoying problem. You guys are great! Thanks, Terry"
---
Francis cannot find Contacts in Gmail
I cannot find contacts anymore in Gmail. I just got a new email address with Gmail and "contacts" doe does not show up in the dropdown menu on the left- or anywhere else I can find. Can you help me, please?
Our answer
Hi Francis. Open Gmail and look on the far-right side near the top. You'll see a square icon (9 dots)). Click on it.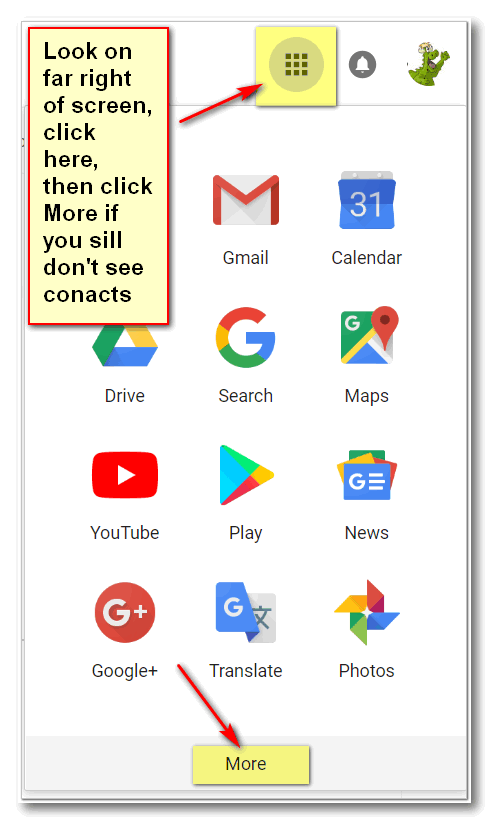 If you don't see "Contacts" in the first panel, scroll down, or click "More".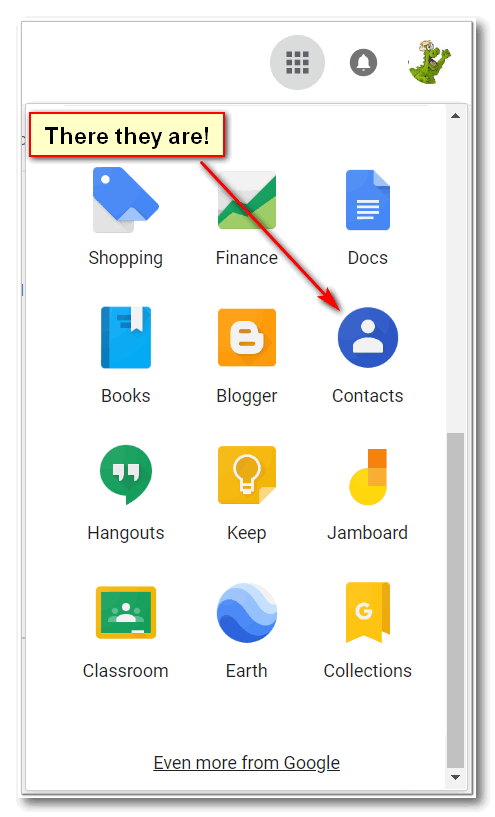 I hope this helps you, Francis.
---
Jerry's spell checking stopped working in Chrome
I know that Google Chrome has a built-in spell checker, and it was working great, but a few days ago it stopped working. I tried to turn it back on in Chrome settings, but it still doesn't work. Do you know a way to fix it? I'm thankful for you 2! Please keep up the good work. Jerry.
Our answer
Hi Jerry. Thanks so much for your nice comments.  Since turning on Spell Checker in settings didn't work for you, perhaps you have something installed on your computer on an extension in Chrome that is superseding the built-in spell checker in Chrome. Or it may be that your Chrome browser is corrupted and needs to be repaired.
Try repairing Chrome and see if that fixes your problem. Just follow the simple instructions on this page.
Let me know if that works for you or if you need more help.
———–
Jerry wrote back: "Thank you so much. I followed your instructions and repaired Chrome, and my spell checker is working again! I really appreciate your help. Jerry"
---

Please help us to keep on helping you.
A small donation helps us to keep on helping everyone who asks us for help. Consider making a small donation – we'd really appreciate it.
---
Have a great weekend!