Saturday Bonus Questions & Answers – 101621
It's Saturday! And you know what that means. It's time for more Bonus Questions & Answers.
Sometimes the best tips and tricks are hidden in the questions and answers we publish. And rarely do we post questions and answers on this website. Today, we're featuring some of the questions and answers from past issues of our InfoAve Weekly newsletters. 
These answers were selected at random from past InfoAve Weekly newsletters.
---
Saturday Bonus Questions & Answers – 101621
Norma can't delete cookies & history in Chrome
Hi. I hope you can help me with this issue. Don't know what's changed but my browsing data & cookies won't clear. I use Chrome & go into more tools & clear browsing data but now all it does is spin and spin and doesn't erase anything. This just started about a week ago & the only way I can delete browsing history is to restart my computer & then it will work one time. I have to restart each time I want to delete cookies. Never had this problem before, it always deleted everything so don't know what happened. Any suggestions? Thanks, Norma
Our answer
Hi Norma. Without looking at your computer, I only have one suggestion and that is to try resetting Chrome.
Resetting Chrome will save your bookmarks. It will disable all your extensions (you can turn them back on after the reset by turning the switches under each extension to on), it will remove cookies, site data, and reset Chrome back to its default state.
It's important after you do that you shut down Chrome and restart it.
To learn how to reset Chrome, see our tutorial here.
Let us know if this helps you.
---
Kelly has a program that appears to be doing nothing and wants to remove it
I purchased a second-hand computer from a friend a while back and noticed it had a program called NVIDIA. This appears to me to be nothing but a huge waste of space and resources…as being of no use to me whatsoever. Now, my question: Can I delete this program or not? I have been told by friends that it is essential to the running of my hard drive. So, am I being well-advised or not? I eagerly await your reply. Kelly
Our answer
Hi Kelly. NVIDIA is a graphics (display) adapter (GPU) and/or the software (drivers) for it. It is not essential to the running of your hard drive, but if you have an NVIDIA (GeForce)display adapter (GPU) it is essential to your computer's display, display colors, resolution, etc.
The NVIDIA Driver is the software driver for NVIDIA Graphics GPU that is installed on your PC. It is a program used to communicate between the Windows operating system and your GPU (Display adapter). The NVIDIA driver software is necessary for the hardware device to function properly.
Unless you are sure your computer does not have an NVIDIA (GeForce) display adapter, we would advise you not to touch it.
———-
Kelly wrote back: "Dear sir /madam, Thank you both for your very prompt and explicit reply. It is very much appreciated. Thank you both, Kelly"
---
Maureen wonders why she cannot arrange desktop icons the way she wants them on Windows 8.1
I just have a silly question. How can I move my desktop items and put them where I want them in other windows versions? I used to be able to pick them and move them wherever I wanted. So, what is the deal with Windows 8.1? My mistake or is it just not possible? Keep up the great work I will be back. Maureen
Our answer
Hi Maureen. Windows 7, Windows 8.1, and Windows 10 all work pretty much the same when it comes to desktop Icons.
Right-click on an empty area of your desktop. Click on "View" and then make sure that neither "Auto arrange icons" or "Align icons to grid" is checked. If they are checked, you'll need to uncheck them.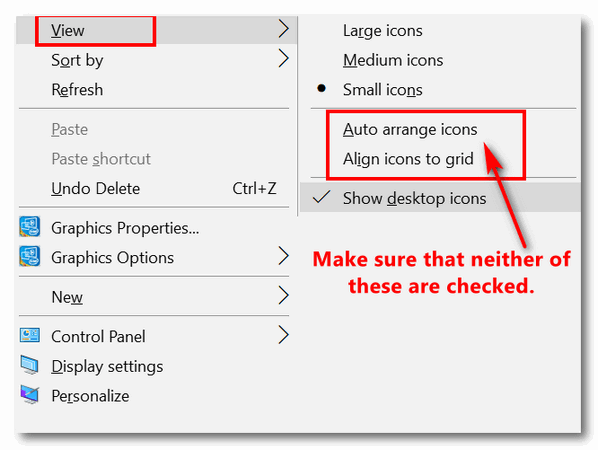 After you do this, you'll be able to move your icons around any way you like.
Hope this helps you, Maureen.
——–
Maureen wrote back: "Thank you. I should have guessed it was something simple. This worked great Keep up the good work. Maureen"
---
Rebecca can't find our article on how to unsubscribe from unwanted newsletters
Hello. I remember many moons ago you published an article about the safest/most effective way to unsubscribe from promotional emails, especially ones you didn't directly sign up for. I thought I heard somewhere that it wasn't good if you had to type in your email address to unsubscribe, because then the sender knows it's a valid account. Can you please advise the best way to unsubscribe from all the junk emails I get? It's mostly from my Yahoo account, so a couple of years ago I started a Gmail account, and I am very selective about what I use my Gmail account for.
Thanks for all your great service throughout the years. I recommend you to folks all the time! Love & light, Rebecca
Our answer
Hi Rebecca. Thank you so much for your kind words, your friendship, and your support.
We published a couple of articles about how to unsubscribe from services and social media networks you sign up for, but these articles were written four or more years ago and are now mostly out of date.
There's a service called "Deseat.me" at https://www.deseat.me/ that you can sign into with your Gmail account. However, it works by scanning all your email looking for subscriptions. I realize this is done by algorithms and computers and not by humans, but it sounds a bit creepy to me. And then, of course, you're subscribed to another service. However, according to Deseat.me they make it easy for you to cancel your subscription. You can try that service if you like, it is highly rated, but we have not tested it.
We have written many times about NOT clicking the "unsubscribe" links at the bottom of spam emails because it just confirms your address is valid to the spammers. But clicking the unsubscribe link in legitimate emails usually works and does not require you to type in your email address.
Specifically for Yahoo accounts, you can close your Yahoo account permanently by going to this page:
https://help.yahoo.com/kb/SLN2044.html
I hope this helps you. And thanks again for your kindness and support, Rebecca.
---
Bob wants to know if Xtra-PC is a scam
I have a question is this another scam?
"What is it?
It's called Xtra-PC and if you have an old, slow computer, it's exactly what you've been waiting for. Xtra-PC is a small thumb drive you simply plug into your computer's USB port and it instantly bypasses your existing operating system and loads a feature-rich Linux OS – making your old computer run like new.

It works with any computer (Mac or Windows) laptop, desktop, or netbook made in 2004 or later, and it is hands down the easiest way to avoid spending $400, $500, $800 on a new computer.

How Does It Work?

Super easy! In fact, it's so easy that it's like snapping your fingers and watching your old computer magically turn into the like-new, super-fast computer you want it to be. All you have to do is…

Plug It In – Simply plug Xtra-PC into a USB port while your computer is turned off.

Turn Your Computer On – Simply select 'Boot from USB' and bingo, you're good to go.

Enjoy Your FAST PC – In less than 15 minutes you'll be shocked at the difference in the performance of your computer…"
Our answer
Hi Bob. The scams never stop. But this one is a scam of a different color. This one is different because if you read through the verbiage that tries to make you think it will make your Windows PC or Mac run fast, you'll find out it's something you could make do yourself for about $5 and 30 minutes of your time. I'll get to that later.
All Xtra-PC is, is a SanDisk Cruzer flash drive loaded with a free distro of the Linux operating system. You plug it into a USB port and boot your computer into Linux -but only if your PC is configured to boot from a USB flash drive.
When you boot into Linux you'll see a Windows-like interface and some pre-installed software like Firefox, Open Office, and a few other free programs. And Linux looks a lot like Windows, but you're not running your Windows computer, you're running Linux off a flash drive. So, all your Windows programs, all your files, documents, music, pictures won't be there. It really does not make your Windows computer (or Mac computer faster).
They play the game of semantics in their advertising. It won't make your Windows PC faster, but it will make your computer faster because it's running Linux off a USB stick. It's not booting from or running off of your hard drive, and you'll not be able to run any of your installed Windows programs. You'll only be able to run whatever preinstalled programs that come preinstalled with Linux on the USB flash drive (Firefox, Open Office, a generic music player, etc.).
Xtra-PC's advertising makes it sounds like it can fix your Windows (or Mac) computer and make it faster, but that's not true. It won't make Windows or Mac faster. Since it's booting off a USB flash drive and running a version of Linux and will be faster than Windows which runs from your hard drive but has all your programs installed, all your preferences saved all your files, etc. Your Windows computer will not be fixed, optimized, or changed…and it won't be faster.
If you have an old PC that doesn't work, you can install Linux on a flash drive and boot the computer with it, you don't need to spend $35 for a 16 GB USB flash drive with a free Linux OS on it. You can buy a 16 GB USB Flash Drive for about $5 and download Linux free. You can make your own bootable Linux operating system on a flash drive easily by following the instructions here:  https://tutorials.ubuntu.com/tutorial/tutorial-create-a-usb-stick-on-windows#0.
Xtra-PC is a very over-priced USB flash drive with a free version (distro) of the Linux operating system on it.
Here's some additional information:
Xtra-PC: A Scam for People with Little or No Computer Experience
https://www.rtcx.net/xtra-pc-scam

"The purchaser might be a little disappointed to find that all the software installed on their "old" slow PC is missing from the "new" fast one. And depending on how well it recognizes the original hard drive, all their files too! And just uninstalling everything would also make a PC faster, at the cost of some functionality. As it is marketed as a way to speed up a PC, but actually just launches a Linux distro, it's a scam. The fact that the marketing doesn't outright lie just makes it borderline, almost, arguably, kind of, legal – ish. : ) http://tinyurl.com/yxj6hn7y
If you have an old PC that won't run, and you want to boot and run Linux off a USB flash drive, don't waste your money on Xtra-PC. Buy a flash drive for $5 and put a free Linux distro like Ubuntu (which looks a lot like Windows and/or Mac). There are dozens of tutorials on the web showing you how easy it is to make a bootable Linux flash drive. You don't need to spend 7 or 8 times what the flash drive is worth to get a free version of Linux on a USB stick. Ubuntu comes with a lot of free software like Thunderbird, Firefox, an image viewer, an office program, a music player, etc.
Xtra-PC is a scam because it misleads you into thinking it's going to make your Windows PC faster, and it does not.
——–
Bob wrote back: "Hi TC. Thanks for your prompt response and detailed description of this product. I had NO intention of making a purchase as my equipment is not old and is serviced by Cloudeight. However, there are a lot of senior folks who will be sucked in by this scam. A very old saying (older than me at 84) If it sounds too good to be true don't get involved. Your knowledge and talent are a precious source and have been for many years. Many thanks for this information. Bob (Australia)"
---
Roger is looking for a good file recovery program
Hi. There I may have already asked you this question. Do you have a suggestion for recovery software? I am prepared to pay for a quality program unless you know of a good quality freebie. Keep up your good work I always follow your suggestions about various things. Thank you, Roger.
Our answer
Hi Roger. I have been testing a file recovery program for a few days now. The program is called Puran File Recovery.
It's been a Cloudeight freeware pick, and you can read all about it here.
Please let us know what you think. I found its ability to use wildcards to find certain file types works exceptionally well. Also, while I have not yet tested its deep scan feature which is supposed to be able to recover data from formatted drives, it is an interesting concept.
---
Derek wants to know if it's safe to remove Microsoft Windows driver packages and VB C++ Redistributable Packages
Hello Cloudeight; Thank you for all the wonderful work you do for us oldies. My question is:  When I open HiBit Uninstaller I find 8 Microsoft Visual C + + programs and 17 Windows Driver Packages for various programs; Are these essential programs or can they be removed? Best Wishes Derek
Our answer
Hi Derek. We would not recommend you remove any C++ or Windows Driver Packages.
Microsoft Visual C++ redistributable packages provide components such as DLLs necessary to run programs that are installed on your computer that were built using C++. If you remove the C++ redistributable packages, some of your programs may not work or may not work as expected.
Windows Driver Packages are installed with some Windows updates. Here's what Microsoft says about them:
"A driver package consists of all the software components that you must supply in order for your device to be supported under Windows. Installing a device or driver involves system-supplied and vendor-supplied components. The system provides generic installation software for all device classes… "
If you want to read more about Windows Driver Packages, see this Microsoft page.
Our advice: Don't remove any of them.
---
Patricia has some questions about browser history
Is browsing history automatically deleted when the computer is closed and if not, can it be organized? Also, how do I find the history on my browser if I wish to delete it?
Our answer
Hi Patricia. You can check your browser history by pressing CTRL+H while your browser is open.
You can't organize history alphabetically; it's already organized by date. Browser history has a search box you can search your browser history for whatever you're looking for.
Finally, by default, your browsing history is not cleared, but you can set some browsers to delete history when you close them. If you let us know which browser you're using, we'll tell you how to change the setting, so your browser history is deleted every time you close your browser.
---
Jim bought a new Dell wants to uninstall all the Dell apps
I just bought a new Dell AIO computer. I would like to uninstall all the Dell apps. Is it safe to do? Jim
Our answer
Hi Jim. I would not advise you to uninstall the Dell apps unless you're sure you know what all the apps do. It would be prudent, if you don't want your computer slowed by the apps, to stop them from starting with Windows. Then, if you had any problems, you could just re-enable them one by one as needed (if needed).
Keeping the Dell apps from starting up with your PC is essentially the same as removing them yet provides you with a safety net. An installed app that is not running does not affect your PC's resources.
Since I don't have a new Dell computer at my fingertips, that's my best advice.
---
Ron K. wants us to recommend a URL shortener
What do you folks recommend nowadays for a URL link shortener? I've been using Tiny URL for years, but it started throwing corrupted links for some reason. I see shortened links sent to me, but I can tell they're not from Tiny URL and they look pretty good and work well.
Thanks for keeping at it! I posted a 'like' for you on Facebook and did get a couple of "thank you" notes.
Our answer
Thanks so much, Ron. We appreciate your Facebook support and "like".
We used to use goo.gl by Google, but it's no longer available. Here are three other URL shorteners we've used recently – they seem to work well.
I hope this helps you, Ron. Thanks again.
---
---

Please help us to keep on helping you.
A small donation helps us to keep on helping everyone who asks us for help. Consider making a small donation – we'd really appreciate it.
---
Have a great weekend!